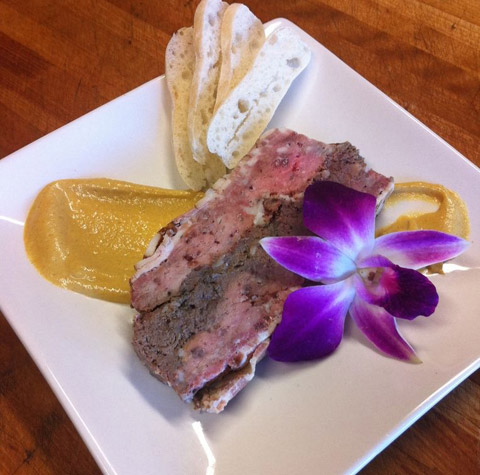 Ingredients:
12 bacon slices (Le P'tit Cochon Rond)
2 pounds of ground beef (Boucherie du Terroir)
350 g of rabbit liver (Le Lapin de Stanstead)
1 tablespoon of ground cinnamon
1/4 teaspoon cloves
1 onion
Preparation: 

1) Dice the onion and rabbit. 
2) Add the dry spices and mix it together.
3) In a bread pan, layer the bacon in the bottom in order to cover the mold. Spread half of the ground beef then all of the rabbit liver mixture. Spread the rest of the beef then wrap it with the bacon slices in order to cover the terrine.
4) Cook for 1 h 30 at 350°F or until it reaches the inner temperature of 145°F. 
5) Drain fat and let the terrine cool down before unmolding it. Serve cold.
These menus are offered by Jason Kacprzak, chef créateur du Restaurant Kapzak
20, rue Wellington Sud, Sherbrooke  J1H 5C7  
819 791-1176