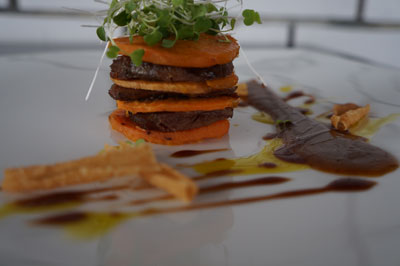 Ingredients:
Sweet potato lasagna with P'tit cochon rond pork cheek confit reduction of pomegranate and pistachio oil
4 pork cheeks
¼ lb sweet potatoes
7/8 c pomegranate juice
1 tsp pistachio oil
2 tsp olive oil
2 c duck fat
Baby arugula sprouts
Fried eggroll wrapper
1 tbsp salt, ¾ tsp pepper. ¾ tsp garlic powder
½ c veal demi-glace
Directions:
1) Trim the pork cheek until only the flesh remains.
2) Mix together salt, ground pepper and garlic powder to season the pork cheeks before cooking.
3) Marinate for 24 hours.
4) After 24 hours, melt the duck fat and cook the cheeks in a 250° F oven for a minimum of 2 hours. Poke the meat with a wooden skewer to check for doneness; it should pierce the meat without resistance.
5) Peel and cut the sweet potatoes into slices and bake in the oven with olive oil.
6) Reduce the pomegranate juice until it becomes a thick syrup. Keep 1/3 of it for plating and pour the rest in the veal demi-glace and continue reducing. Season to taste.
7) Cut the cooked slices of sweet potatoes with a round cookie cutter, thinly slice the pork cheek confit, and then layer them.
8) Place the baby arugula sprouts on top of the lasagna and drizzle the pistachio oil, pomegranate reduction, and veal demi-glace around the lasagna.
LoRé. Chef Créateur,
17, RUE PEEL, SHERBROOKE QC, J1H 4J9, TEL 819.822.4177
www.restaurantlore.com