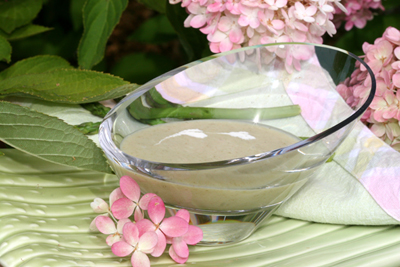 Serves 6
Ingredients :
900 g fresh asparagus 2 pounds
1 white Spanish onion, finely chopped
15 mL butter 1 tablespoon
75 mL flour 5 tablespoons
Preparation :
1) Cut asparagus into pieces, keeping a few spears for gar- nish.

2) Melt butter in a saucepan and sauté onion.
3) Add asparagus and sweat.
4) Singe with flour and moisten with broth.
5) Simmer for approximately 40 minutes.

6) Purée in a blender, then strain through a chinois. Reheat and add cream. Season.