The chef's biography
Christian wanted to become a nurse. Did he have a career mishap? Not exactly. One day, driving along in his old car listening to a well-known cross-Quebec radio network, he heard that the network, in collaboration with the Knorr food company, was holding a contest to find the best recipe in Quebec. Stipulation: the recipe had to be made with their product…. Guess who won?
His veal Parma Rosa rolled crêpe recipe was subsequently featured on the well-known company's posters, boxes, and packaging distributed in all of the grocery stores in the province! This experience, which was a revelation, made it clear to him without a doubt which career path to take.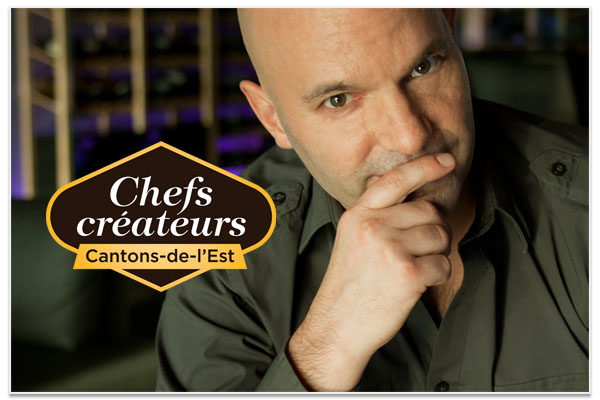 As a result of his studies, internships, trips, meetings, and classes to perfect his talents, along with his creativity and curiosity for the chemistry of the senses, he became: THE FIRST CHEF IN THE EASTERN TONWSHIPS TO RECEIVE THE RED SEAL. He didn't become a nurse. An accident? Not really. Today, he devotes himself to volunteering with the Canadian Cancer Society. Each year, he participates in the Soirée des grands chefs, which raises tens of thousands of dollars. Whether he knows it or not, Christian's desire to become a nurse or a cook may simply stem from wanting to take care of everyone around him.
His three specialties
-Linguine Florentine with goat cheese (goat cheese from P'tit Mont-Ham)
-Duck breast fillet with maple and sea buckthorn berries (duck from Aux Champs d'Élisé)
-Warm beef salad and three mushrooms with provolone and balsamic vinegar (mushrooms from Aux Champs-Mignons)