Biography of the chef
Born in Toulon, France, Julien is the youngest child in the Hamont family. With a father who was an officer in the French marines and with two older brothers, young Hamont quickly learned that he had to work hard at creating his place within the fold. For as long as he can remember, Julien has had a penchant for cooking. At six years of age, he was not hiding behind his mother's skirts, but spending time at the ovens, proudly helping his mother, who often found herself alone with her three strapping lads. According to the tales of his older brother, also a chef, Julien knew deep down that one day he would also sport the famous cuts and burns that are the marks of a top chef. 
After studying cuisine, he worked for the Blanc brothers in Paris where he met Sébastien Altazin, who played a determining role in the man Julien was to become. Sous-chef for the Blanc brothers at the time, Altazin recognized that Julien was a young man who had to be pushed. The good old-fashioned method of teaching was used: a kick in the butt and a slap on the back, always from the perspective of a would-be brother.
In 2005, with encouragement from Altazin, Julien joined the staff of the prestigious kitchens of Michel Rostang. Over five years under Rostang, first at Chez Jarrasse and later at L'Absinthe, Julien developed a number of attributes including ethics, rigour, and a sound understanding of the profession. Not one day goes by that he does not recall the details of certain techniques picked up during this time.
In 2011, Julien decided he wanted to return the favour to his "big brother." Altazin was about to open a new restaurant: L'Accolade. Julien went to assist his mentor in the kitchens, as giving back to the person who had in a way created him seemed essential to him.
Julien met Geneviève, a charming Quebecer who had been living in Paris for four years. It was love at first sight! The couple planned their future together, and it wasn't to be in Paris. They packed up and headed to Montreal, where Julien became the day chef at Enfants Terribles. Julien adjusted to our culture and gained a perfect grasp of bistro-style gastronomy. When he decided to move his young family to Sherbrooke, it was to blend his two passions: family and cuisine.
At Auguste since 2013, Julien has donned his chef's cap well surrounded by loved ones!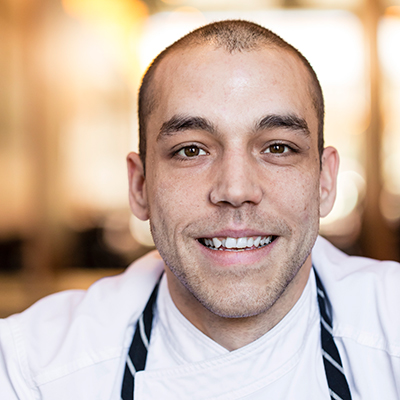 Three of the chef's specialties
Puff pastry with flakes of pressed ricotta from the St-Benoît du Lac Abbey and symbiosis of raspberries and scarlet pepper
Tian of smoked scallops on a green pea purée with Owl's Bread lemon brioche and milk foam with hints of Tonka bean
Stanstead rabbit lollipop with purple basil and rice vermicelli