The chef's biography
Chef Frédérick Michon's culinary passion was born from his mother in the family kitchen. She spends many hours in front of her ovens with her son as her sidekick. At the age of 15 and for the 8 following years, he will work in a family restaurant where he nurtured his passion for cooking.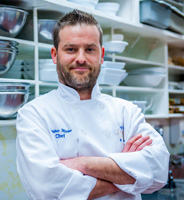 Following his growing passion, he will take a course in professional cooking and begin his career in a resort where he will acquire experience in gastronomic cooking. He will move up the ladder from Sous-Chef to Executive Chef of the resort.
A decade later, he yearns for new beginnings and wishes to move away from office work in order to get back behind the oven; which brings him to the Hotel Castel & Spa Confort in 2013. He first works as Sous-Chef and later becomes Chef. To discover and collaborate with local producers is very fulfilling for him and this is well demonstrated at restaurant La Rotonde, one of the establishment's restaurants. Along with his favorite products, maple and fruits, he brilliantly features many local products in his recipes. His forte is to reinvent culinary classics with his own personal touch.
Frédéric Michon's culinary talent also show at the Hotel's Convention centre within the banquet meals and in the two other restaurants of the facility, the Pub La Tourelle and the Resto-Café.