Saturday, September 9 • Start/finish: Mont Sutton 
This end-of-season classic has a lot to offer!  After biking all summer, you're ready to push your limits, and this route definitely has its challenges. If you choose to pedal the entire course, it will take you from Mont Sutton south to Glen Sutton, east to Vale Perkins, north to Warden and west to Bromont. Enhanced by the region's beautiful natural surroundings and charming Anglo-Saxon heritage, this tour is well worth the effort.
EASTERN TOWNSHIPS SUMMER CHALLENGE PACKAGES
Bienvenue cyclistes certified accommodations
Book now at the follow establishments and mention you are part of the Eastern Townships summer challenge.
SUTTON
Les Caprices de Victoria
2 night stay

Hearty breakfasts

1 hour massage per person

1 dinner for 2 persons at Bistro West Brome
STARTING AT $250
Per person, double occ. Taxes not included.
1 877 212-7970
SUTTON
Gîte Vert le Mont
2 night stay
Hearty breakfasts
One bottle of Domaine Bresee rosee wine, delivered to your room
Visit and tasting in local wineyards
A healthy lunch box
STARTING AT $110
Per person, in double occ. Taxes not included.
450 538-3227
SUTTON
Le Pleasant Hôtel & Café
One night stay, on Saturday September 9
Full breakfast
Credit of $15 per person per day at our restaurant
1 Clif bar, 1 electrolytes packet and 1 water bottle
STARTING AT $108
Per person, in double occ. Taxes not included.
1 888 538-6188
BROMONT
Le Saint-Martin Bromont, Hôtel et Suites
1 night in a standard room
Continental buffet breakfast
3-course dinner at Pub MacIntosh in Bromont 
STARTING AT $124
Per person, in double occ. Taxes not included.
1 866 355-0044
BROMONT
Auberge-Spa Le Madrigal
One night stay, on Friday September 8
1 4-course dinner
1 3-course breakfast
1 hour of treatment of your choice
Tips on meals
STARTING AT $188
Per person, in double occ. Taxes not included.
1 877 534-3588
BROMONT
Auberge et Château-Bromont
Valid on a stay at the daily rate.
Promo code : Vélo.
1 888 276-6668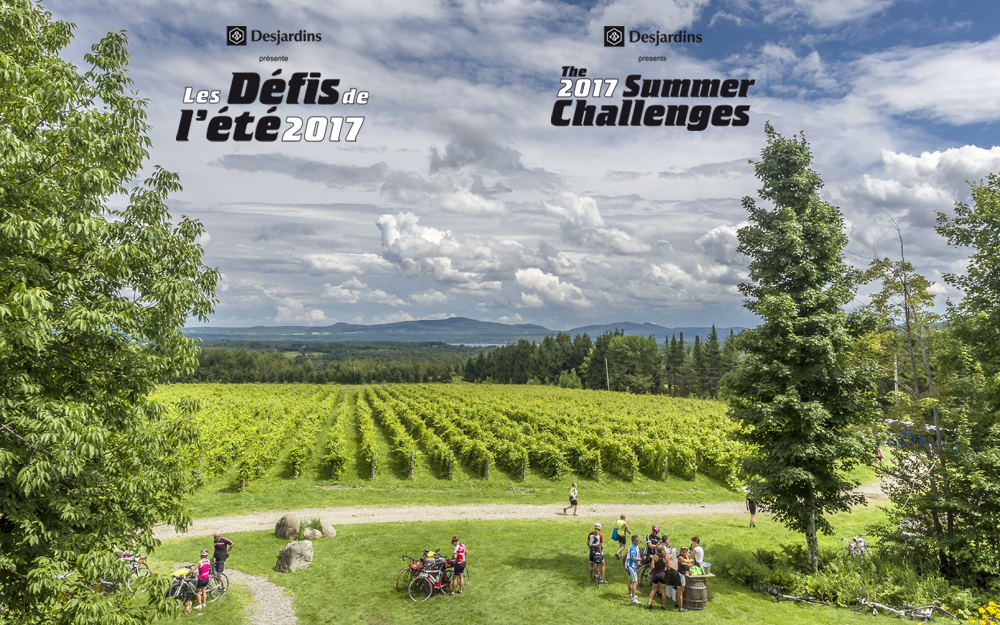 LET YOURSELF BE CHARMED BY OUR GOURMET STOPS AND DISCOVERIES!
SUTTON, VILLAGE CENTRE
A must-see ''Café de village'' located in the heart of Sutton. Friendly gourmet cuisine.
Microbrewerie crafting beers that compliments perfectly their meals made from local products. 
 Delicious beer tastings to pair up with their famous fish'n' chips or their duck poutine.
GLEN SUTTON
A vineyard on a majestic hillside, sheer and steep, which has 18 terraces supported by massive stone walls. 
Specialty : icewine
Biking lovers, come enjoy your favorite sport... in the air! Soar through the treetops on a suspended recumbent bicycle.
MANSONVILLE (POTTON), VILLAGE CENTRE
Located on the Townships Trail, thereby revealing its historical and patrimonial nature. Saturday between 9 a.m. and 1 p.m., stop by the public market located near the round barn. 
LAC-BROME (KNOWLTON), VILLAGE CENTER
''Café de village'' located near the village centre that is worth the detour for its menu created from fresh products. Gourmet and friendly.
The famous Brome Lake Ducks are delicious after two days of intensive biking. Visit the shop to stock up on duck products!
Located directly on the course and facing the Brome Lake, this vineyard is ideally located in order enjoy the landscape and mostly the wines.