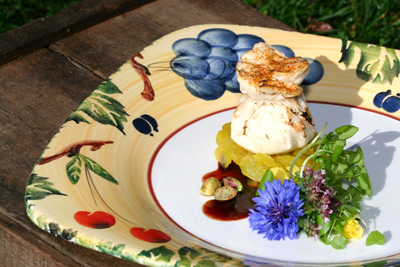 Serves 4
Ingredients :
120 g blue cheese 4 ounces
15 mL pistachios (shelled) 1 tablespoon
15 mL chopped dry shallots 1 tablespoon
60 mL dry white wine 1/4 cup
16 sheets phyllo pastry
45 mL olive oil 3 tablespoons
Salt and black pepper
125 mL balsamic vinegar 1/2 cup
Sauteed Pears :

2 pears, halved, cored,
and thinly sliced
1 medium onion, halved
and thinly sliced
30 mL olive oil 2 tablespoons
60 mL rice wine 1/4 cup
5 mL brown sugar 1 teaspoon
Salt and black pepper
Preparation :
1) Combine the first four ingredients and purée in food processor. Season.
2) Using a pastry brush, brush 4 sheets of phyllo pastry measuring 12.5 cm x 12.5 cm  ( 5 in x 5 in ) with olive oil.
Repeat four times.
3) Divide the cheese mixture into four equal portions and place one portion in the centre
of each sheet.
4) Bring the corners of pastry together to form a pouch.
5) Bake in a preheated 180°C (350°F) oven for 10 minutes. Reserve warm.
6) In a saucepan, reduce balsamic vinegar by half.
In a hot skillet, sweat onions in oil. Add remaining ingredients.
7) Stir over medium heat for 5 minutes.
Reserve warm.