Snowshoe and Chalet
Nothing is more relaxing than the sound of silence during a snowshoeing expedition. Well, nothing except perhaps the reward afterwards: Think local pints shared with loved ones and a cozy stay in a cottage or cabin.
Spa and Treats
Treat your mind, body and taste buds to an energizing retreat ideal for couples and groups of friends alike. It includes a dreamy spa visit, plush accommodations and meals at two standout eateries. Time to press pause on the daily grind!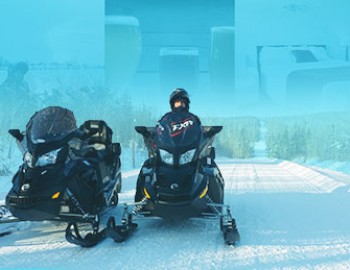 Mégantic by Snowmobile
Route des Sommets, along which you'll find majestic lakes, balsam firs, white-tailed deer, friendly locals, charming villages and vast expanses, is a gem in this region. It's best explored by—you guessed it!—snowmobile.