The charms of Mégantic—especially in the wintertime—are abundant. Don't miss your chance to explore and discover this region through our recommended stops. Caveat? You might find yourself cancelling other outings to maximize your time in Mégantic. Consider yourself warned!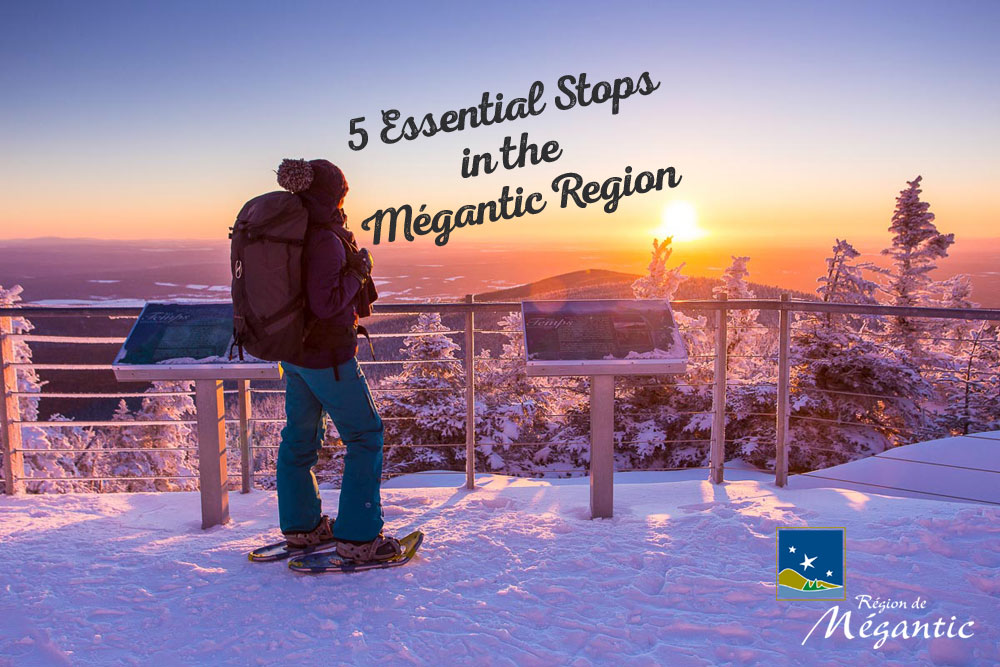 Stop #1: Torchlight Snowshoeing
Imagine snowshoeing the magnificent trails of Parc national du Mont-Mégantic, in the evening, by the light of the moon and torches… Tempting, no? These excursions are offered every Saturday evening until the end of March, from 7 p.m. to 9 p.m. And if your snowshoeing skills are a work in progress, not to worry: The trail is marked as easy, making the activity accessible to all.
Stop #2: Station Touristique de Baie-des-Sables
One stop, endless opportunity for winter fun, including downhill skiing, snowboarding, tubing, snowshoeing and cross-country skiing. Whether you make it a family weekend or an outing with friends, you're sure to have a great time.
Stop #3: Dogsledding Races
On February 10 and 11, don't miss the 18th edition of the Défi de la Gosford at Mont Gosford, a dogsledding race that promises to be as impressive as it is entertaining. There are lots of other activities to partake in at the same time, including a winter BBQ, inflatable games for the little ones, sledding and guided snowshoe tours. See you there!
Experience it for Yourself
Dogsledding is the ultimate wintertime activity—and yet so few of us have experienced it firsthand! Check this experience off your bucket list at Mohigan Adventures in Val Racine, where a thrilling 1-hour excursion will take you through stunning landscapes. Unforgettable!
Stop #4: Carnaval Mégantuque
This family-friendly favourite is happening February 23 to 25. Kids young and old will find their fix during this eventful weekend packed with a ball hockey tournament, live entertainment for little ones, sledding, maple taffy on snow, a bonfire and so much more. An outdoor party the entire family will love!
Stop #5: Unique Accommodations
Not too far from Parc national du Mont-Mégantic is Camping Aventures Mégantic, where one (or several) extraordinary nights await. Whether you choose a yurt, Pod or tree house (!), you're sure to live a truly outstanding experience you won't soon forget.