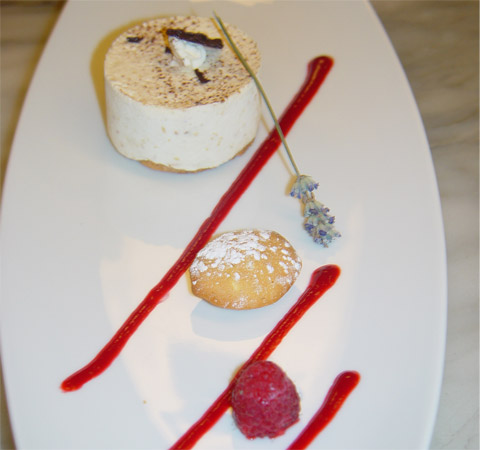 Ingredients:
900 g whipping cream (35%)
5 g dried lavender
350 g honey
50 g glucose
250 g egg whites
80 g Rice Krispies (cereal)
80 g chopped pistachios
80 g roasted almonds
Preparation:
1) Bring 100 g of cream to a simmer and add lavender. Set aside to infuse for 10 minutes then refrigerate.
2) Whip remaining cream with infused cream, then refrigerate.
3) Mix honey and glucose and heat to 121°C. Beat egg whites using a mixer and gradually add honey/glucose mixture until meringue forms.
4) Keep beating until meringue cools. Fold in whipped cream.
5) Add Rice Krispies, pistachios, and roasted almonds.
6) Using a spatula, fill moulds and freeze for at least six hours.
This recipe is presented by Stephane Lo Ré, Chef créateur
17, rue Peel, Sherbrooke  J1H 4J9 
819 822-4177