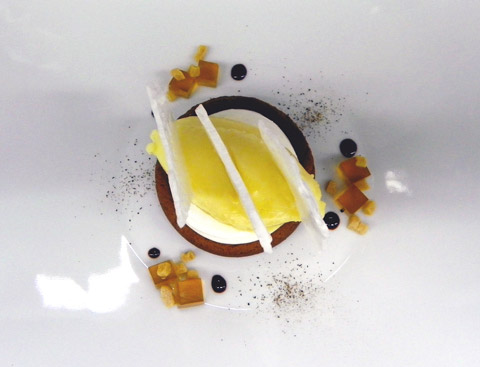 Serves 16
400 F
6 min.
Ingredients:
140 gr. butter
175 gr. maple sugar
46 gr. sugar
1 egg
50 ml. maple syrup
300 gr. flour
5 ml baking soda 
1 ml salt
Preparing the cookies:
1) Mix the sugar and the butter until frothy.
2) Add eggs and maple syrup.
3) Premix and add the dry ingredients.
4) Divide into 16 portions .
5) Form them into slightly flattened balls of approximately 7.5 cm in diameter.
Preparing the yogurt:
1) Sweeten to taste 750 gr. of plain 2% yogurt.
2) Mix well and place in a cheese cloth.
3) et drain in refrigerator for 24 hours to achieve a firm consistency.
Baking and garnishing the cookies:
1) Bake cookies and let cool for 5 minutes.
2) Garnish with yogurt topped with apple sorbet or a nut ice cream from Laiterie de Coaticook, Créateur de saveurs.
3) Decorate with meringue, apples diced into small cubes or maple jelly.
This menu is offered by pastry Chef,  Angèle Racicot, Chef créateur of Manoir Hovey
575, rue Hovey, North Hatley  J0B 2C0
819 842-2421 / 1 800 661-2421
www.manoirhovey.com