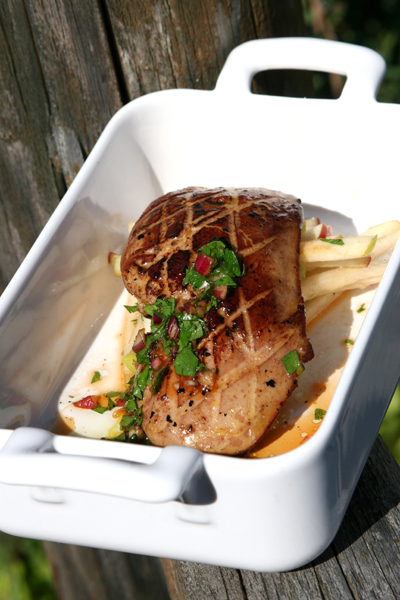 Serves 4
Ingredients :
4 100 g (31/2 oz) escalopes of duck foie gras
30 mL parsley, chopped 2 tablespoons
Maple and balsamic vinaigrette :
80 mL dark maple syrup 1/3 cup
30 mL balsamic vinegar 2 tablespoons
30 mL tamari sauce 2 tablespoons
Preparation :
1) With a sharp knife, trace a square pattern on the escalopes.
2) Place escalopes in a very hot skillet, pattern side down.
3) Sear for approximately 3 minutes on both sides. Remove and reserve.

4) Julienne apples with a mandoline.
5) Add parsley and enough vinaigrette to moisten apples.

6) In a bowl, combine all ingredients and reserve at room temperature.

7) Place escalopes in a very hot skillet and sear again for 2 or 3 minutes on each side.

8) Add a pinch of fleur de sel before serving.