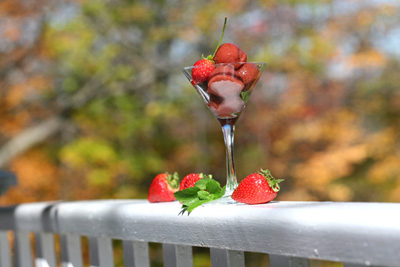 Serves 4

Ingredients :
500 mL fresh strawberries 2 cups
100 mL cranberry juice 3/8 cup
1/2 bunch fresh lemon balm coarsely chopped
15 mL lemon juice 1 tablespoon
125 mL white sugar 1/2 cup


Preparation :


1) Place chopped lemon balm in a large non-reactive bowl.


2) Combine all the ingredients in a blender, except the lemon balm.


3) Simmer the mixture in a covered saucepan over medium heat for 15 minutes. Remove from heat and pour into a bowl over the lemon balm.


4) Cover with plastic wrap and let steep for 15 minutes.


5) Strain through a chinois and pour into a plastic container.


6) When cool, cover the purée with plastic wrap and freeze for 24 hours.
Steven Beyrouty - Auberge Georgeville 1889
The recipe is from the book: "Flavours of a region: Eastern Townships", by Michèle Foreman. (2007)