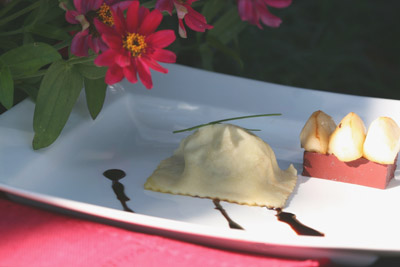 Ingrédients :
12 agnolotti
2 x 500 g (1 lb 2 oz) pork jowls
1/2 Spanish onion, finely diced
1 stalk celery, finely diced
185 mL Moût de P.O.M. 3/4 cup
500 mL brown stock 4 cups
310 mL poultry broth 1 1/4 cup
30 mL butter 2 tablespoons

Boudin
200 g boudin noir (black pudding) 7 ounces
30 mL butter 2 tablespoons
Preparations :
Agnolotti
1) In a small ovenproof casserole, sear pork jowls on all sides.
2) Add onions, carrots, celery, and herbs. Deglaze with Moût de pomme, then cook in a preheated oven at 180°C (350°F) for approximately 4 hours.


3) Remove meat from bones, dice finely, and reserve.


4) Strain cooking juices through a chinois. Cool until fat congeals. Skim and discard fat.


5) Pour liquid into a saucepan, then add meat and stock.


6) Reduce cooking juices until almost dry. Season.


7) With fresh pasta dough, make agnolotti. Cut 8 x 6 cm (3 1/8 x 2 1/4 in.) rectangles and place a small amount of braised meat in the centre. Seal.


8) Poach agnolotti in poultry broth.


Boudin


1) Cut boudin and sauté in butter.


2) Brown pieces of apple and place on top of boudin.


3) Serve with poultry broth.
Roland Ménard - Hovey Manor
The recipe is from the book: "Flavours of a region: Eastern Townships", by Michèle Foreman. (2007)