Being a true foodie, I love trying new culinary initiatives in the region. When I heard that Tourism Lac-Brome organized meals with local chefs and producers, I just had to experience this to tell you all about it. So I'm off to Brome Lake!
The concept: A Townships chef in the home of a Brome Lake producer.
Throughout the summer, Tourism Lac-Brome has been offering visitors the opportunity to feast on a 5 or 6-course meal made with local products, but featuring the host's products. Yes! We'll be enjoying our dinner on the property of a Townships producer! A large table, able to welcome between 20 and 40 guests, set among the grapevines, different plants, berries… Each venue is meticulously planned to create a truly sensational experience.
I myself went to the Léon Courville vineyard to savour Auberge West-Brome's chef Vincent Mariotti's menu. Comfortably seated on the terrace with a magnificent view overlooking the grapevines, the meal began with a glass of sparkling wine called La Muse, bottled by Léon Courville.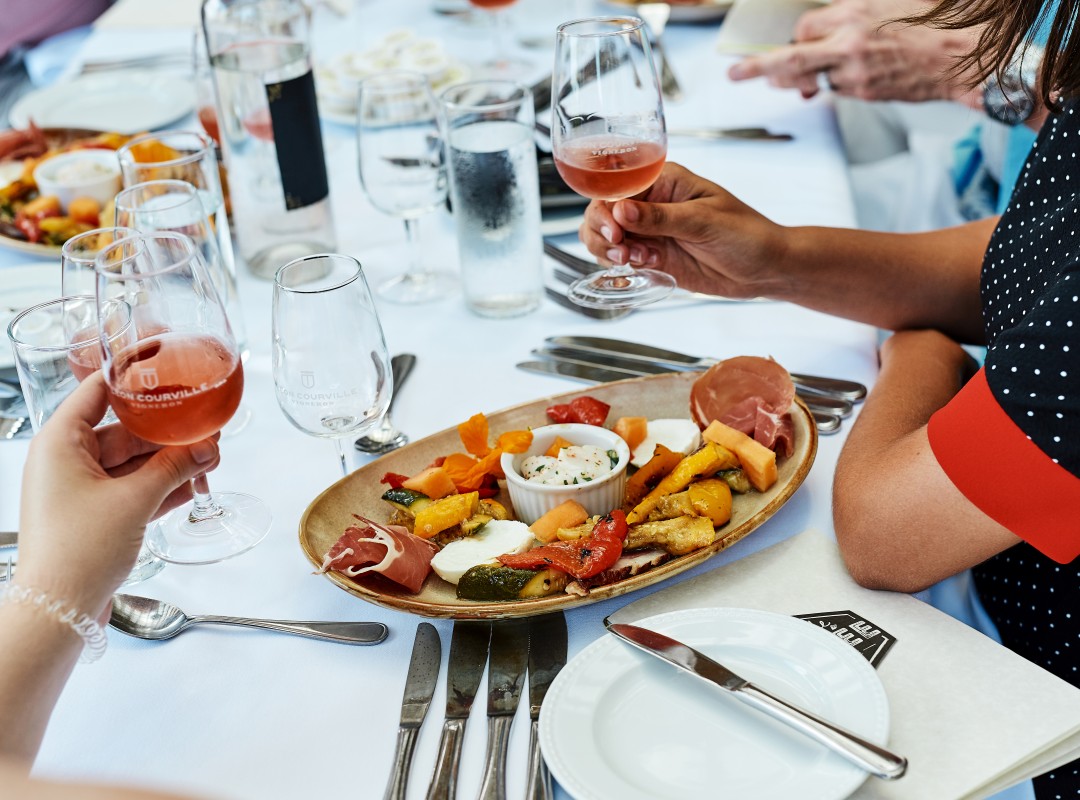 Six Courses And Many Surprises!
We started our culinary adventure with a cucumber gazpacho, a first course specially added to the menu to refresh the vineyard guests; mission accomplished!
Continuing our taste experience, we were served a revisited dish of antipasti. Alongside the fresh mozzarella and succulent slices of tomatoes and prosciutto, grilled veggies and a scallop ceviche completed each plate.
Surprise! The next serving was a strawberry granita made with red wine and sweet spices. My favourite course of the day! Then, the plat de résistance: a Sainte-Sabine guinea fowl supreme stuffed with pâté de foie gras and brandy-dipped grapes. A pure delight!
Finally, the chef assembled a plate of Brome-Missisquoi cheeses for us and a refreshing dessert: a raspberry mousse.
Don't Miss Out on This Opportunity!
You still have two chances to take advantage of this magnificent concept, a gourmet dinner on the property of one of our local producers! August 16, the 5-course meal will be prepared by chef Gérardo D'Amore at Brome Lake Ducks. The last 5-course meal will be held on August 25 with Chef Patrick Plouffe at Les Argousiers du Lac Brome.
Don't wait too long to reserve. Places are limited. Enjoy your experience!
Photo Credit: Tourisme Lac-Brome / Daphné Caron