by Natalie Sicard
Well known inside visual art circles, multidisciplinary artist Amélie Pomerleau is a master when it comes to expressing herself through a panoply of plastic art mediums. She stands out as much with her small and large dimension sculptures as with her every day-use ceramic pieces.
Her leitmotif? "To mix colours and techniques; to carve, shape and mould matter." But, underlying all these explorations, her artistic approach is strongly guided by her life experiences and her instinct. The human experience with all its complexities and contrasts, the ephemeral and the perennial, presences and absences, are all expressed through "imprinting processes resembling those left by fossils."
Born in Alberta, raised in Ontario, and having settled in Magog since 2003, she carries in her minds' eye the stamp of vast spaces and nature within. "I didn't live by the sea but I'm still fascinated by coastlines, the world of minerals, seashells and coral. I love natural-looking objects." These inspirations are reflected in her collections of serving, salad, latte and poke bowls, plates and ramekins. You can find her collections by going to her Stellart Créations boutique on Etsy. "the name Stellart was inspired by a concept, referring to the cosmos and infinity, combined with the concept of stars, starfish and art."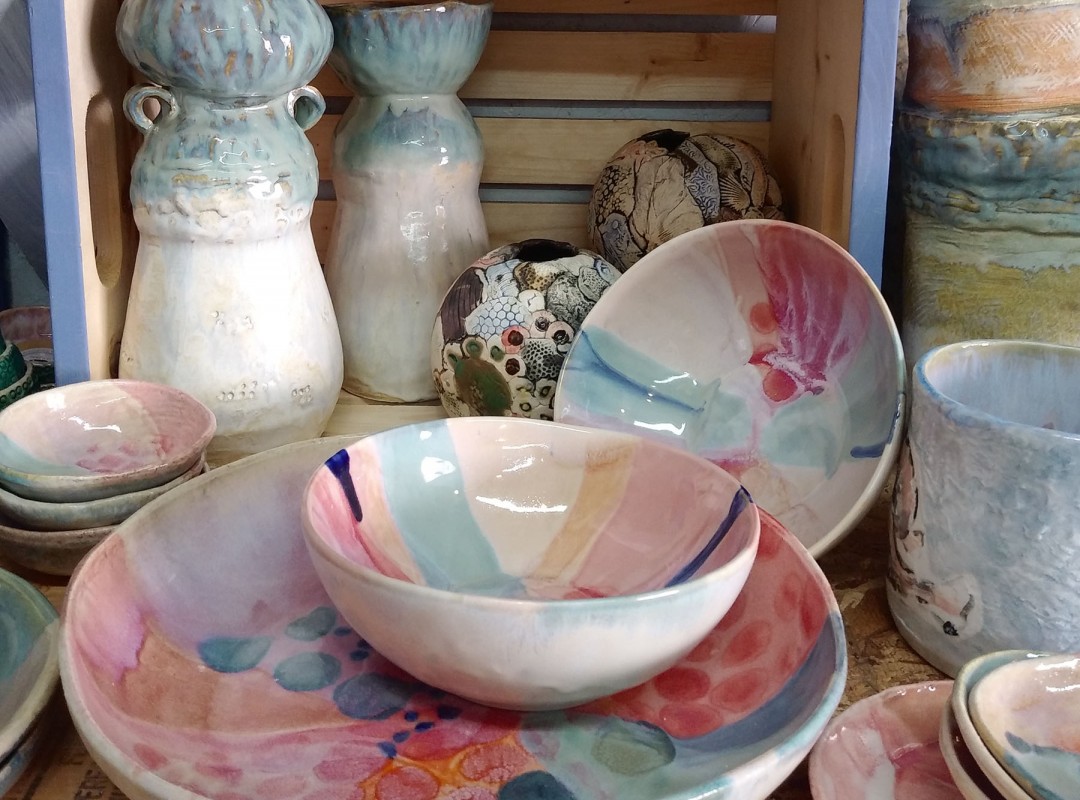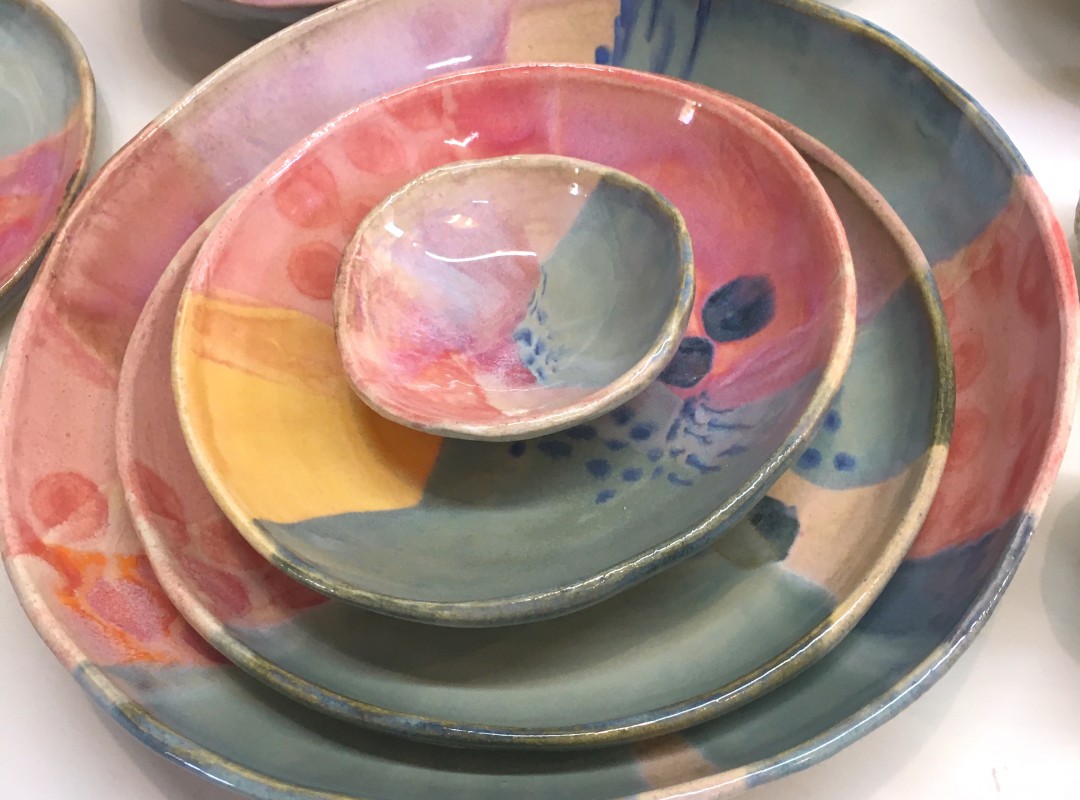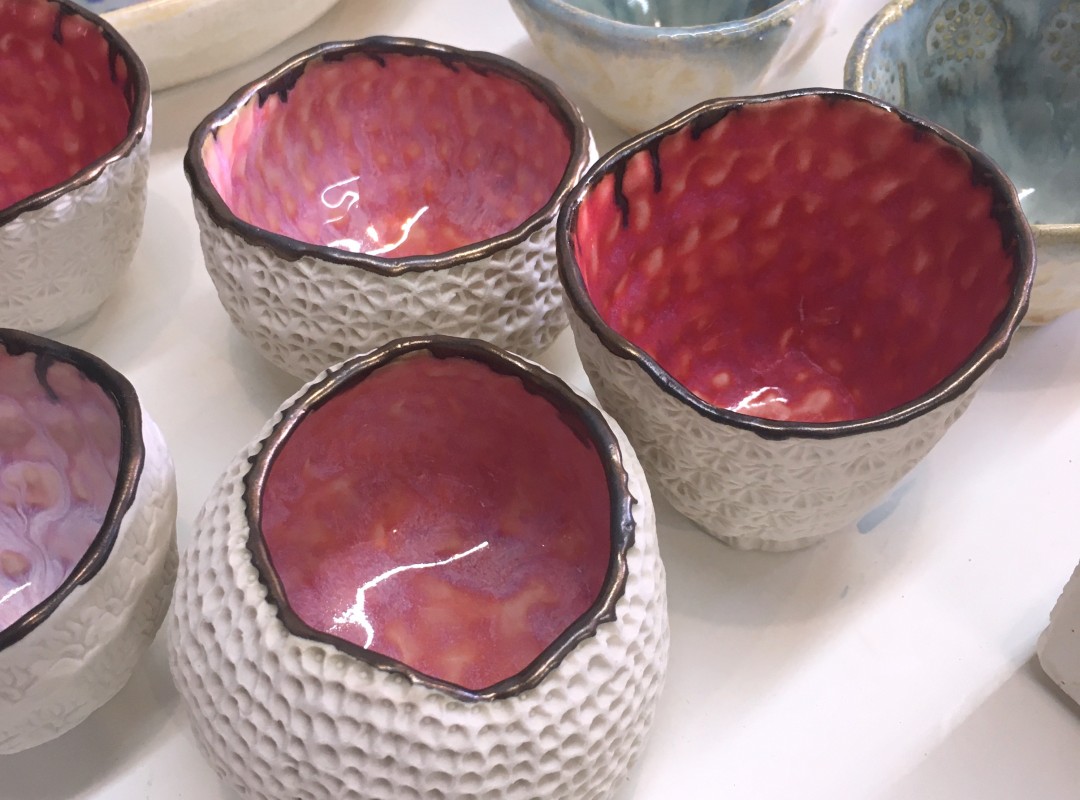 Owning quite an educational corpus, including a bachelor's degree in sculpture from Concordia University, a DEP in stone carving, drawing, sculpting, sandblast etching and pottery classes, the artist feels a true passion for shapes. She fashions her pieces manually, which explains their organic appearance. Then, as she starts applying the glaze, she loves to blend colours. The result offers a watercolour effect which brings to mind galaxies as they're expanding. "Each piece is unique, and carries its own poetic and sculptural specificity. Her more practical pieces open a window piquing our curiosity, as they appease those who enjoy them."
By visiting her website, we can see her entire artistic production and the three monumental sculptures she created for different Quebec municipalities. All three are related to the theme of mourning, inspired by the personal trial she survived, they also carry a grand passion for life, a duality felt in each stratum of her work.
Her Stellart Créations boutique on Etsy | Her Internet website