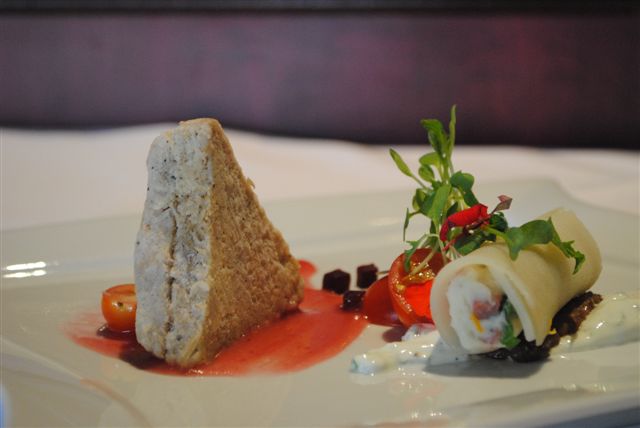 For six people
Ingredient:
2 big Yukon Gold style potatoes
180 gr. of Stanstead rabbit rillettes, cut up in six slices
1 rabbit fillets pack (6 units)
45 ml (3 tablespoons) of diced chorizo (Spanish sausage)
30 ml (2 tablespoons) of butter
15 ml (1 tablespoon) of oil
Dressing:
75 ml (5 tablespoons) of sour cream
15ml (1 tablespoon) of Dijon mustard
30 ml (2 tablespoons) of minced green shallots
5 ml (1 tablespoon) of honey
Salt & crushed black pepper
Preparation:

1)      Bring to boil a salted water saucepan, peel 1 potato, cut it in pieces & cook, put aside, add butter & reduce in puree, then add the diced chorizo.
2)      Mince the other potato on the mandoline in the lengthwise & cook 2 min. in boil water, refresh under cold water & reserve.
3)      In a bowl mix the all dressing ingredients, salt & pepper, reserve.
4)      On a work surface put on a potato slice & put on a puree spoon, then roll to make a cylinder & reserve.
5)      Heat oil in a fry-pan & cook quickly the rabbit fillets, put aside.
Layout:
In a plate, set on a rabbit rillettes slice, garnish with your choice of red berry jelly, then draw a line of dressing, sour cream & put on the rabbit fillet & finish with the roll of puree & chorizo.
Garnish according to your inspiration, can be served with croutons to go with the rillettes.
This menu prepared by Alain Ferraty, Executive Chef,
from Manoir des Sables at Orford