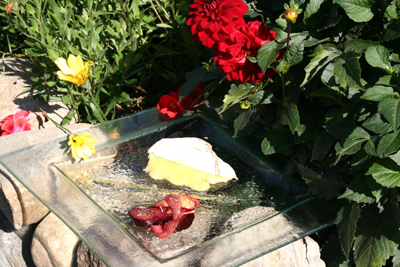 Serves 4


Ingredients :
250 g Caprices des Cantons cheese 9 ounces
30 mL sugar 2 tablespoons
60 mL liquid honey 1/4 cup
15 mL lavender 1 tablespoon
Tea syrup
60 mL green tea leaves 1/4 cup
Preparation :

1) In a non-stick skillet, melt sugar until golden.
2) Combine slices of fruit (apple, pear, and plum). Simmer for approximately 3 minutes, then pour in the tea syrup and cool in the refrigerator.


3) Pour honey and lavender into a microwave safe bowl.


4) Heat for a few moments until the lavender releases its full flavour.


5) Pour water into a saucepan. Add sugar and tea leaves, and heat to a simmer.


6) Strain through a chinois and refrigerate.


7) Cut cheese into 4 equal parts and put into ramekins.


8) Drizzle with lavender honey and warm in a preheated 180°C (350°F) oven for 2 or 3 minutes.