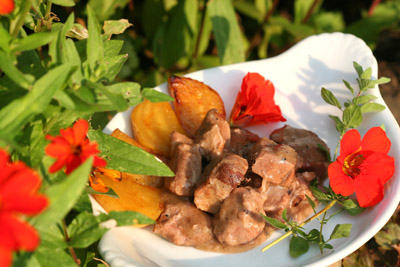 Serves 4
Ingredients :
800 g lamb shoulder or 1 pound 12 ounces neck, cubed
30 mL olive oil 2 tablespoons
310 mL red wine 1 1/4 cup
4 cloves garlic, finely chopped
Preparation :
1) Heat olive oil in a large, heavy-bottomed skillet.
2) Sear cubes of lamb on one side without turning.
3) Dredge with flour and turn immediately.
4) Colour the meat (do not cook) and remove.
5) Deglaze with a small amount of red wine and pour the liquid over the meat.
6) Add garlic and cardamom seeds.
7) Return meat to skillet and cover with remaining wine.
8) Simmer for approximately 1 hour and 15 minutes. Meat should be tender but must not separate. Season.
Martine Satre - Le Temps des Cerises
The recipe is from the book: "Flavours of a region: Eastern Townships", by Michèle Foreman. (2007)