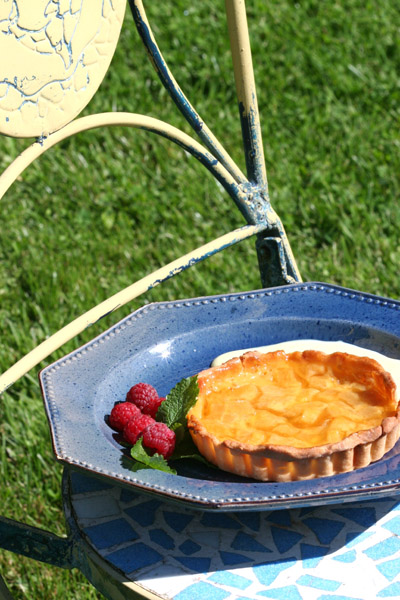 Serves 4
Ingredients :
Tartlets
600 g sweet pastry dough 1 pounds 5 ounces
Maple caramel
150 mL medium maple syrup 5/8 cup
Apple filling
2 Cortland apples, peeled and finely diced
125 mL apple juice 1/2 cup
Preparation :
1) With a rolling pin, roll out the dough and cut rolledout pastries to line 4 tart moulds measuring 12 cm
(4 3/4 in) in diameter.
2) Bake in a preheated 180°C (350°F) oven until the crust begins to brown. Reserve.
3) Heat cream and syrup in a saucepan, stirring constantly.
4) Reduce by two-thirds. Cool to room temperature. Reserve.
5) In a saucepan, cook apples in apple juice over low heat (they should remain firm).
6) Remove the apples and cool. Reserve the juice.
7) In a bowl, mix egg yolks with maple caramel and apple juice.
8) Place apples in pie crust and pour caramel over the apples.
9) Bake in a preheated 150°C (300°F) oven for approximately 20 minutes.
Hans Christiner - Auberge Joli Vent
The recipe is from the book: "Flavours of a region: Eastern Townships", by Michèle Foreman. (2007)