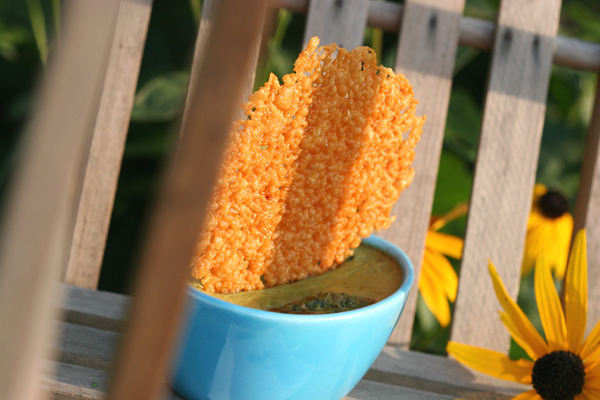 Serves 8
Ingredients :
300 g fiddleheads 10 1/2 ounces
1/2 onion, finely chopped
1 clove garlic, finely chopped
Tuile
160 g grated goat cheddar cheese 5 3/4 ounces
Preparation :
1) In a saucepan, combine milk, cream, onion, garlic, salt, and pepper.
2) Add fiddleheads. Bring to a boil. Purée in a blender. Reserve.
3) Using a fork, beat eggs and egg yolks. Blend into the mixture.
4) Pour equal portions into ramekins.
5) Place ramekins in a dripping-pan half-filled with water.
6) Cook in a preheated 180°C (350°F) oven. Serve warm.
7) Line a cookie sheet with non-stick paper. Shape cheese into 8 cm (3 1/8 in.) diameter circles, leaving a 1.5 cm (5/8 in) space between each to allow for spreading.
8) Bake tuiles in a preheated 190°C (375°F) oven for approximately 10 minutes.
Martine Satre, Le Temps des Cerises
The recipe is from the book: "Flavours of a region: Eastern Townships", by Michèle Foreman. (2007)