Published on Oct 24, 2019
It's autumn. The real one! the one that exudes scents of dried leaves and has us yearn for the warmth of a charming, rustic cabin after spending the day enjoying nature. And this is exactly what my Lover and I did, just for a quick getaway, at Au Diable Vert mountain station, in Glen Sutton.
By Jessie Jolin
First, Au Diable Vert is magnificently set between several mountains and valleys. After leaving the main route that takes us across Missisquoi Valley, to reach our destination, we must drive up through a forest on a very steep dirt road. Very quickly, the road opens onto the welcome lodge and a high-altitude field where Highlands, these long-horned, long-haired cattle, are quietly grazing.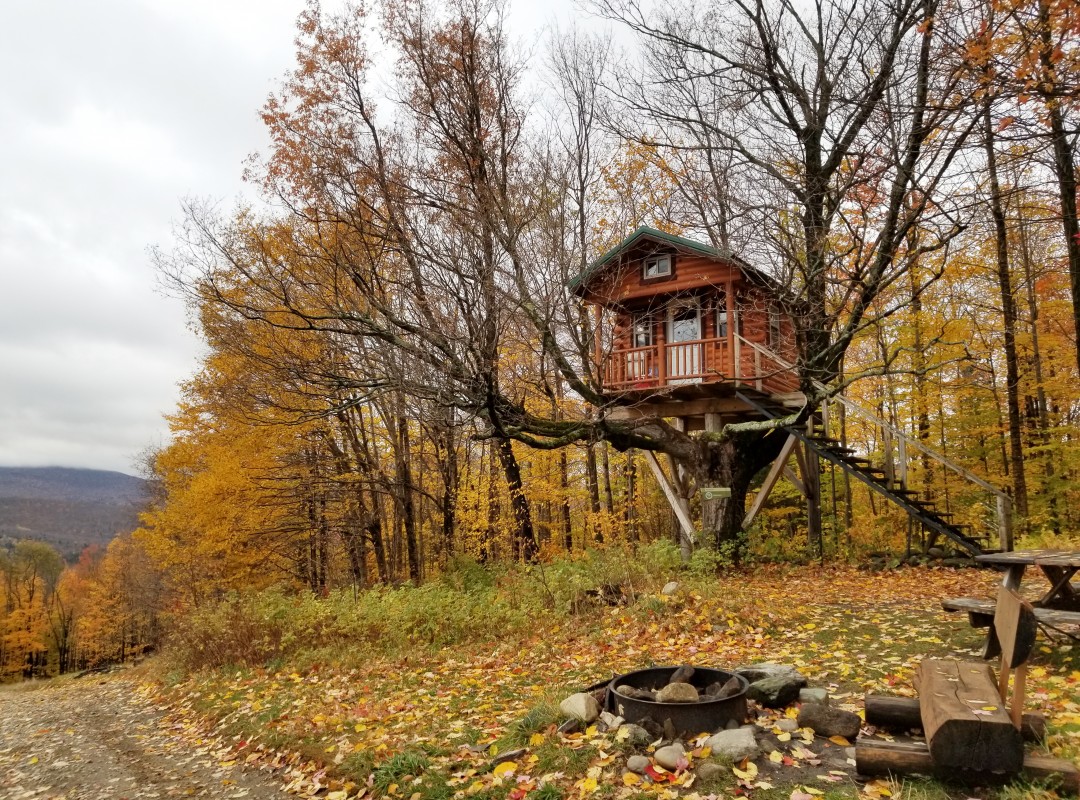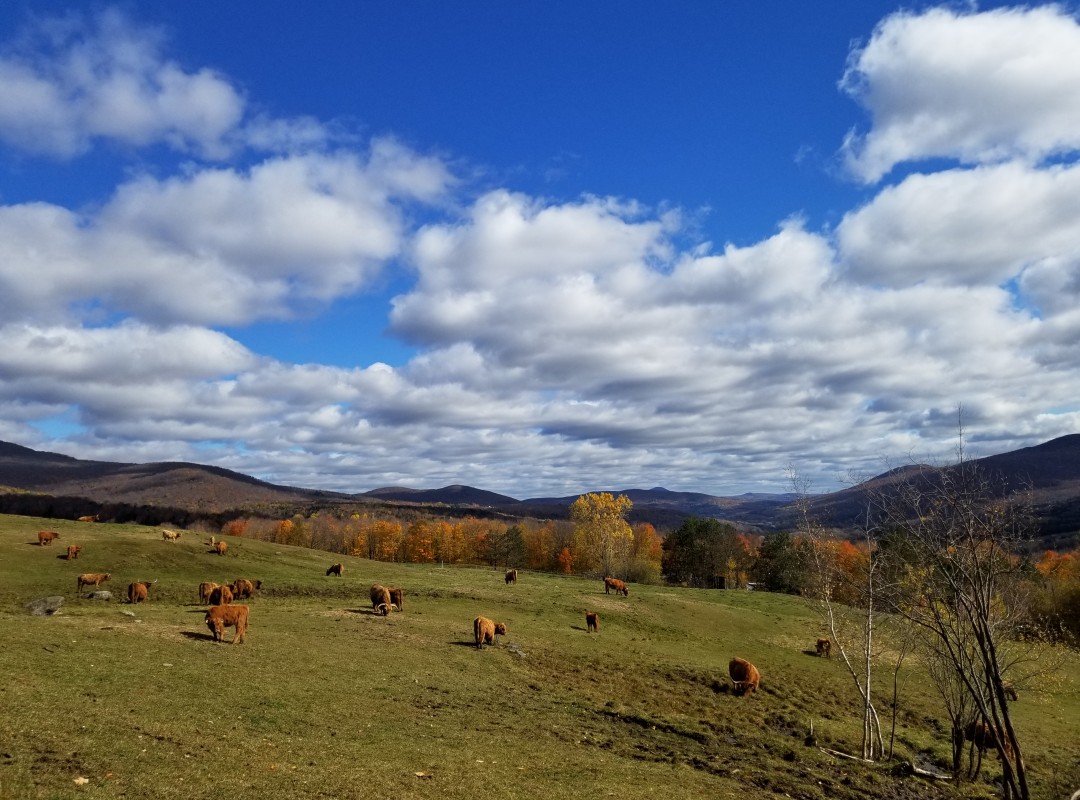 A Cabin perched High-up in a Tree as Our Base Camp
At the reception desk, they give us our key, a battery pack for the shelter's lights and a smoke detector. For this stay, we chose a tree top cabin, but there are plenty of other lodging options offered here: camping spaces, pods, airstreams, mountain apartments and rustic shelters. Because the accommodations are only accessible on foot, they show us some available carts we can use to transport our bags. (They also offer to carry them for a fee of $10 per trip.)
Located at 250 m from the parking lot, our shelter is one of the closest to the welcome lodge (the furthest ones are located 1 km from here). It still took us quite a bit of effort to reach our site while pulling our cart, loaded with all our equipment.
Our cabin, the Abenaki, is nestled among the branches of a hundred-year-old maple tree, 12 feet above the ground. From our balcony we have a splendid panoramic view of the Sutton range and the Green Mountains which spread out beyond the Canadian border. Nearby, the Highland cattle are roaming about wherever they feel like going. They're quite indifferent to any human activity in the area, except when it's time for their daily ration of hay; that's when "mooing" concerts can be clearly heard.
Inside the cabin, the amenities are basic: a futon, a small table for two, a wood-burning stove and a series of cabinets with a counter. No running water nor electricity. It's perfect for escaping the daily grind. We cook the old fashion way: on the wood-burning stove and in a "we're in no hurry" mode.
Thousands of Stars
It's in this relaxing ambiance that the day unfolds. Outside, total darkness soon settles in. We walk out of our cozy cocoon to gaze up at the evening sky, just recently certified Dark Sky Reserve. With no light pollution, the celestial dome is quite impressive. The stars shine bright and the milky way is perfectly visible.
In fact, for those who would like to learn more about astronomy, from May to September, Au Diable Vert invites visitors to ObservÉtoiles, their open-air planetarium; a sky observation experience which uses an augmented reality technology.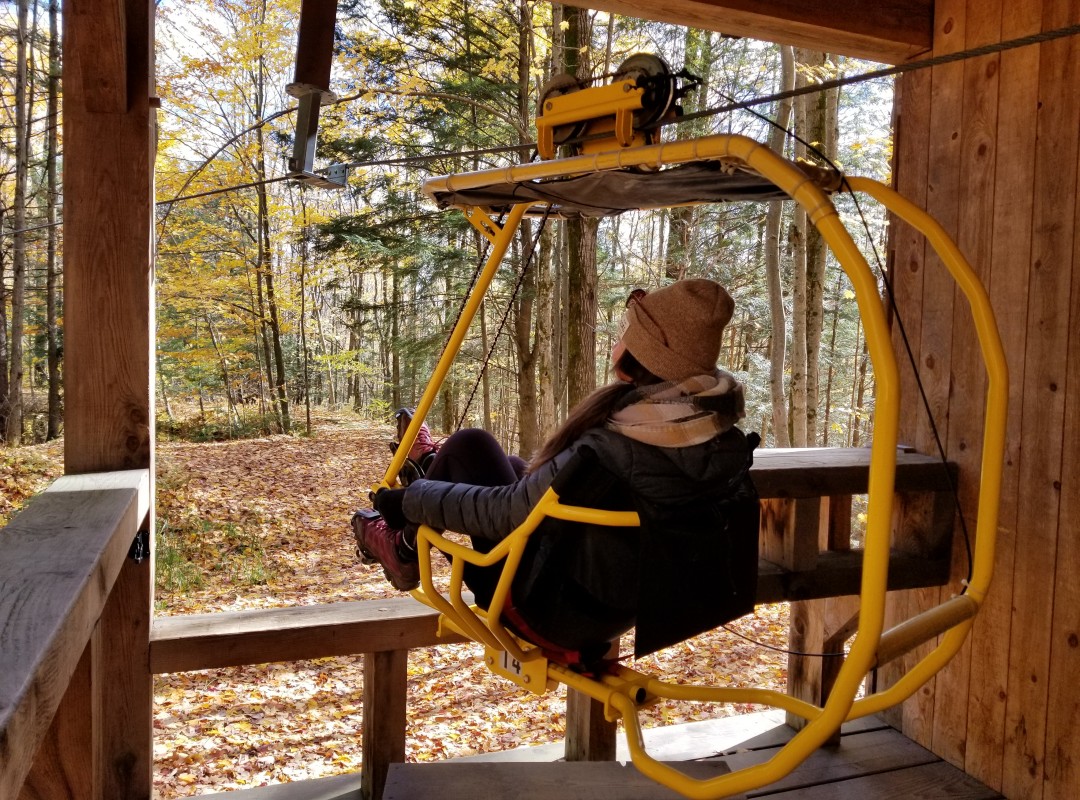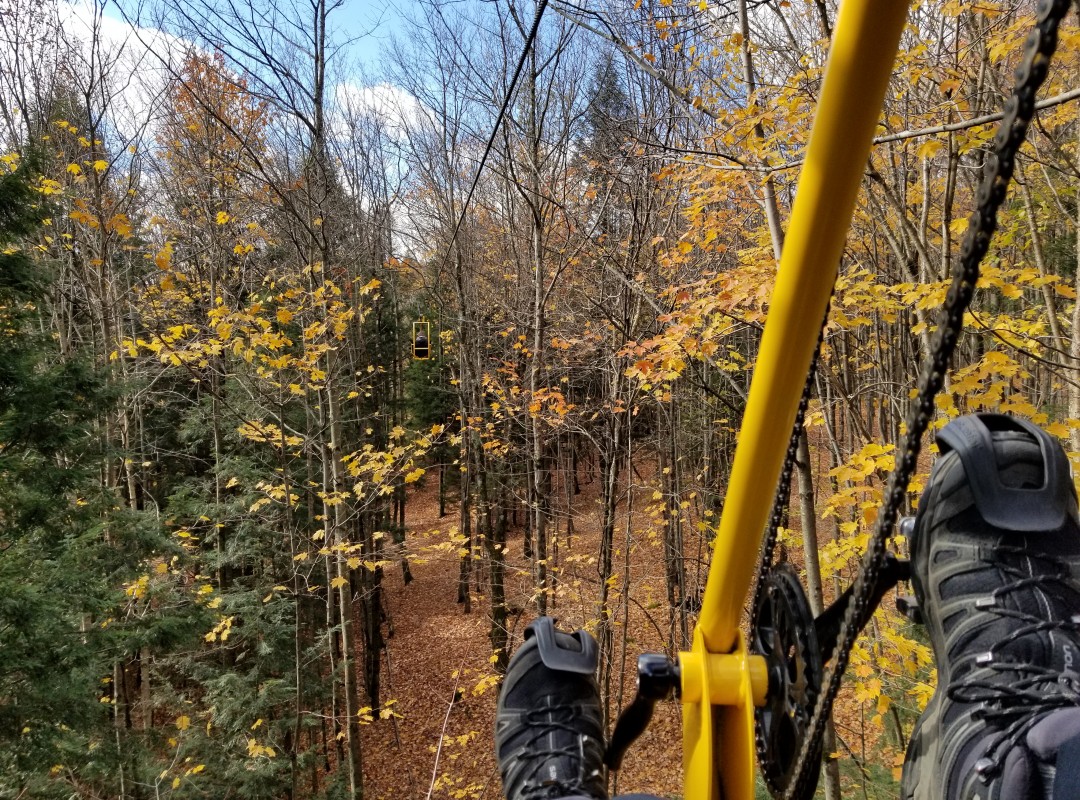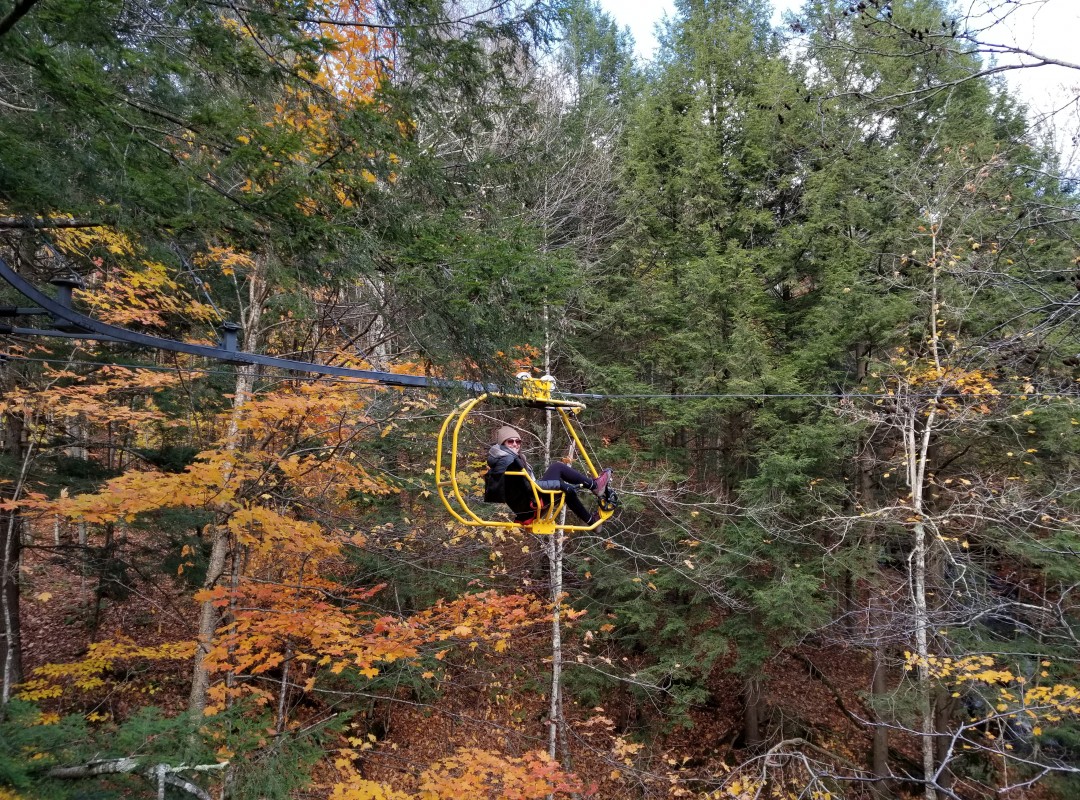 VéloVolant: a Highly Colourful Experience
After a restful night and a peaceful morning savouring our coffee, we head out in the woods to try Vélovolant. Unique in Canada, the activity consists of pedalling high up through the trees, comfortably seated in these sort of recumbent, suspended bicycles.
Cycling atop the trees is really special, but be careful, this activity is not for those who are scared of heights; In some areas, the cable goes up to 100 feet above the ground! In fact, of the three places in the world where vélovolant activities exist, Au Diable Vert is ranked first for top over ground heights!
By pedalling slowly and by stopping often, to take pictures and to admire the views, it took us 45 minutes to complete the 1 km course. Totally thrilled with the activity, we finally landed on our feet and handed back our bikes.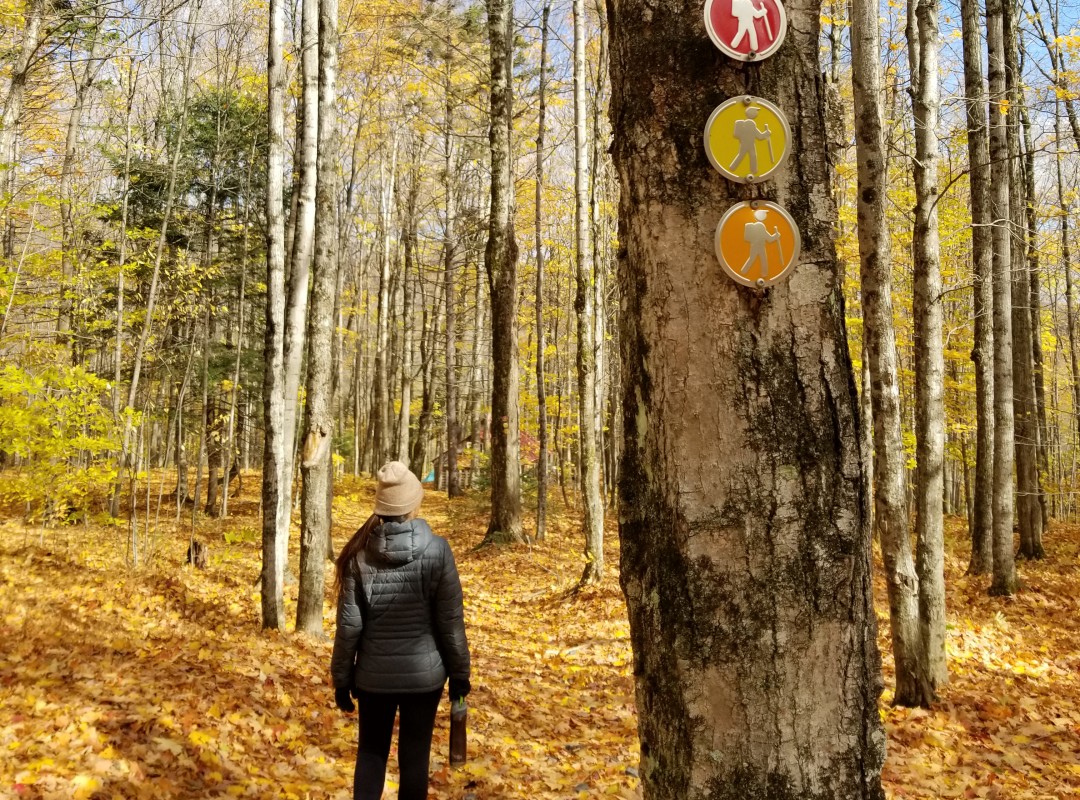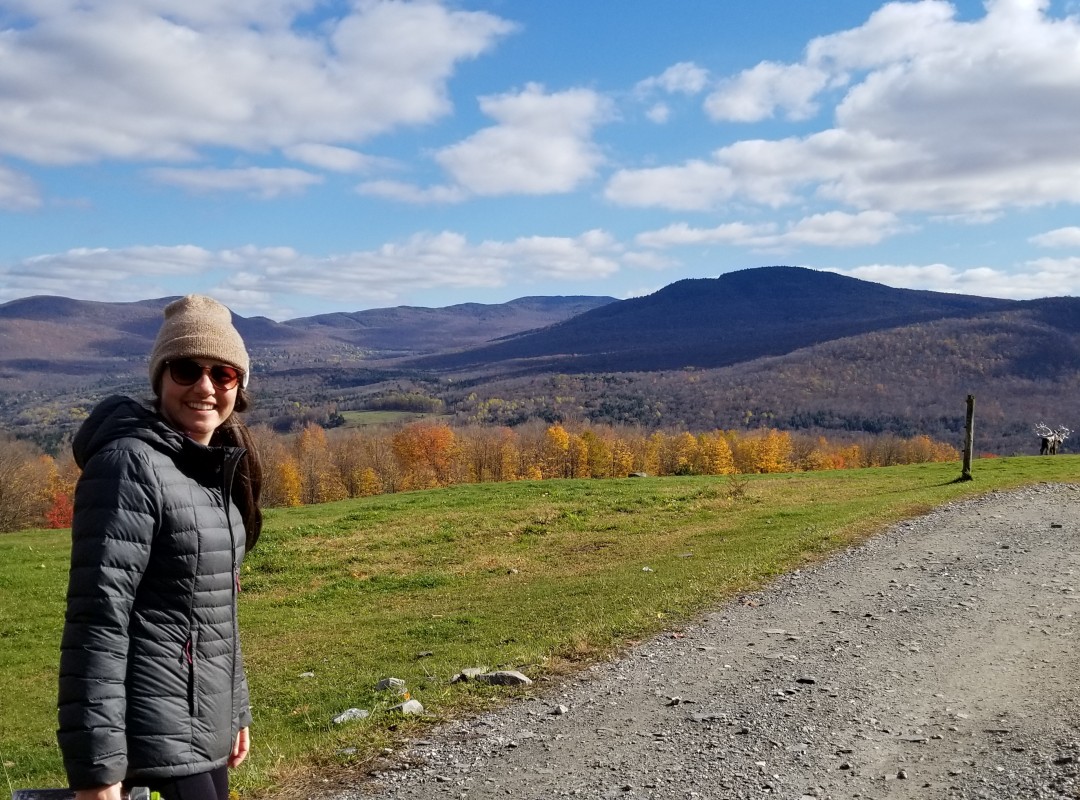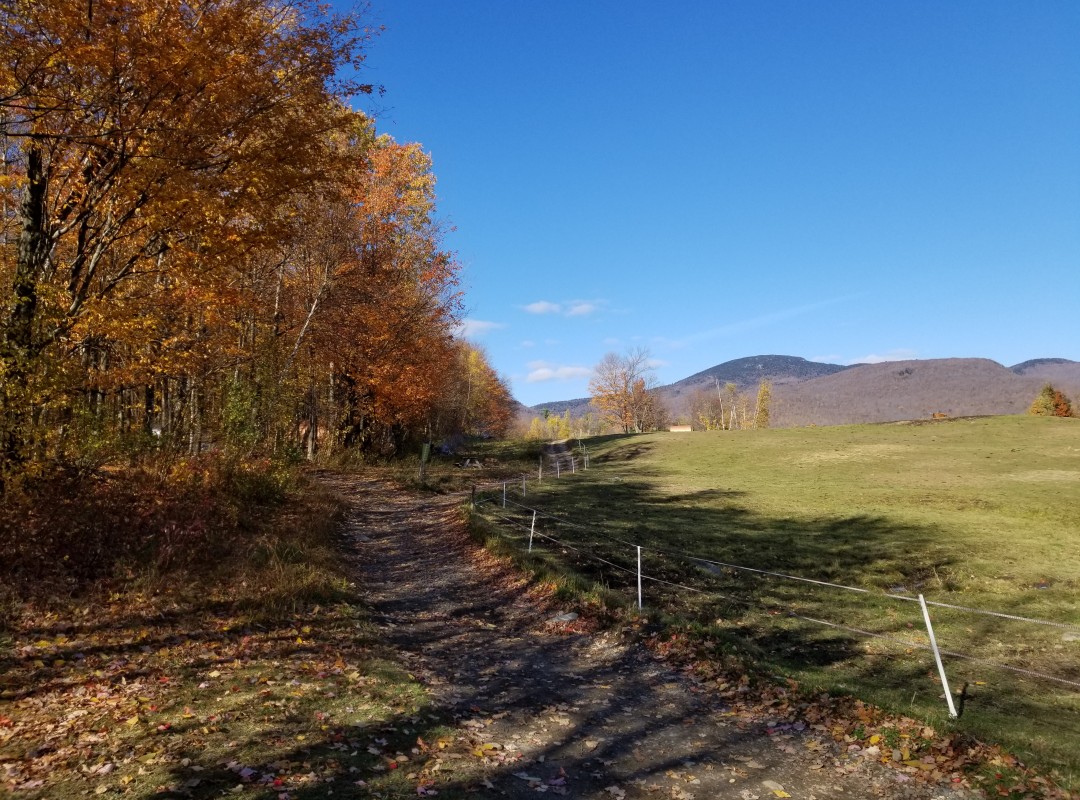 Hiking Trails and Many Other Attractions for an Amazing Day
In the afternoon, we head out to explore the station's hiking trails, a private network covering 14 km. There are very little chances for us to get lost because each intersection and each trail is identified with their own colour. From the trails at Au Diable Vert, we can also reach the top of Mount Sutton or the tops of the Montagne Vertes network by way of Les Sentiers de l'Estrie or the Parc d'environnement naturel de Sutton (P.E.N.S.). The access point to these trails was, however, temporarily closed at the time of our visit.
Several other activities are also offered at Au Diable Vert. However, we didn't have the opportunity to try them this time: Heading down the Missisquoi River, either with a kayak a paddleboard or a tube, three great options to try during warm summer days.
A Truly Restful Stay
The next morning, a bit nostalgic, we left our little tree shelter to return to our car. Although the station had no vacancies left, the site was very quiet. The different lodgings were at a comfortable distance from each other and the mountain decor gave us the impression we were far from any civilization! In short, it's a fantastic getaway as a couple, for those who love nature, and for those who are willing to sacrifice a bit of comfort in exchange for a very unique experience.
Useful Information to Plan Your Stay
You wish to try VéloVolant, experience ObservÉtoiles or to have the best choice for your accommodations? Reserve early!
You must remember to bring ALL your cooking and tableware equipment as well as your bedding.
Dry toilets are accessible near each lodging and there's a sanitary block with free showers near the reception building.
There's firewood available in every lodging, but it's not included in the cost of your stay.
Your four-legged friend is also welcome on the site and inside the lodgings.