Many people think that I'm lucky because as a journalist, among other things, I get to use my bicycle a lot… Indeed, a lot of road, mountain and all-terrain (gravel) cycling … and travelling to discover new places … and meeting all kinds of interesting people! Truth be told, I must admit they're absolutely right! In fact, I was just thinking to myself, what a great job I had as I arrived at Sherbrooke's Mont-Bellevue Park for the first time. Here, I found a 500-acre Garden of Eden, totally designated for practising outdoor activities.
Mountain Biking Right in the Heart of Sherbrooke!
Inside both an urban and a natural setting! Beautifully designed and well-drawn trails, exciting and safe, a couple of bridges adding a little spice to the descents, a few hairpin bends, and sections allowing an upbeat flow.
What I noticed right away, and what really resonated with me, was to find so many kids, and even day camps offered by Carbure Aventure, all devoted to this activity. I would have immediately wanted to invite my godson to ride the trails with me. Still, I was lucky enough to have Britany, Shawn and Danick, from the club Dalbix (Sherbrooke's mountain bike club), who accompanied me on this adventure!
Dalbix, with their primary goal geared to developing the sport, organizes many events and offers both competitive and recreational activities for cross-country, enduro and cyclo-cross in the fall. "The kids who live in our region feel really connected to the centre, it's like their second home,", says Luc Dugal, cofounder of Dalbix. "Some of them spend the entire day here, and then come back in the evening or on weekends with their parents."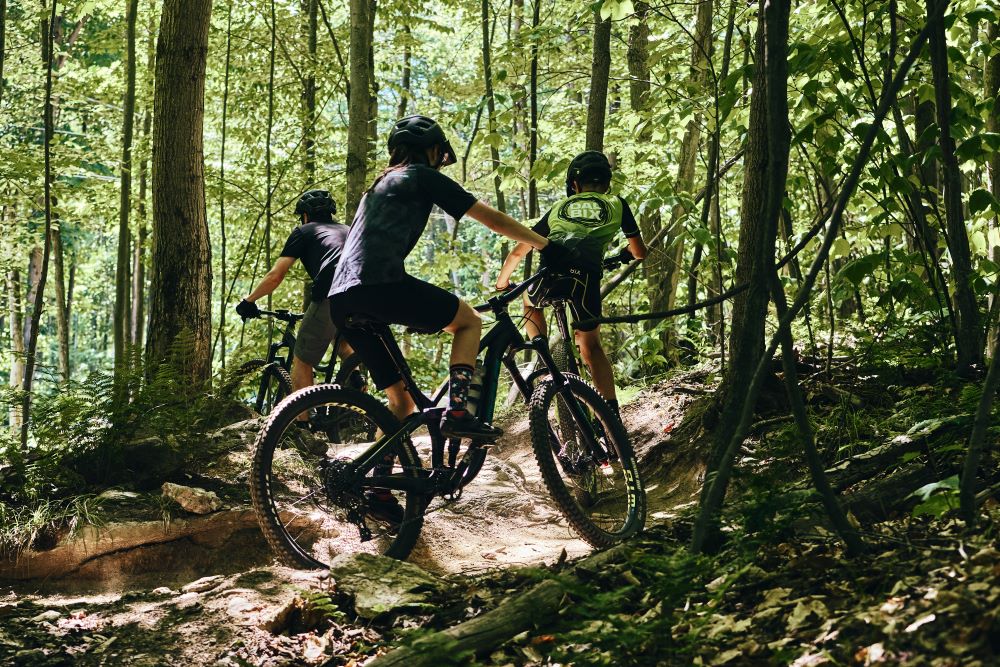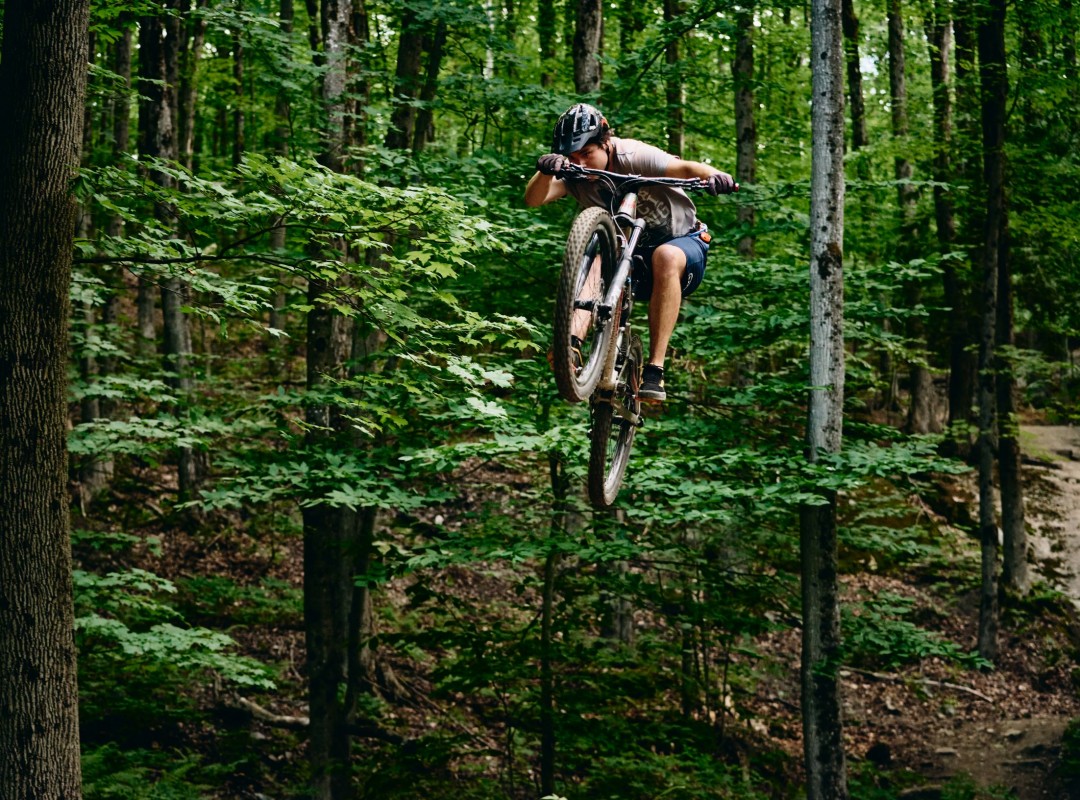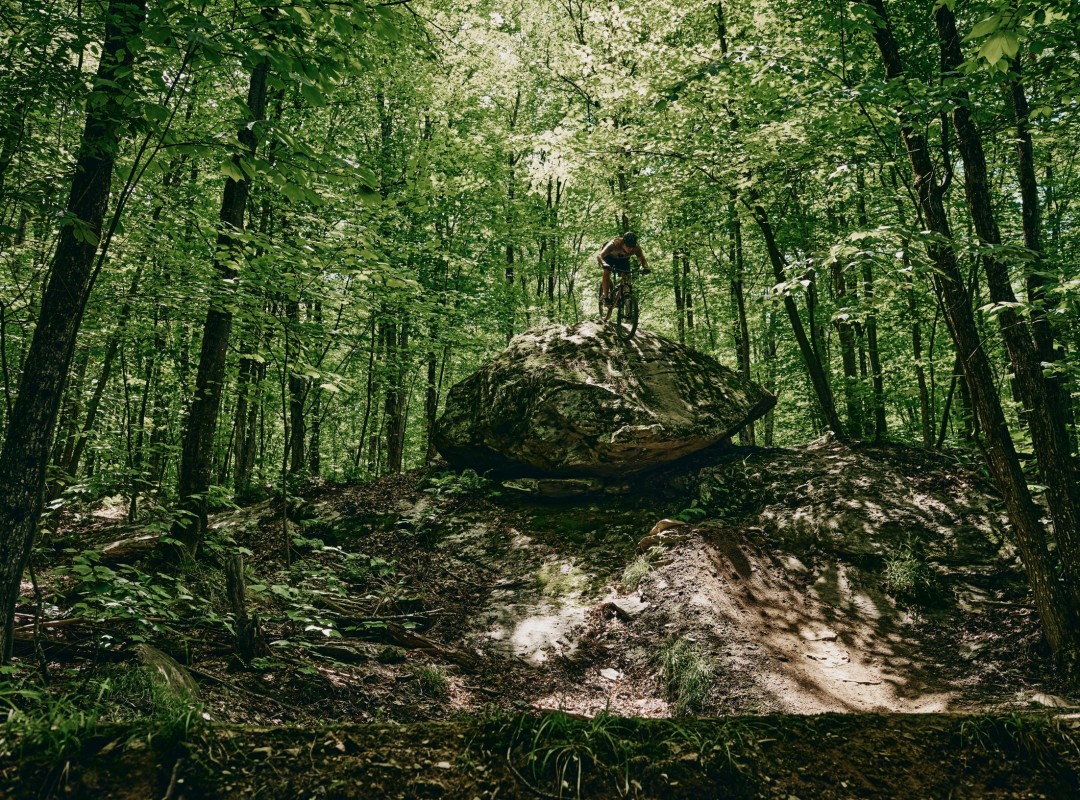 There's Something Here for Everyone
For visitors like me, these twelve or so kilometres of trails on Mont-Bellevue quickly become synonymous with pure pleasure. I'm not a daredevil and there are quite a few easy and intermediate trails. Experts also find challenges for their level. Let's not forget that Mont-Bellevue was this cycling specialty venue during the 2013 Canada Games. The technical level, interesting, even thrilling, offers sections with several rather tight but still "flowy" turns. Luc Dugal states that mountain bike enthusiasts from outside the Sherbrooke area have only good things to say about these trails.
I especially appreciated the fact that elite and amateur cyclists can mingle on these trails, rather than have each level ride in their separate part of the mountain. This allows me to have fun with the kids on the pump track and then to go look at an expert like Cédrick as he operates in the Phénomène Bacon trail. I had goose bumps just by watching him! If you think I'm exaggerating, click on the video we produced that day! While you're enjoying it, tell yourself that in real time it's 100 times more impressive.
On the other side of the domain kids aged between 7 and 12 love going on the Zigzagzoulou and the Zarrebi. They insist on doing them over and over again. It's like their favourite "amusement park ride because there are plenty of jumps, but no dangerous landings," explains Luc. Since there's often a lot of traffic here, the trails were designed for any type of weather. Tree roots and certain obstacles are well covered otherwise this playground would quickly be damaged. The next time I come, I'll climb to the top of the mountain to admire the magnificent view they told me I'd find. In some areas the trails are shared with hikers and runners as well.
So, overall, did I enjoy myself enough to want to return? Fort sure! Did I mention what a great job I have?
Yvan Martineau wishes to thank boutique Cycles St-Onge of Granby for lending him a Cannondale bicycle for this article.