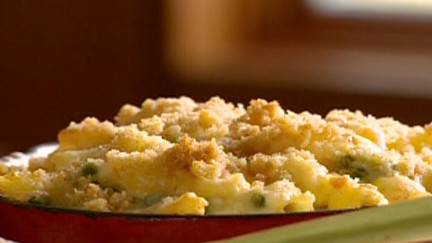 4 to 6 servings
Ingredients:
1 lb. penne
3 1/4 c. velouté sauce
1 lb. grated Comtomme or other Swiss-type cheese
1 2/3 c. of frozen peas
1 c. breadcrumbs
1/3 c. melted butter
4 William Suisse or Knackwurst sausages
Chives, chopped
Salt and fresh ground pepper
Instructions:
1) Blanche the sausages in a large pot of boiling water for 5 minutes. Remove sausages and slice if desired. Set aside.
2) Bring water to a boil, add salt, and cook the pasta for half the time required according to the directions on the package. Drain and return the pasta to the pot, add the velouté sauce and peas, and season with salt and pepper.


3) Preheat the oven to 200ºC (400ºF).
Pour the pasta into a casserole dish and add the sausages, making sure to baste them in a bit of sauce before covering them with the grated cheese.


4) In a small bowl, mix the breadcrumbs with the butter and sprinkle them on top of the pasta. Bake for 30 minutes. Scatter the chives on top and serve.
This menu was prepared using Comtomme cheese from the Fromagerie La Station, a Créateurs de saveurs product
440 Chemin de Hatley (Route 208)
Compton  J0B 1L0
819-835-5301 / www.fromagerielastation.com
and invented by chef créateur Danny Saint-Pierre from Restaurant Auguste
82 Wellington N., Sherbrooke  J1H 5B89
819-565-9559 / www.auguste-restaurant.com