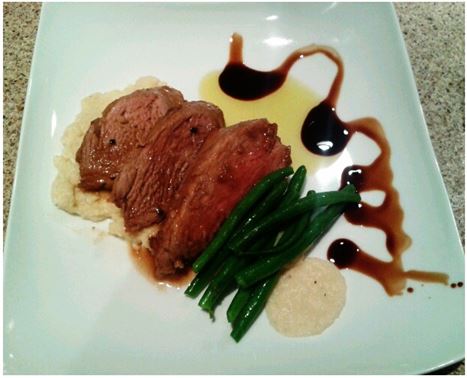 Ingredients:
15 ml (1 tbsp.) Vegetable oil
15 ml (1 tbsp.) Dijon mustard
60 ml (1/4 cup) maple syrup
30 ml (2 tbsp.) Blackcurrant syrup
Preparation :
1. Place rack in center of oven. Preheat oven to 180 ° C (350 ° F).
2. Flour the pork tenderloin. In an ovenproof skillet, brown in butter and oil. Salt and pepper. Remove from pan. Book.
3. Add a little butter to the pan if necessary, then it soften the shallots. Add mustard, maple syrup, blackcurrant syrup and simmer for about 1 minute, until the sauce thickens. Put the pork in the pan and coat well.
4. Bake 16 to 17 minutes for medium rare.
5. Remove from oven and cover with foil. Let stand 5 minutes before slicing. Garnish with fresh thyme.
6. Serve with barley pilaf with bacon and / or mashed acorn squash with maple