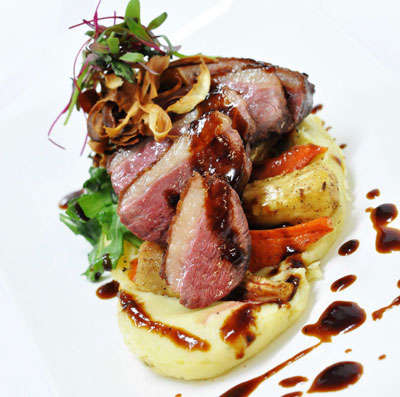 Ingredients: (for 4 people)
1 tablespoon of peeled cardamom (or 4 cardamom cloves)
Preparation:
1) Making diamond-shaped incisions in the duck fat without touch meat.
2) Salt the fat side of the breast & cook over low heat in a frying pan until obtain a golden color.
3) Turn & color the other side (add salt & pepper before).
4) Turn on the fat side & put in the oven, bake around 8 min. (the duck breast has to be served medium-rear).
5) In a frying pan, put apple juice & cardamom and then reduce until almost dry.
6) Add the veal stock & reduce about three quarters, we have to obtain a lightly soupy thickness (the quantity of the veal stock may change according to the thickness product).
7) Rectify seasoning.
8) Out of the heat, add a butter knob to the sauce & stir well.
9) Cut the duck breast with slices a 1-centimeter thick & top with the sauce.
Suggestion to serve with this dish: celeriac purée & roasted root vegetables (parsnips & carrots).
Recipe by Jérôme Turgeon, Executive Chef,
at Hotel Cheribourg at Orford