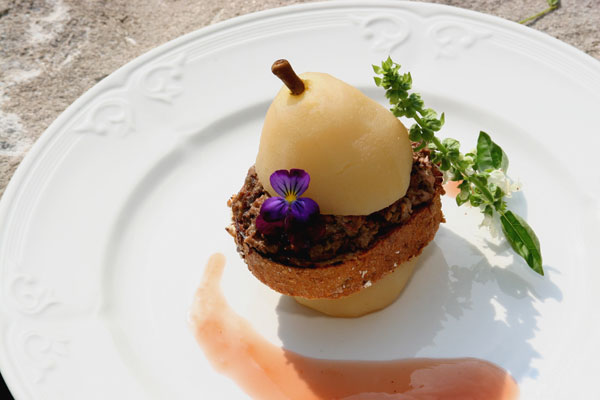 Poached pear, duck foie gras from Bontés Divines, Lake Brome duck livers and archer from Cep D'argent
Ingredients:
Serves 4
Pears
Foie gras and livers
120 g duck livers 4 ounces
90 g lobe of duck foie gras 3 ounces
200 mL flour with salt, pepper, and mustard powder 3/4 cup
45 mL duck fat 3 tablespoons
160 mL Archer wine 2/3 cup
4 slices of whole wheat baguette bread, toasted
Preparation:
1) In a saucepan, steep linden tea in boiling water for 20 minutes. Poach pears in linden tea for 20 minutes.
2) Remove pears and cool in the refrigerator for approximately 5 minutes.
3) Cut pears in half and remove cores. Reserve.
4) Trim and dredge duck livers in flour.
5) In a skillet, melt duck fat and sauté livers. Reserve.
6) Finely mince livers and foie gras. Mix well while moistening with Archer wine.
7) Make 4 patties and sear them in a skillet until slightly brown. Place a patty on each slice of bread. Place bread and patty on the base of the pear and cover with the top half.
8) Bring Archer wine to a boil and thicken with a small amount of cornstarch if necessary.
Flavours of a Region Eastern Townships
Vendange tardive, Sélection Camille
Vignoble de la Bauge
Bontés Divines

Canards du Lac Brome
Vignoble Le Cep d'Argent