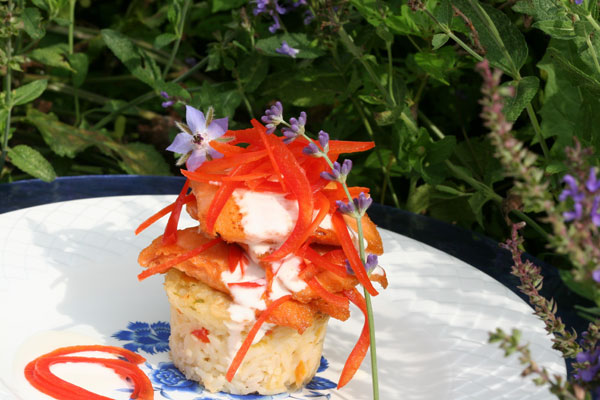 Ingredients:
4 160 g (5 1/2 oz) trout filets
olive oil
Part des Anges 6 tablespoons
red peppers, julienned* 1 cup
15% country cream 3/4 cup
Gruyère pillow:

red onion, chopped 3 tablespoons
poultry broth 2 cups
red, yellow, and green peppers, 2/3 cup
grated gruyère cheese 5 1/2 ounces
Preparation:
1) Remove skin and fat from filets and cut in three pieces.
2) Heat olive oil in a skillet and sauté filets for 1 minute on each side. Deglaze with Part des Anges.
3) Remove filets and reserve. Add the julienned pepper and cream and reduce by half. Season with pepper. * Reserve one quarter of the julienned peppers in ice water to use later as garnish.
4) Heat olive oil in a saucepan and brown rice with onions.
5) Moisten with stock. Add bay leaf and thyme. Bring to a boil and cook in a preheated 180°C (350°F) oven for 12 minutes.
6) Add peppers and cheese. Combine well. Season. Divide equally into ramekins.Cook in a preheated 180°C (350°F) oven for 15 minutes. Reserve.
7) Place the filets on the cheese pillow, alternating with the julienned peppers. Add a pinch of fleur de sel before serving.
Flavours of a Region Eastern Townships
: Vignoble de l'Orpailleur
,
Ferme Piscicole des Bobines,
Abbaye de Saint-Benoît-du-Lac