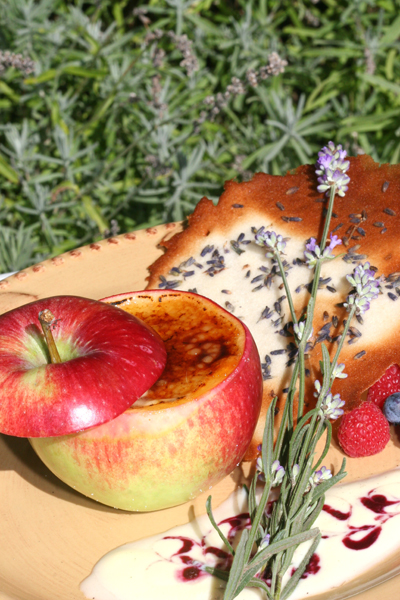 Serves 4
Ingredients :
60 mL sugar + some to sprinkle 1/4 cup
         2.5 mL cornstarch 1/2 teaspoon
60 mL hot liquid honey 1/4 cup
Preparation :
1) In a saucepan, heat cream with lavender at low heat.

2) Steep for 15 minutes and remove lavender.

3) In a bowl, beat egg yolks. Sprinkle the sugar-cornstarch mixture into the eggs.
4) Add honey in a thin trickle, and beat until egg yolks are light and frothy.
5) Pour hot cream over the egg yolk mixture, stirring well.
6) Pour into the saucepan and stir constantly over very low heat until the cream coats the back of a wooden spoon.

7) Place saucepan in a bath of ice to stop it from cooking.

8) Pour the mixture into cored apples and cool in the refrigerator for at least 4 hours.
9) When ready to serve,
sprinkle sugar on top and brown with a blowtorch or a crème brûlée iron. Let stand until the sugar hardens.