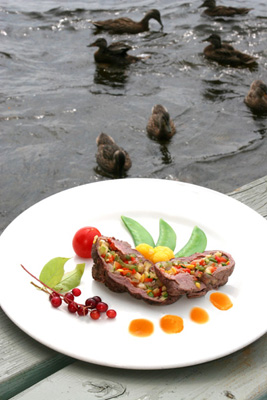 Serves 4
Ingredients :


4 125 g (4 1/2 oz) escalopes of bison
15 mL butter 1 tablespoon
15 mL olive oil 1 tablespoon
1 red pepper, seeded and finely diced
1 clove garlic, finely chopped
120 g cheese, thinly sliced 4 ounces


Red wine sauce


200 mL demi-glace 3/4 cup
Preparation :
1) Heat butter and oil in a skillet and sauté vegetables.


2) Season and reserve.


3) Spread equal portions of sautéed vegetables and cheese on the escalopes.


4) Roll and tie up securely.


5) Sear on all sides in a skillet, then place in a dripping pan.


6) Cook in a preheated 190°C (375°F) oven for 5 minutes.

Red wine sauce

1) Pour the wine into a saucepan.


2) Reduce by half.


3) Add shallots and reduce by a quarter.


4) Add demi-glace and reduce to desired consistency.