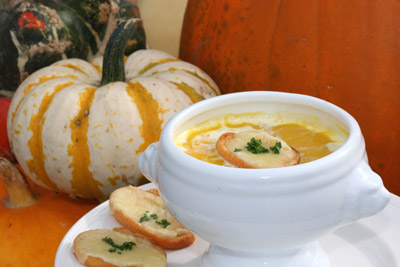 Serves 4
Ingredients :
1 1.8 kg (4 lb) butternut squash
1 large leek, white portion, finely chopped
1 large onion, finely chopped
45 mL butter 3 tablespoons
1.25 L poultry broth 5 cups
4 slices of baguette bread
150 g Brise du Vigneron cheese 5 1/2 ounces
2.5 mL extra virgin olive oil 1/2 teaspoon
Preparation :
1) Peel squash, remove seeds, and dice coarsely.

2) In a saucepan, melt butter over medium heat and add
leek and onion.

3) Add a pinch of salt, pepper, and sugar.

4) Cover and steam for a few minutes.

5) Add squash and moisten with stock. Bring to a boil.

6) Add rice, then cover and simmer for approximately
35 minutes.

7) Purée in a blender, then strain through a chinois. Add
cream and season.

8) Lightly toast slices of bread in the oven.
9) Remove, add a piece of cheese on top, drizzle with olive oil, and return
to a very hot oven for a few seconds
Stéphane Charpentier - Auberge West Brome
The recipe is from the book: "Flavours of a region: Eastern Townships", by Michèle Foreman. (2007)