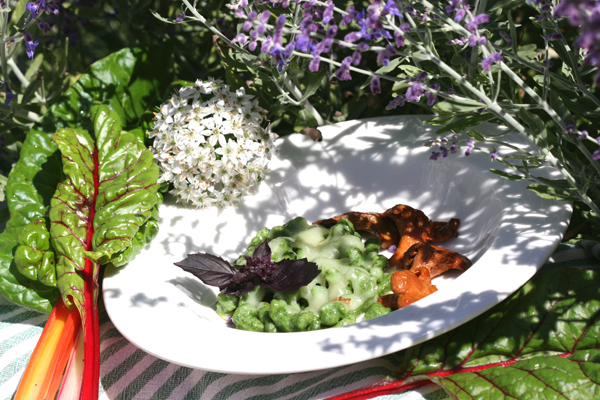 Serves 4


Ingredients :

Spätzli


200 g blanched Swiss chard leaves, 7 ounces minced
15 mL semolina 1 tablespoon


Gratin


320 g fresh chanterelles, cleaned 10 3/4 ounces
120 g goat cheese, diced 4 ounces
15 mL butter 1 tablespoon
Preparation :


1) Combine all ingredients in a bowl, except for the Swiss chard.


2) Knead the dough until smooth. Let stand for 30 minutes.


3) Add the Swiss chard and beat vigorously.


4) In a pot, bring a large amount of salted water to a boil.


5) Reduce heat. Press the dough vigorously through a spätzli sieve over the saucepan.


5) Simmer the spätzli until they float to the surface. Remove with a skimmer and cool quickly under cold running water.


6) Melt butter in a skillet and sauté the chanterelles.


7) Add the spätzli and warm thoroughly. Season.


8) Pour into agratin dish and sprinkle cheese evenly on top. Brown in a preheated 195°C (380°F) oven.
Chef Hans Christiner - Auberge Jolivent
The recipe is from the book: "Flavours of a region: Eastern Townships", by Michèle Foreman. (2007)