To lose yourself on the roads all around Mégantic and to rediscover the amazing beauty of the region…
Walking for me represents an essential moment, I take to renew my spirit and figure out where I'm at in my life. I always plan one or two outings of at least five days when I travel elsewhere; but also, I give myself some time to discover Quebec's majesty through long-distance walks here as well.
The Eastern Townships region is one of the areas where we find a panoply of splendid rambling trails, alternating between ballads of a couple of hours, to several days. Here you'll find yourself surrounded by larger-than-life natural landscapes, among them, two of the most beautiful "Compostelle Routes" in Quebec.
All paths are the same: they lead nowhere… Does this path have a heart? If it does, the path is good… (Carlos Casteneda)
6-day Walking Route in the Heart of Mégantic
While the warm July sun was at its best, I had the amazing opportunity to take the 115 km walking route called the Mini-Compostelle in the heart of Mégantic. With the goal of stimulating the economy of eight charming communities (Val-Racine, Hampden, Scotstown, La Patrie, Notre-Dame-des-Bois, Piopolis, Marston and Lac-Mégantic), this six-day pilgrimage is the ideal way to enjoy typical country panoramas. on your way you'll view rich farmlands, old flower covered barns, mixed-essence forests hued with all kinds of green, hills as far as the eye can see. You'll also discover our close proximity to our neighbour to the south, pristine rivers full of life…
You "just" want to walk two, three, four, or five days? Well, it's all possible!
Preparing for My Outing
I'm a great hiking enthusiast, so personally, I didn't feel the need to train very much. However, if this isn't the case for you, I suggest you take a walk two to three times per week for at least four months before you head out on your trip. I also suggest you hike on trails with some elevation (there are plenty of hills in the Eastern Townships). While you're walking take a backpack along, to get used to carrying a load. This being said, the mini-Compostelle in the heart of Mégantic is accessible for everyone!
My Expectations
I have the privilege of visiting this superb region regularly for many years now, but I had not yet had the opportunity to familiarize myself with most of the picturesque small towns on my way. I thought I'd be walking on dirt trails, but certain roads, for example between Notre-Dame-des-Bois and Piopolis, are paved and quite busy (in my humble opinion, it's the only small downside you'll find on this route).
Turning forty, I felt the need isolate myself somewhat, to get lost in my thoughts for a while. I certainly found some answers to my questions here. However, sharing this pilgrimage with friends and especially to cover the last few kilometres with my mom, truly enhanced my journey. These long-distance walks can really bring you together, they change you, they transform you!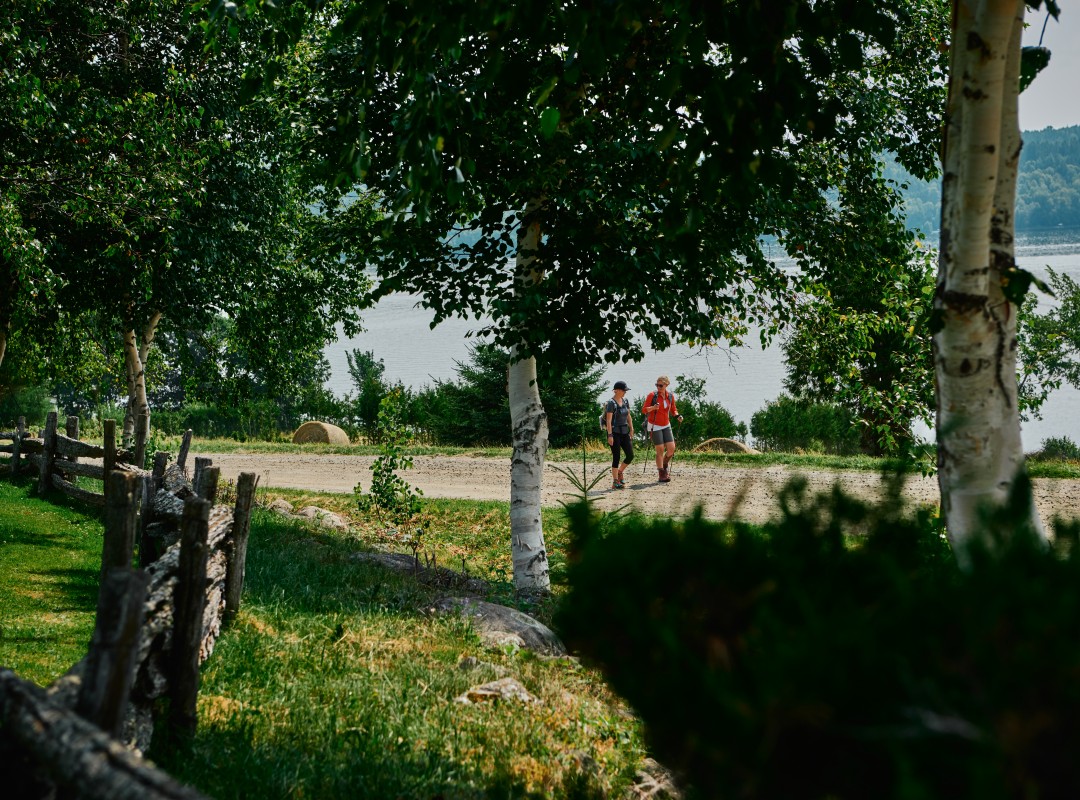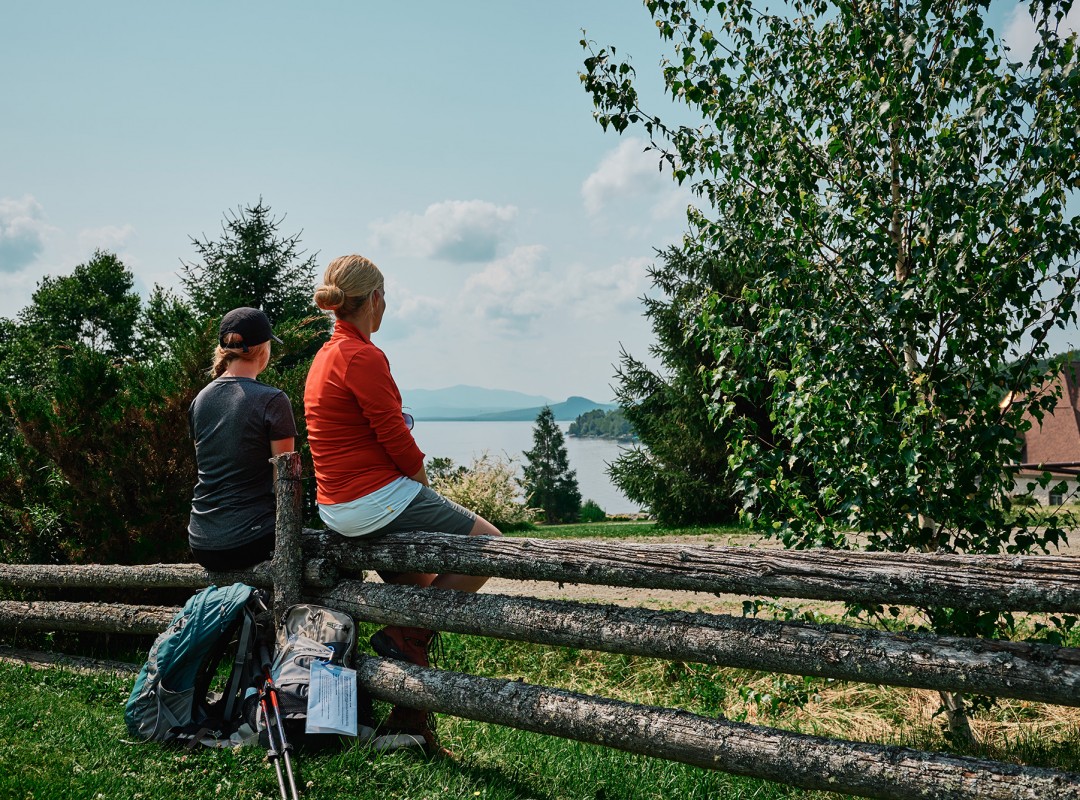 My Surprises
I was amazed by the Victorian architecture and the immaculate Scotstown gardens, the tranquility of the forest trails, the dense fern, the wildlife I'd catch off guard, the attentive care offered by the inns and guesthouses for ramblers (to enjoy a sea salt foot bath at Les trois étangs inn was a true balm for my heart after having walked 25 km). Added to all this, the quality of the local gastronomy, yum! I've rarely eaten so well while on an outing!
An Overview of My Itinerary
Warm up day: Mont-St-Joseph trail, Parc national du Mont-Mégantic/about 10 km
Day 1: Val Racine to Scotstown/About 19 km
Day 2: Scotstown to La Patrie/About 23 km
Day 3: La Patrie to Notre-Dame-des-Bois/About 23 km
Day 4: Notre-Dame-des-Bois to Piopolis/About 25 km
Day 5: Piopolis to Baie des sables/About 19 km
Day 6: Baie des sables to Mégantic/About 6 km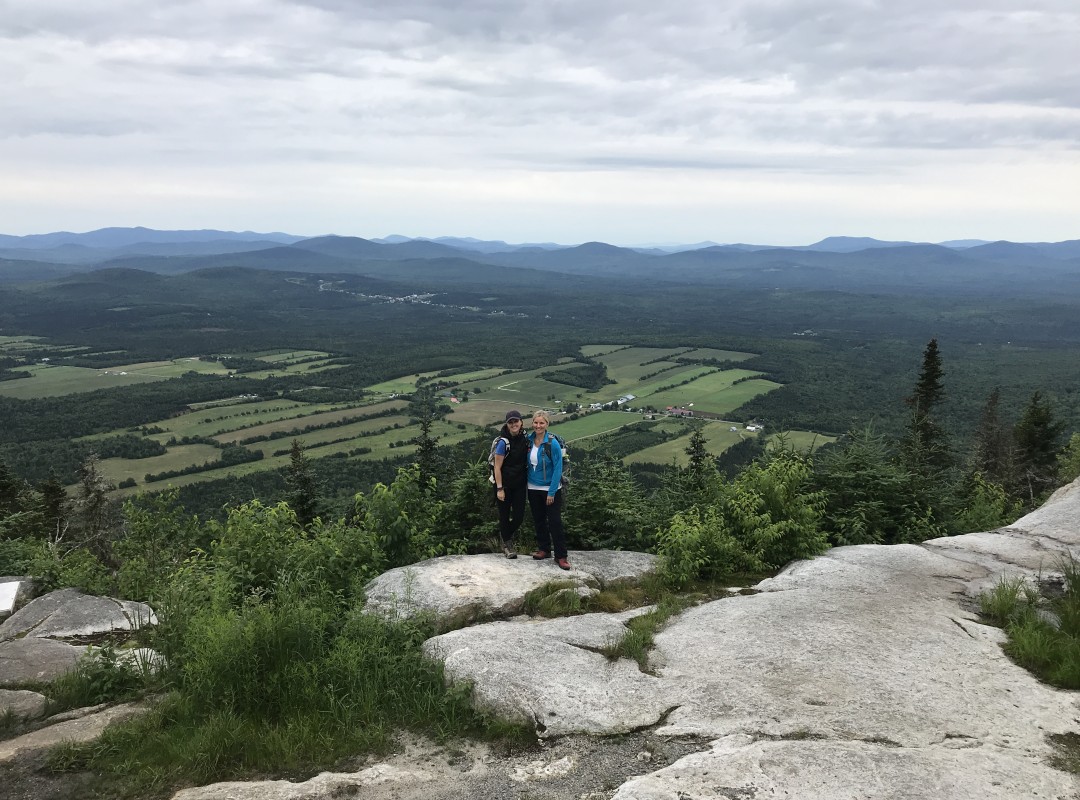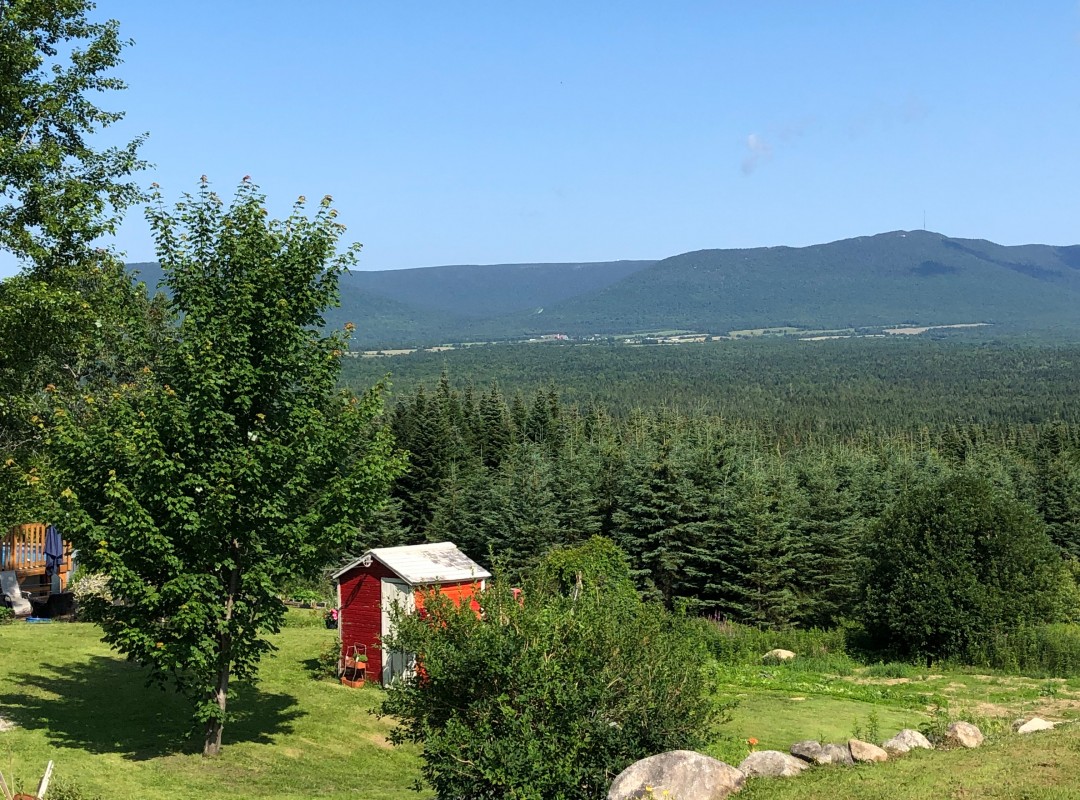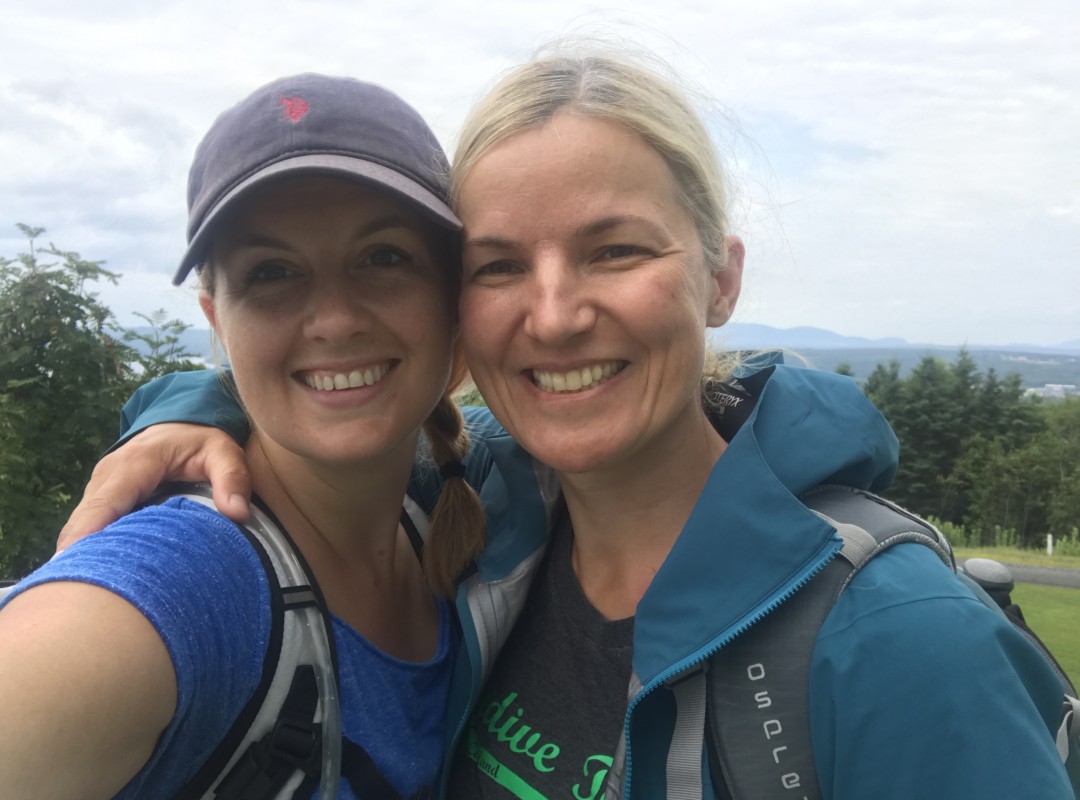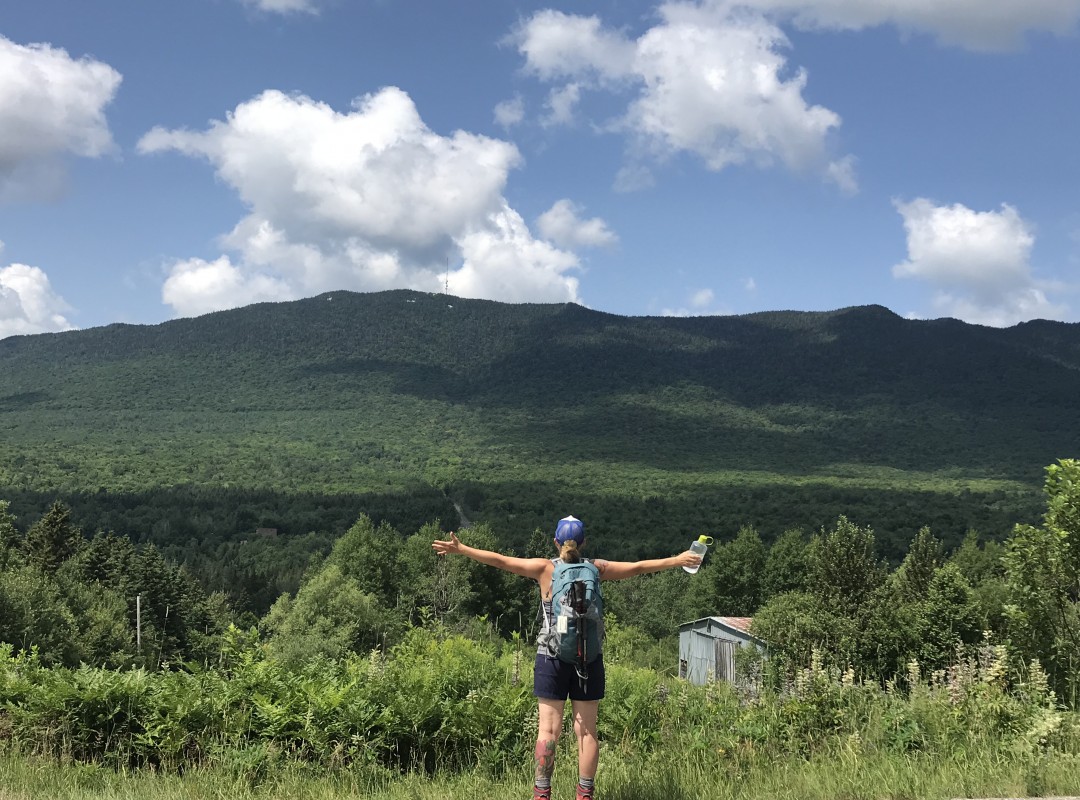 You can find the details of my day-to-day journey, with all the emotions and humour, on the webzine Les Voyageuses du Québec around the end of August or in September. Look for it!
My Personal Favourites…
I discovered a panoply of delightful inns and guesthouses, fine food stores and restaurants offering only fresh terroir products. It isn't just a fluke that the Eastern Townships region is on its way to become THE gastronomical region of Quebec.
Caroline Desbiens of the Ki-Mange-Vie artisanal pastry shop (check their operating hours before going).
Julie Demers, Chef-Owner of L'Épicurieux, a gastronomical restaurant you'll find inside a century-old inn, the Haut Bois dormant, in Notre-Dame-des-Bois.
Patrice Amyot and his wife, owners of the Les trois étangs B & B, in La Patrie, amateur astronomer and Compostelle pilgrim. A special mention must be given to their original cuisine made with their garden and hive products.
Paule Rochette, recreation and leisure specialist, owner of Hébergement Aux Cinq Sens with its unusual little nests (yurts, hammock tents, shelters, etc.) in Piopolis. A panoply of activities marked by First Nations' values are held here.
A very enriching long-distance rambling adventure, I had been dreaming of for so long, nestled right in the heart of the first international dark-sky reserve!