When was the last time you felt a euphoric rush, to the point you could let out a joyful shout that can be heard all the way to the other side of the planet? Well, this is how I felt earlier, while on an outing with a bicycle using oversized tires, better known as a fat bike. It's also when I discovered the mechanically groomed trails of Mount Oak, in Bromont, a town considered as a magnificent base camp for all kinds of outdoor activities.
By Yvan Martineau
Volunteers, members of the organization Les Amis des Sentiers de Bromont, work to keep the fat bike trails groomed by using a snowmobile and a crawler tractor to create a safe and even riding surface. Added to the quality of these trails, you'll discover an amazing environment and experience a truly memorable moment!
That day, on the fat bike trails, I multiplied uphill and downhill paths. I felt my heart pound harder as I reached the top of a hill; more so when, as I entered a curb, I would brake so my rear wheel could skid slightly to one side, giving me the impression that I could become a bit of a stuntman! I must say that the conditions were almost perfect. They had received a fresh cover of snow the night before.
Adding to this moment of pure bliss, as I arrived at a hillock, just as I tilted into my descent, a deer appeared next to me; needless to say, it scurried away when it saw me. Later during the outing, as I returned to this same spot, the deer had returned, along with seven other individuals! What a show!
Because the snow offers the advantage of levelling the bumps and roots on these trails, I recommend fat bikes to all those who are nervous about the risks often associated with mountain biking. These rather stout machines give us the impression we're truly floating in space!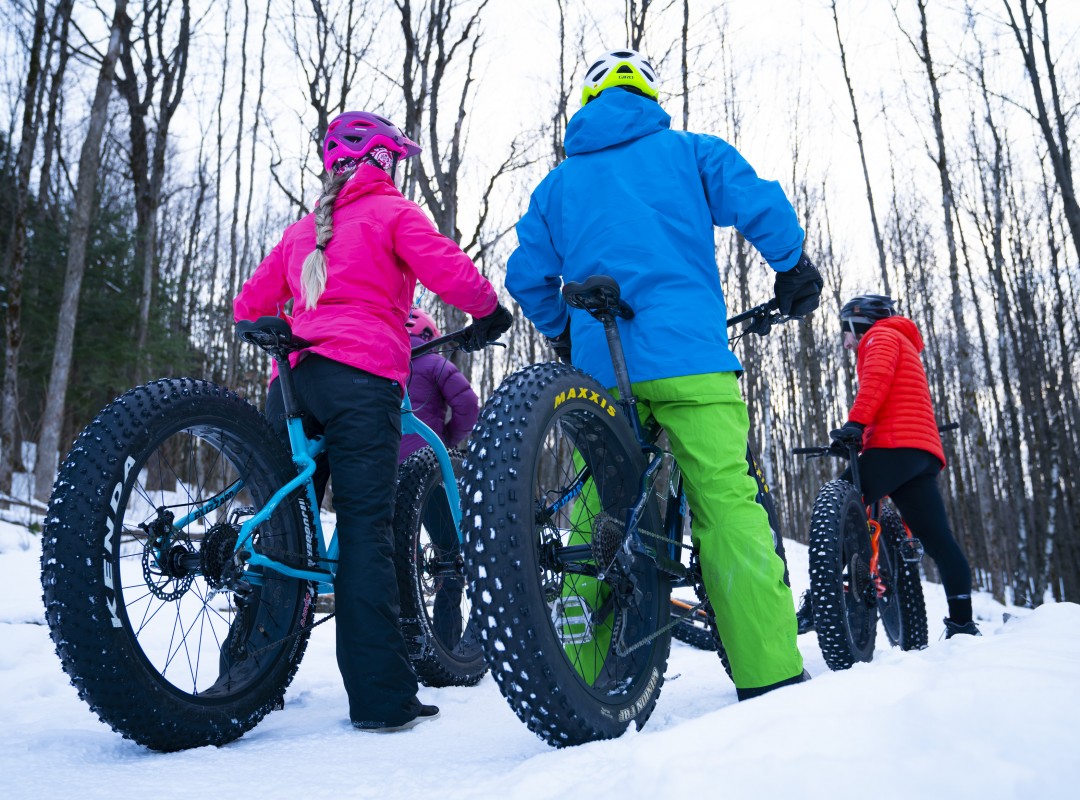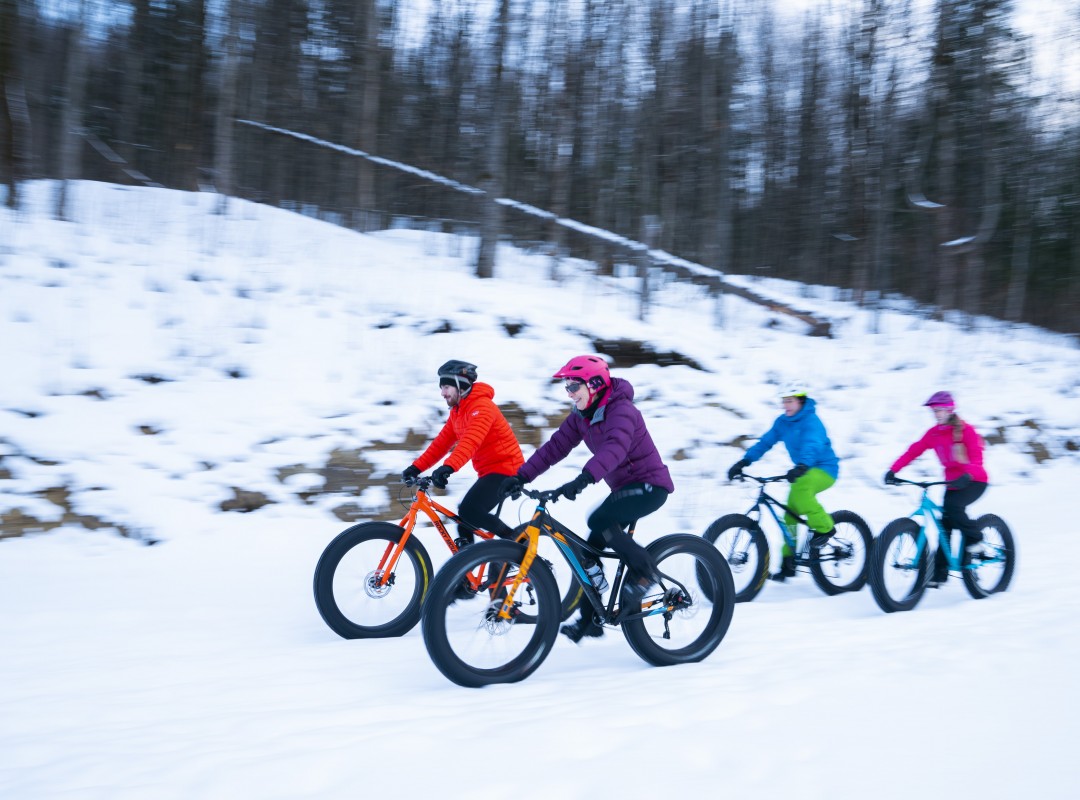 Winter Cycling Takes the Centre Stage in Bromont
Bromont reserves 37 km for winter cycling, of which 10 can be found on Mount Oak. You'll also find trails by going to the Centre national de cyclisme (5 km), the Ceinture de randonnée (15 km) and in the mountain's network of trails (7 km). Both the Centre national, the Pittstop and UBAC shops have rental services.
Finally, if like me, you often feel the urge to move, and have a lot of energy, after a few hours on a fat bike, you can explore plenty of other activities in Bromont. Besides alpine skiing at Bromont montagne d'expériences, the Town of Bromont and the group Les Amis des sentiers offer several kilometres of shared snowshoeing and hiking trails, plus 30 km of cross-country trails.
Before you head back home, I strongly suggest you stop at one of the many fine quality restaurants that delight visitors as they visit the very attractive Shefford street, in the heart of the town. You could also drop by the absolutely divine Canael bakery and pastry shop on the corners of Shefford and Du Pacifique Ouest streets, right at the entrance of Mount Oak's network of trails.
Come to think of it, my best suggestion for you would be to stay the entire weekend in Bromont, perhaps even a whole week! So, are you ready to experience your own euphoric moments?