The Parc de la Gorge de Coaticook is located 30 minutes from Sherbrooke and 1:45 a.m. from Montréal. Very popular in summer, it's also becoming an exciting winter experience! Along with some friends, on an indigo-blue-sky day, I tested my skills by going to this remarkable playground, which offers fat biking, ice climbing, snowshoeing, skating, winter camping and, new this year, winter hiking.
Par Yvan Martineau
Fatbike
Fat biking is a staple among activities at the park. The new Sentier de la promenade is a very wide and well-groomed trail for beginners. In certain areas, it will take you along the sinuous Coaticook River. For intermediate and experts, the trails start out along clearings before heading up into the forest. Adrenaline rush enthusiasts will take on the R2 and R3 trails. You'll need to watch out on these demanding passages! A narrow route through the trees will take you down a fast descent, then suddenly a steep bridge appears at the end of which you'll find yourself jumping up into the air to land on the other side. In the summer it's a lot of fun to do on a mountain bike because there's a hiking trail just below the bridge. I really love it! this is the kind of setting the Parc de la Gorge de Coaticook offers. Here, there's no room for improvising. The park administrators invested in designing a master landscaping plan that includes the overall park trails and activities. They then consulted their users' committee to validate their vision and choice of design. The work of true pros!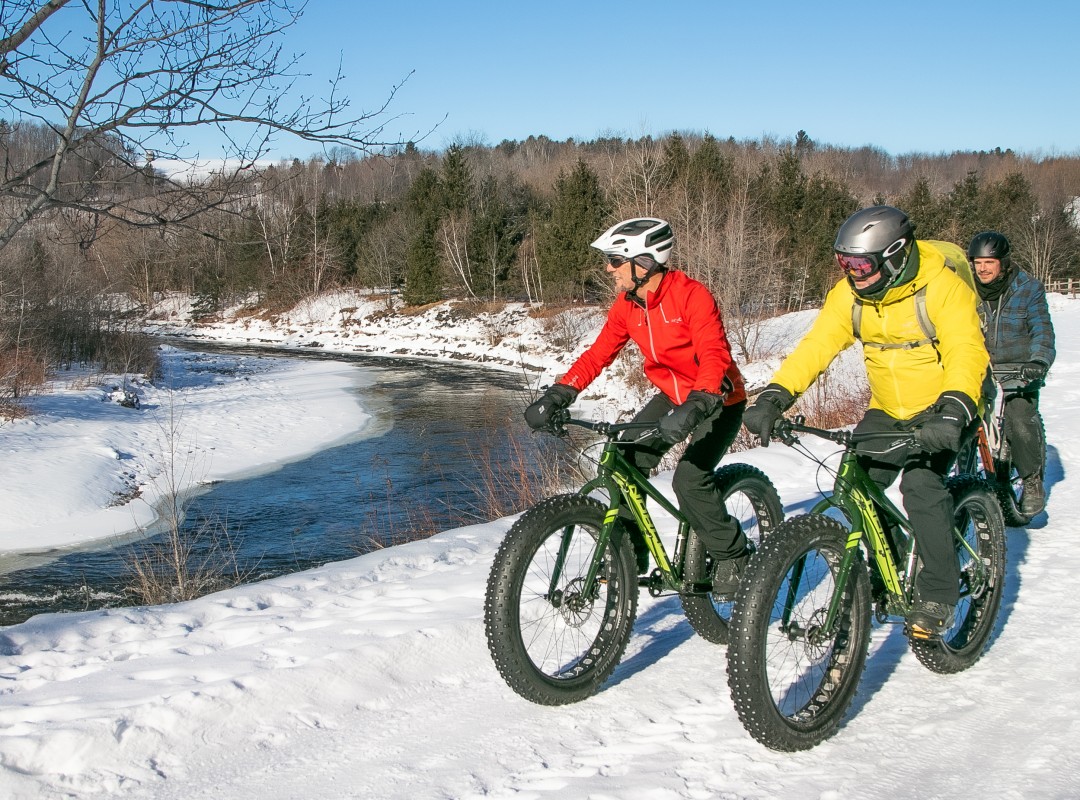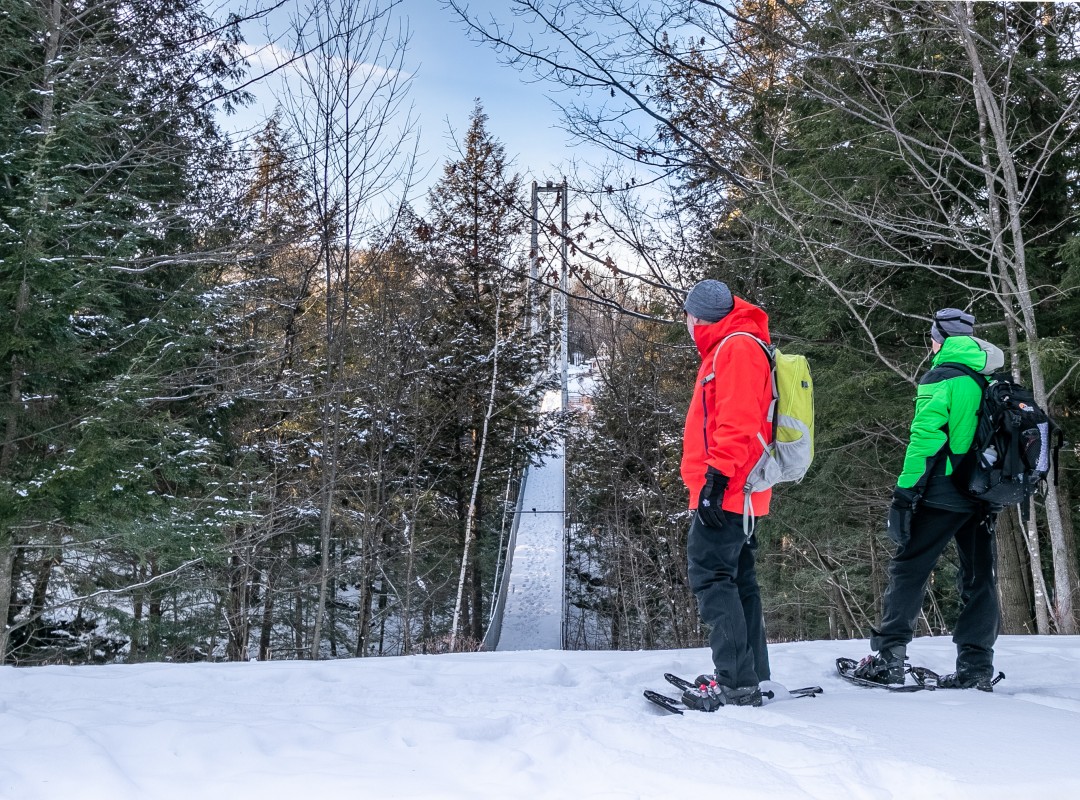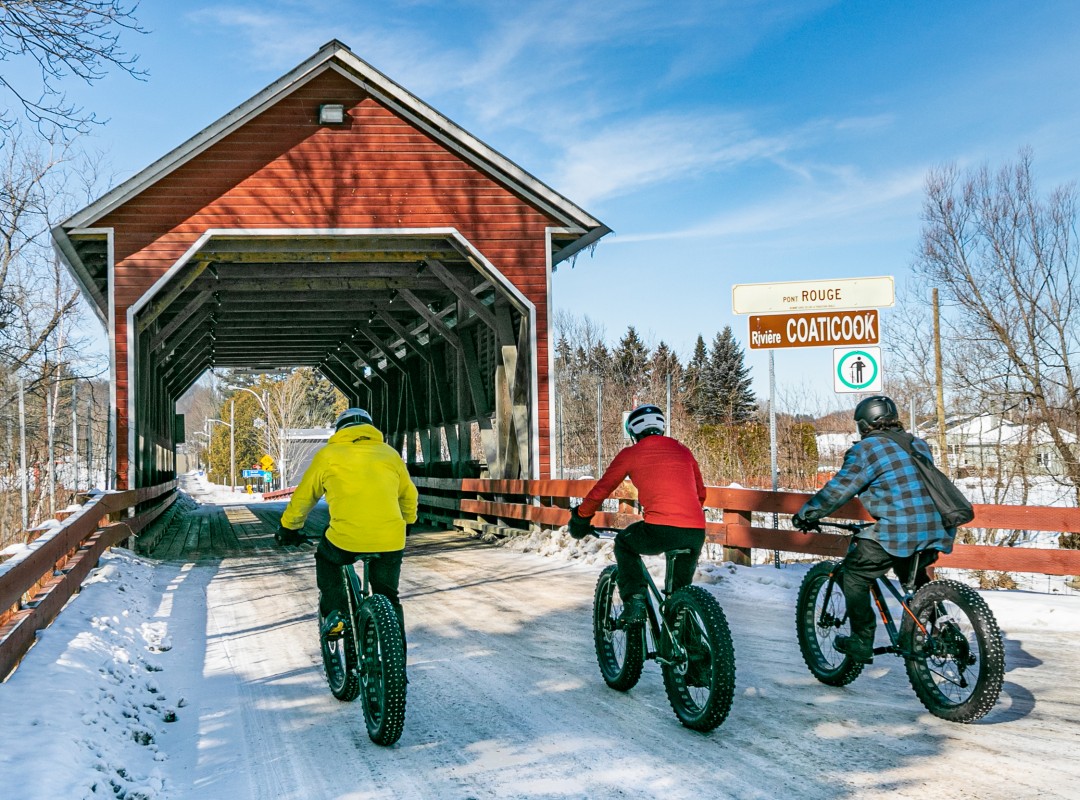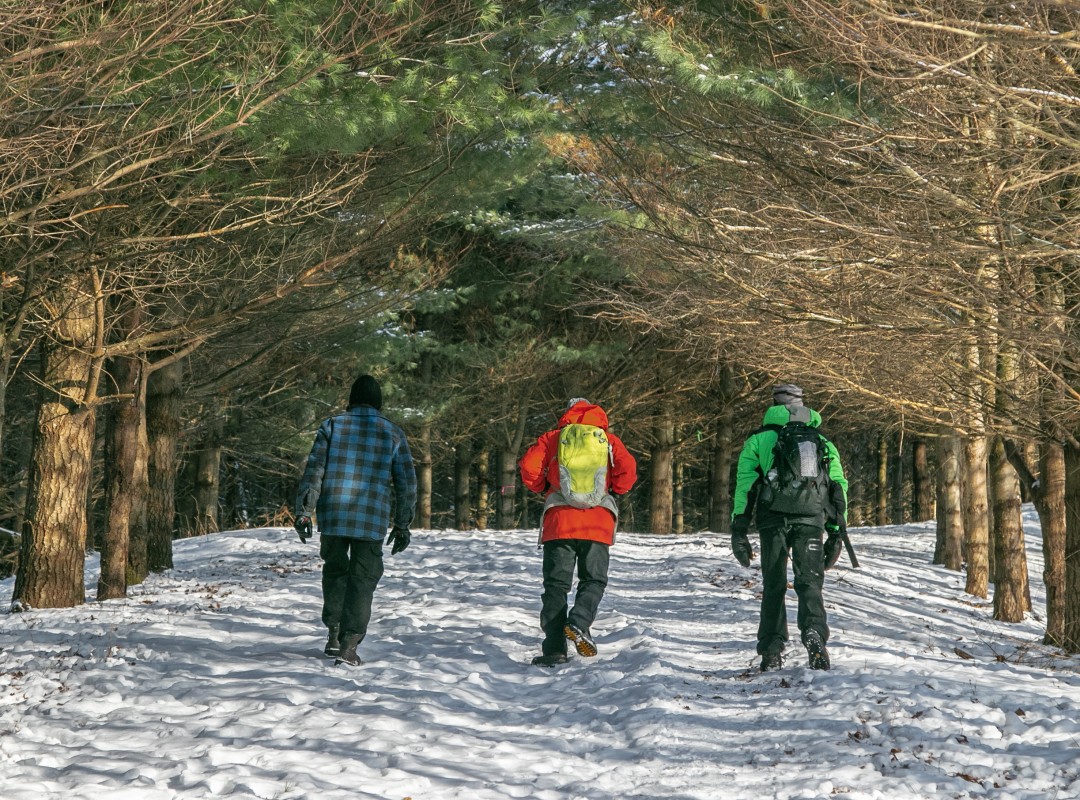 Snowshoeing and Winter Hiking
As for snowshoeing and winter hiking adepts, their offer is also very interesting! What we discover here is the result of a very recent $220,000 investment. I climbed one of the two high observation towers and found an absolutely magnificent panorama. Besides the activities offered, we must congratulate the park organization for the quality of its signalization, and for having thought to build five big shelters, very useful when the weather turns, to relax for a moment or simply to enjoy a snack.
Unusual Accommodations and Not-to-Be-Missed Gourmet Stops
Curious, I also took this opportunity to visit the Auberge du changement d'ère, only a few hundred metres from the park, for a future stay. Inside this very peaceful clearing, set on a promontory in the middle of nature, guests can lodge in one of the "eco-futuristic ultra-yurts," imagined by Chloé and Joël, the owners, a couple of architects and artists who dream of creating a better world. Of course, here we're talking about very comfortable amenities, with heated floors, a toilet, a skylight for observing the stars. The couple also counts on their community cooking yurt to have their guests mingle. It's truly a must see and experience venue. I wish them a lot of success.
Of course I couldn't leave without stopping at the Laiterie de Coaticook, renowned for its ice cream (I'm just love their old-fashioned maple taffy flavour). We also dropped by the Coaticook microbrewery which claims to serve, "authentic, well-balanced, rich and unfiltered beers." My friends and I loved their raspberry Blanche and their Abysse de la Gorge. In fact, their names piqued my curiosity: L'Entourloupe (which means playing a trick on someone,) and la P'tite batince (a folkloric light swear word used when one is upset.)
Finally, I must say that I truly enjoyed my short escapade to Coaticook and I have but one hope: To go back there very soon!