At about 40 km north of Sherbrooke, you'll find a very particular mountain: Mount Ham. Its summit, at an altitude of 730 feet, is far from being among the highest of Québec. However, because it's very exposed, somewhat like the high peaks we find in the Rockies, it gives hikers the impression they're on the top of the world!
By Simon Diotte
When they arrive at the Parc régional du Mont-Ham, most hikers want to reach the top as quickly as possible. The solution? To take the Intrépide trail, a very steep route, which requires the use of ropes in certain areas and which takes you to the highest point of this Appalachian mountain without any detours, covering less than 2 km.
The Intrépide…
If you enjoy physical challenges, you'll love the Intrépide. Now here's a rugged trail that can't be compared to any other in Québec. Its ascension requires strong legs, but also a good pair of hands to be able to grab on to its rocky surfaces. If you're afraid of heights, you should skip this one.
However, you'll really be missing out on how much fun it is to combine hiking and climbing. I can confirm that kids simply adore this. They walk through these passages as if they're in a play module, and the same goes for adults who still have an inner child spirit. Hikers then return by heading to the base of the Panoramique trails, which takes them down on a lovely 2.1 km rather rocky route.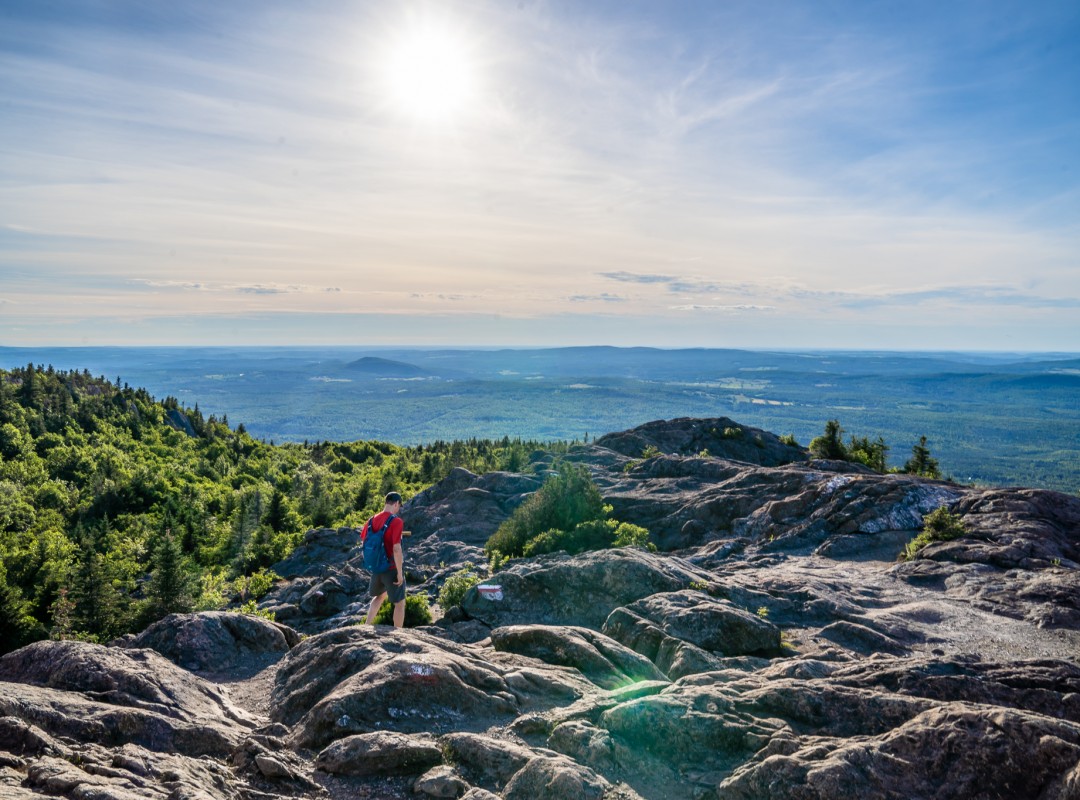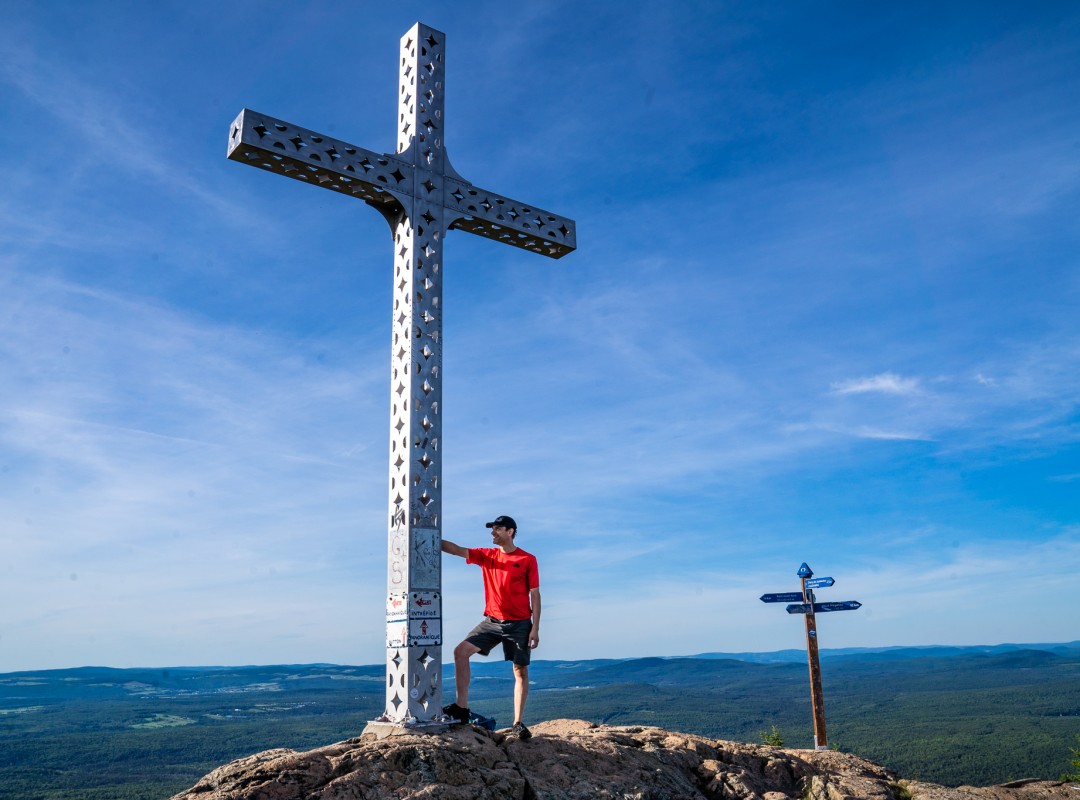 … and the Others
But you'd be crazy to limit yourself to this popular route when you visit the Parc régional du Mont-Ham. The mountain, located in the municipality of Ham-Sud, in the MRC des Sources, about 2:30 h. from Montréal, offers almost 20 km of trails. And, having hiked on just about every one of them in less than two days, I can assure you, they're all worth your while.
Besides the Intrépide, it's bye-bye crowds! Down with your masks and hurray! for physical distancing as we discover the other sides of Mont Ham. I especially appreciated the Button and the Tour du Button trails, which take you up gradually by following the slope lines. Here, we ramble through a forest with a group of turkey vultures, these great scavengers, relentlessly flying overhead.
No matter the road we decide to take, we walk across a luxuriant 80-year-old mature forest, dominated by sugar maples. The higher we climb, the more the vegetation changes and deciduous essences slowly yield the way to conifers. Beyond 500 m, white and red spruce as well as fir trees take over the landscape until the sugar maples completely disappear after 600 m.
On the summit, all trees have disappeared, and we walk about on a rocky surface. Everywhere we turn, we can enjoy a 360o view, void of obstacles, overlooking this mainly forested region. A refreshing breeze is constantly present. Indeed, we couldn't ask for a better elevated picnicking spot.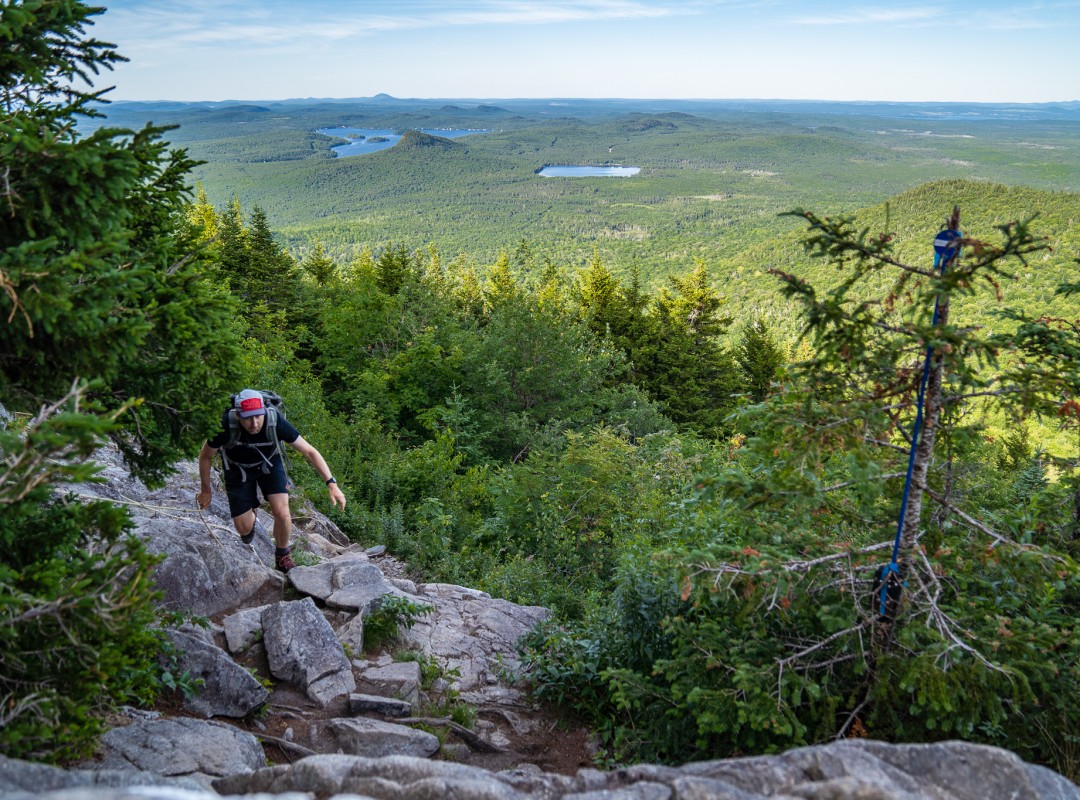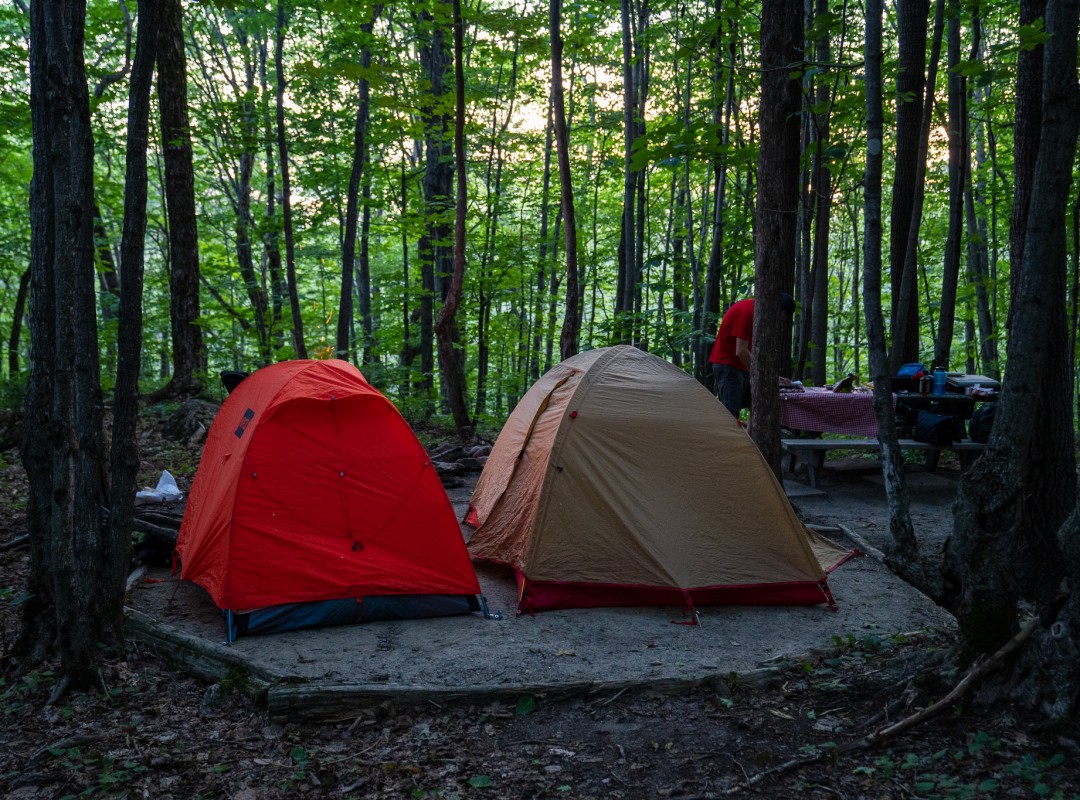 To Sleep Nestled Inside Nature
Besides hiking, there's also the campground at the foot of the mountain. Three rustic sites, five prospectors' type tents, four wilderness campsites are available for overnight visitors. I especially loved their rustic sites set under a thick forest canopy. On warm days, they offer refreshing cooler air. By the end of the evening, I surprised myself needing to put my vest on, even though the temperature had climbed into the 30 degrees during the day. There's no need for any type of air conditioner here. If you like to experience unusual accommodations, the Parc régional du Mont-Ham has recently started offering six Amerindian-inspired teepee rentals.
Overall, the perfect destination for a short hiking getaway.