Well seated on my gravel bike, and ready to go, I took advantage of the freedom I feel when I'm cycling, to wander deep into the Coaticook River Valley!
By Ariane Arpin-Delorme
In theory we should begin this 52 km from the Parc de la Gorge de Coaticook. But, since I'm already lodging in the Artist's Ultra-Yurt, at the Auberge du Changement d'Ère, I took my gravel bike and started out from this magical place; which, I must admit, was difficult to leave!
Then, long gravel roads, one after the other, set in the middle of huge rows of broadleaf trees, offered me several shade-covered breaks. The Chemin Perreault was especially impressive with its panoramic views. In the distance, I could spot a luxuriant mountain range. Perhaps the border mountains we share with our neighbours to the south? I must say, I wasn't sure…
Then, travelling through golden fields of wheat and other green-hued ones where corn was growing, my route took me to the charming town of Hatley. The all-white church, part of The Pioneer Trail, was well worth the stop. The ambiance was so quiet that I could even enjoy the singing of the birds here.
Later, under a bright sun and pristine sky, I paused for lunch in the tiny hamlet of Kingscroft. Again, another white church can be found in the middle of this town where time seems to stand still. I listened attentively to the stories being told to me by a pioneer (via a recording).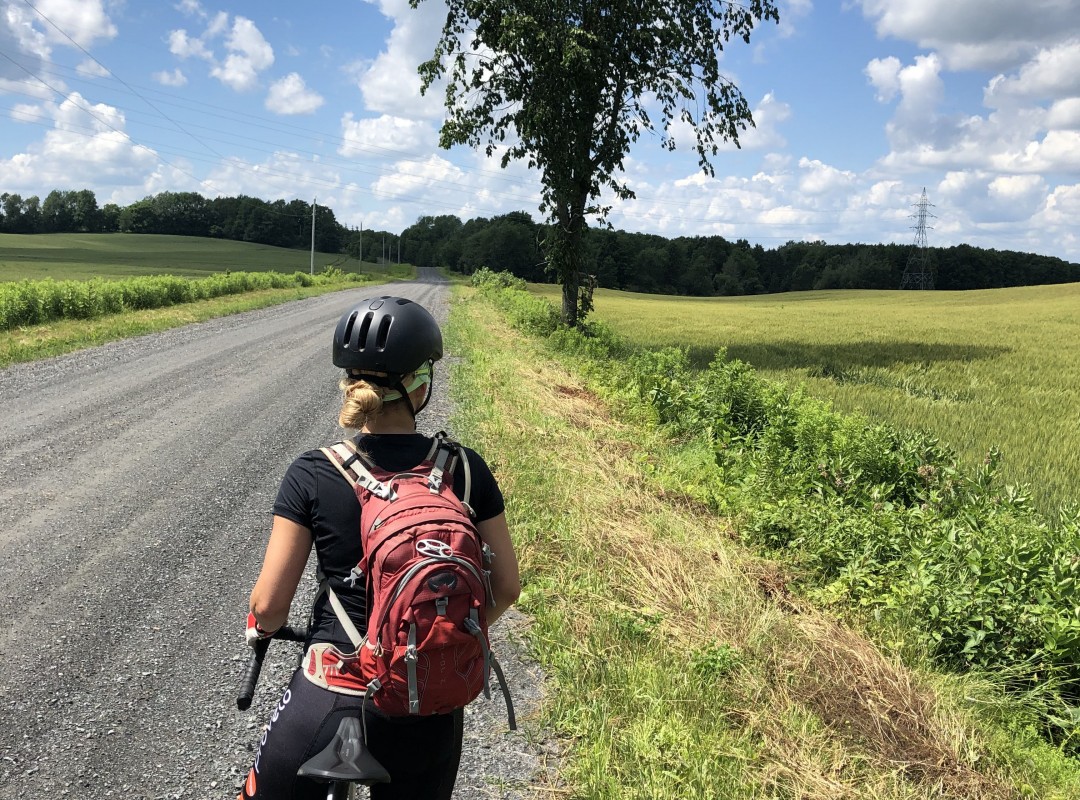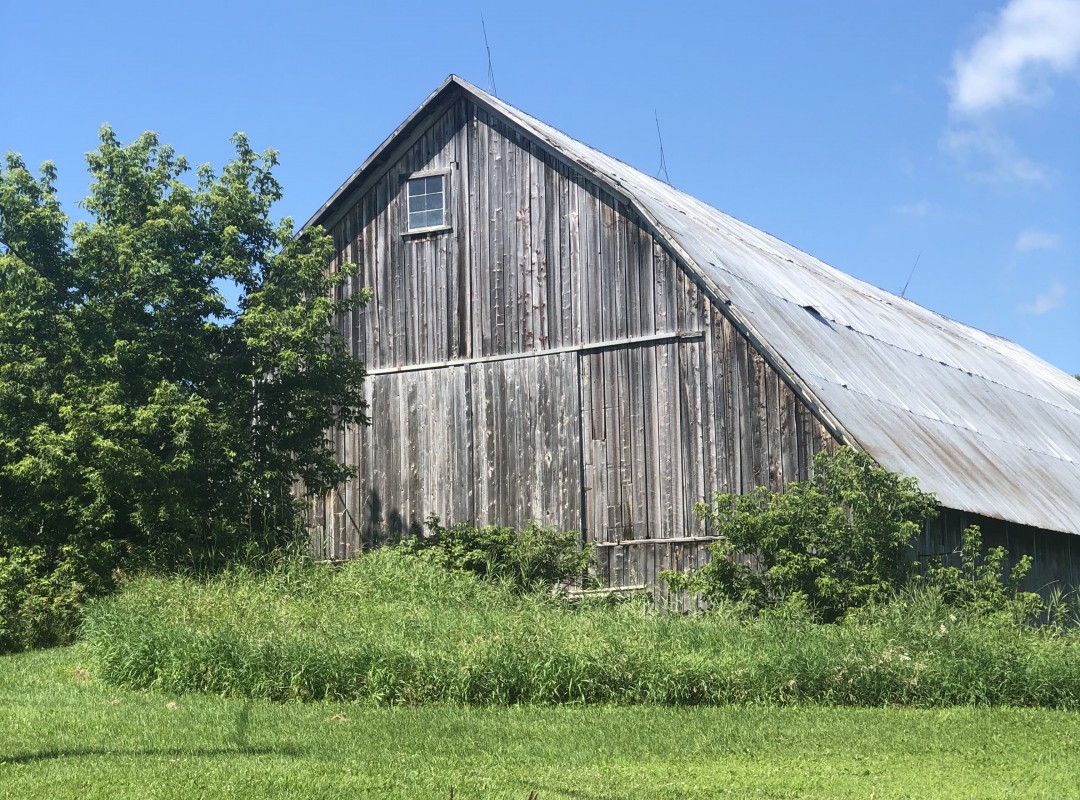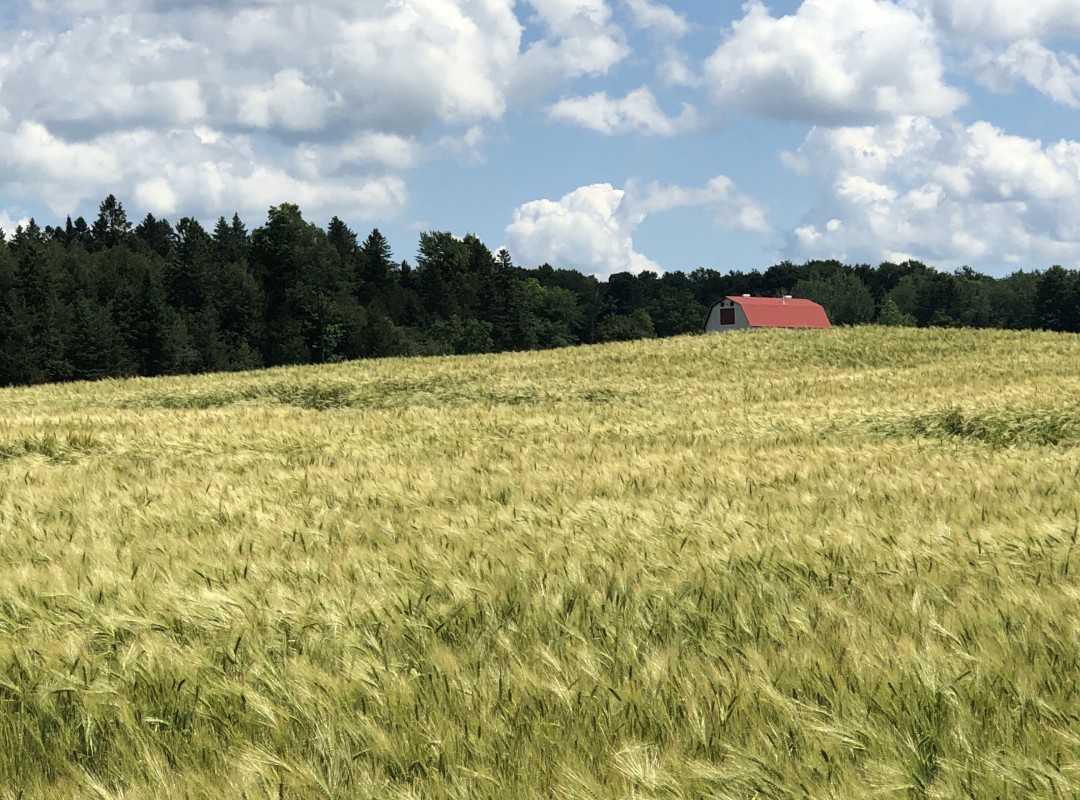 Finally, I went on my way towards Way's Mills, always in the municipality of Barnston-Ouest. I pedalled by these magnificent farms with their Holstein and Jersey cows, and, of course, all kinds of old barns, known to be an integral part of the Townships' DNA; what an amazing, calm and serene countryside! I must have taken hundreds of pictures! After all, we do well by taking our time so we can capture these images! The village of Way's Mills is made up of beautiful Victorian-style homes and a fire station which was given a new calling by becoming a public library. *If you have a little time, stop by the Les savons main de nature, directly in the town of Way's Mills.
A few good climbs await at each turn, but the landscape is well worth the effort. The Holmes and Madore roads offer some breathtaking views. I'm reminded of the views we find in Tuscany with all these wheat fields and tall thin trees, such as cypresses.
It was especially hot that day, which added to the challenge. But, overall, I found the circuit more accessible than I would have thought. However, you'll need some really good tires to take on these gravel roads and fairly strong legs for such hilly, but still so spectacular itineraries!
When I returned to the Auberge du Changement d'Ère, I even had the good fortune of seeing about a dozen deer frolicking about in the fields before sunset. Pure magic!
Level of difficulty: Rated as difficult/experienced in the guides. But I'd say that in general it's more of an intermediate level route.
Elevation: 536 metres.
Loop: 52 km.
Paved roads: 21 km.
Paved and gravel bike paths: 31 km.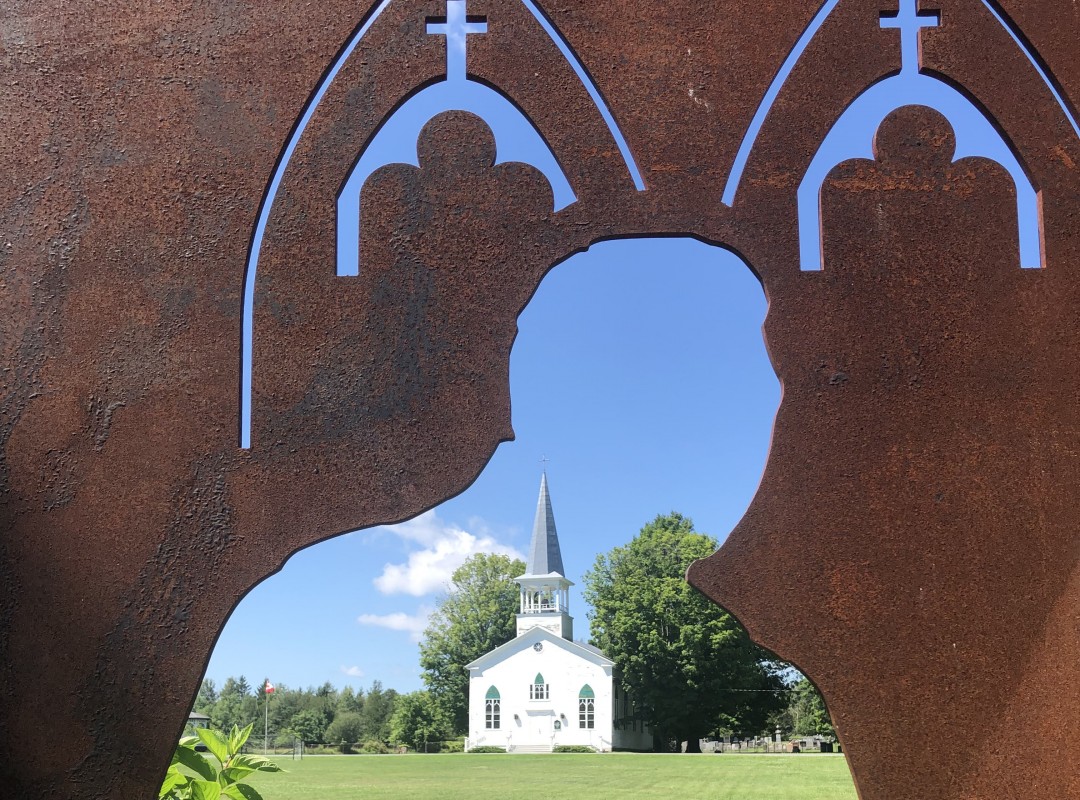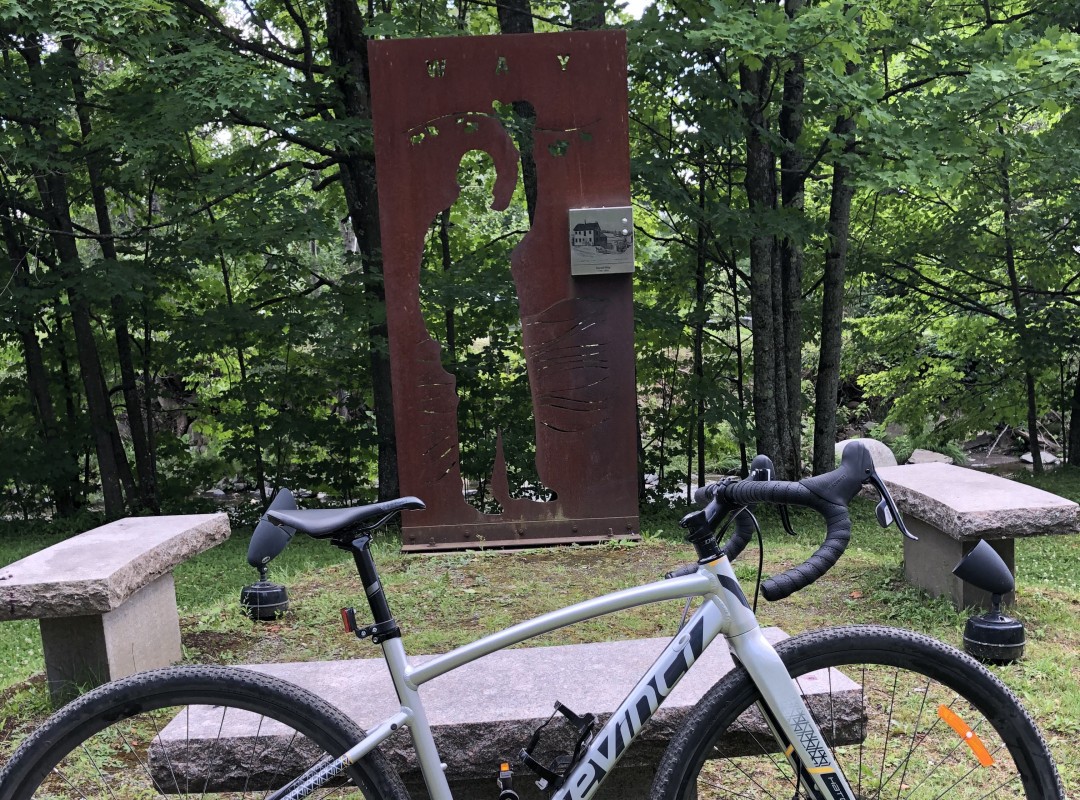 Cultural stops
Cycling is also about discovering new things as we go! Via different routes we can usually easily access heritage sites that are really worth visiting.
The Pioneer Trail: You'll have the opportunity to see three sculptures on this particular circuit (Hatley, Kingcroft and Way's Mills/Barnston-Ouest); and, you'll also be able to listen to stories highlighting the lives of colourful pioneers (via a recording). Learn more about the key events concerning the development of the region's towns, and about the people who contributed to the rise in popularity of the superb Coaticook River Valley. You can also download an application. In all, you'll discover 25 sculptures depicting historical personalities in the region.
The Holmes Round Barn: located on bucolic Holmes Road, take advantage of this outing to visit this surprising Townships round barn. This heritage building is sadly no longer in use, but you'll feel a breeze from the past flow by while you're there.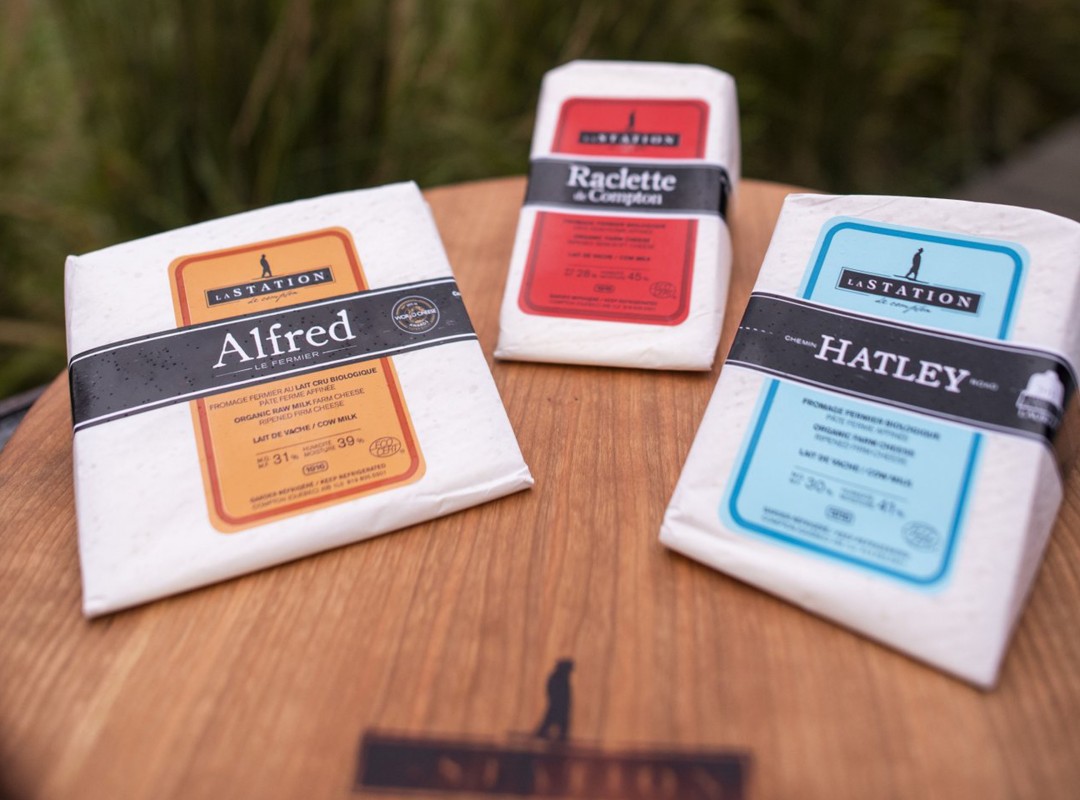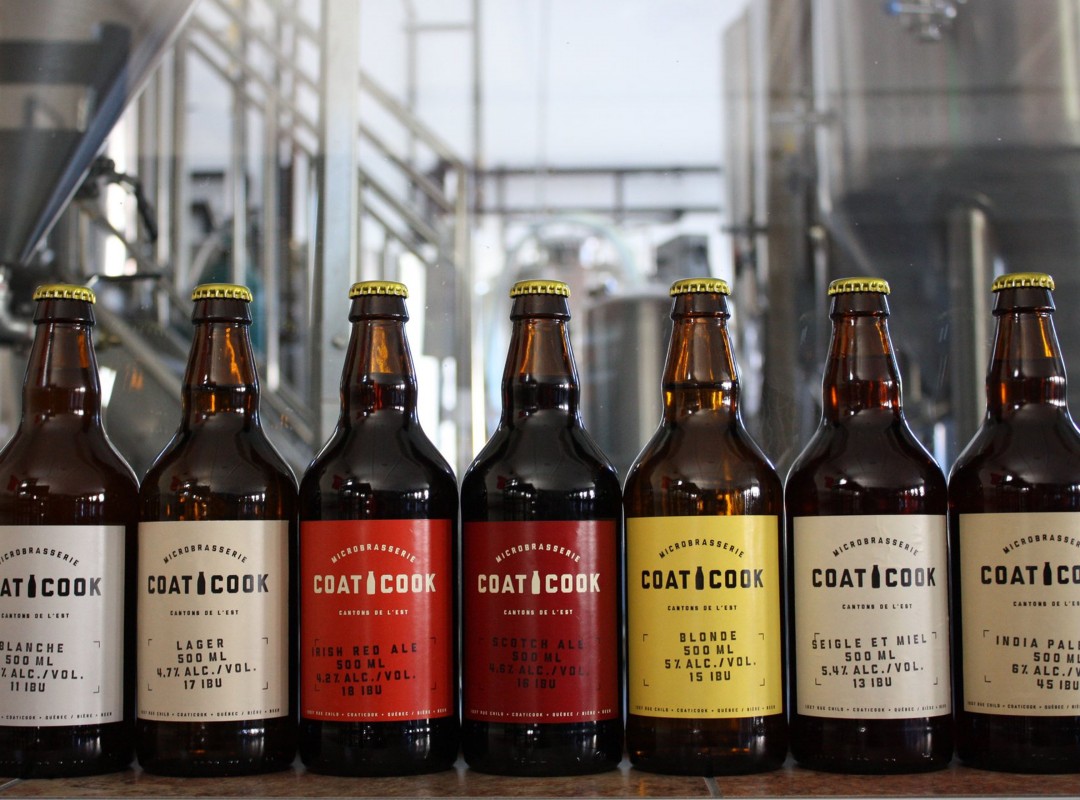 Gourmet Stops
Cycling also offers a great means for encouraging local economy! Why not stimulate businesses by dropping by more often to discover the area's specialties? I didn't get a chance to visit any vineyards during my stay in the region—the birthplace of viticulture in Quebec—but I did have the opportunity to savour several delicious products.
Laiterie de Coaticook : It's impossible to resist this dairy's hard or soft ice cream, renowned throughout the Belle Province. They've even set up a stand on wheels—open until very late at night and offering a car order service. Ideal for respecting distancing needs!
Microbrasserie de Coaticook : These beer makers offer an authentic, well-balanced artisanal beer. Why not take advantage of your time here to enjoy a true taste experience? Their beers are not only very flavourful, they're also unfiltered.
La Fromagerie La Station de Compton : Even though this little jewel isn't found on the Coaticook River Valley's 52 km loop, I still wanted to mention it. Not only was I lucky enough to learn more about this place via my own private tour, this cheese factory has nothing to envy others of the region. We just have to look at all the awards they've received and displayed on the Station's walls. Their 105 Holstein cows produce enough milk every day, allowing them to make between 6 and 8 types of unpasteurized cheese. Depending on their mood and what they're working to develop, these cheesemakers produce, among others, a very popular "tomme" (many municipalities own their own "tomme"), or else a specially prepared cheese. Surprise!