Are you looking for unique specialty gourmet food, or good old classics that have proven their worth? Here are nine 100% delicious Townships products you must try this autumn.
By Marie-Claude Masse
Mansonville's Smoked Meat
L'Euro-Delli du Village is a well-kept secret in the region. Inside this small grocery store, in the heart of Mansonville, the Mierzwinski family concocts, for our pleasure, several specialties from the family's country of origin, Poland. here you'll find different types of pierogis, garlic kabanos (a very long smoked sausage), homemade sausages and their absolutely decadent smoked meat. They really don't have anything to envy the well-known Montreal delicatessens. They'll even prepare a sandwich for you on the spot if you're in a hurry to try one!
Euro-Delli du Village – 295, Main st, Mansonville
Saint-Georges-de-Windsor's Whey
Twice a day, the Fromagerie Proulx's cheese factory welcomes a long line of customers who come here just to order their famous whey, a tradition that started when the family business was launched, in 1940. Whey, with its light milk flavour, so representative of the region, is basically the first step in cheese transformation processes. For a truly typical experience, it should be savoured with a little salt and regular flavour chips!
Fromagerie Proulx — 430, rue Principale, Saint-Georges-de-Windsor
Sherbrooke's Upside Down Poutine
What? You've never tasted these exquisite bites, created by none other than Danny St-Pierre? Even if the chef is no longer part of the restaurant Auguste adventure, his signature dish is always present on the menu. The upside-down poutine is made with six morsels of cheese and poutine sauce covered with fries and served in an escargot plate. Savoury, comforting and fun! Psst! You can also make them at home, because you can find the recipe on the restaurant's web site!
Auguste—82, Wellington North, Sherbrooke
Coaticook Ice Cream
A true jewel in our region, the Laiterie Coaticook milk processing plant is a MUST stop when you're in the area. Whether you prefer soft or hard ice cream, you'll find the dairy bar offers plenty of options; among them, ice cream cones made only with milk, cream and the best quality ingredients. Added to the experience, you can observe the creamery employees busy at work in their enormous production room!
Laiterie Coaticook — 1000 Child St., Coaticook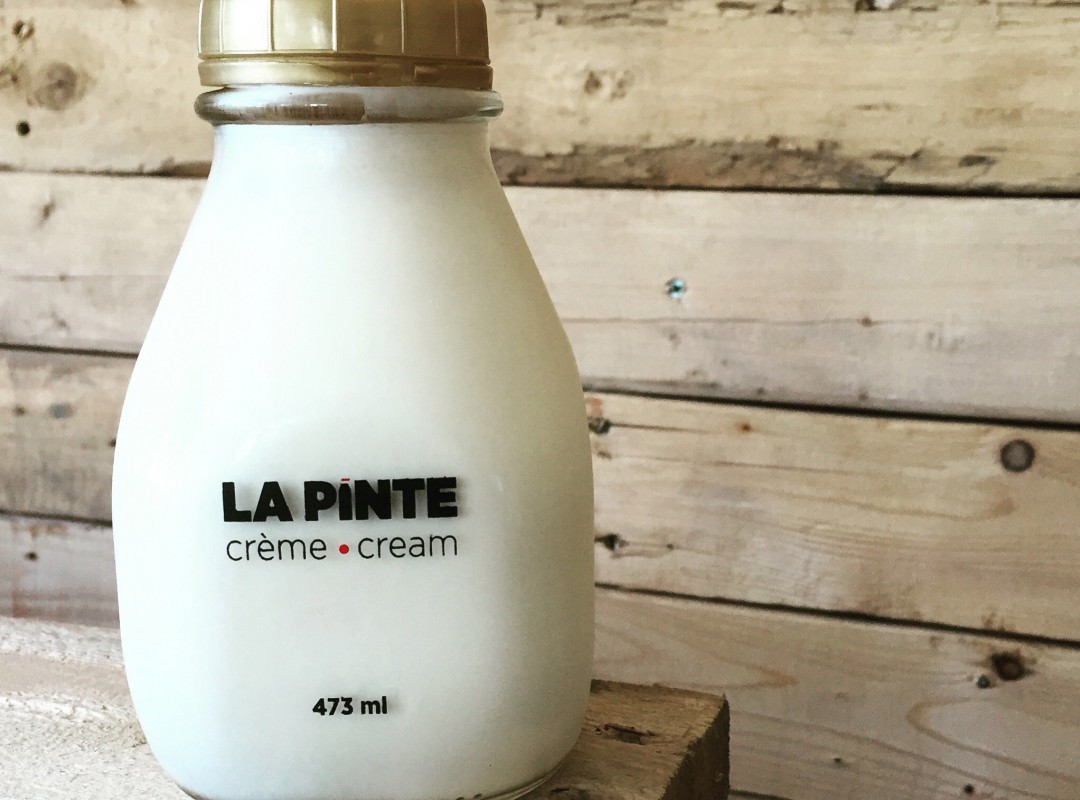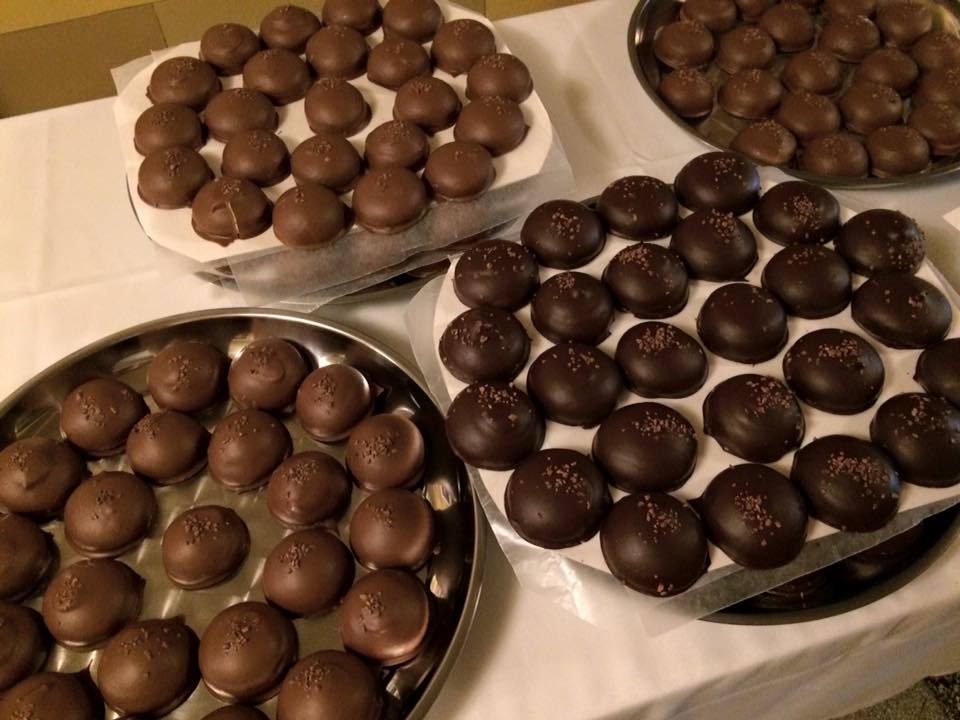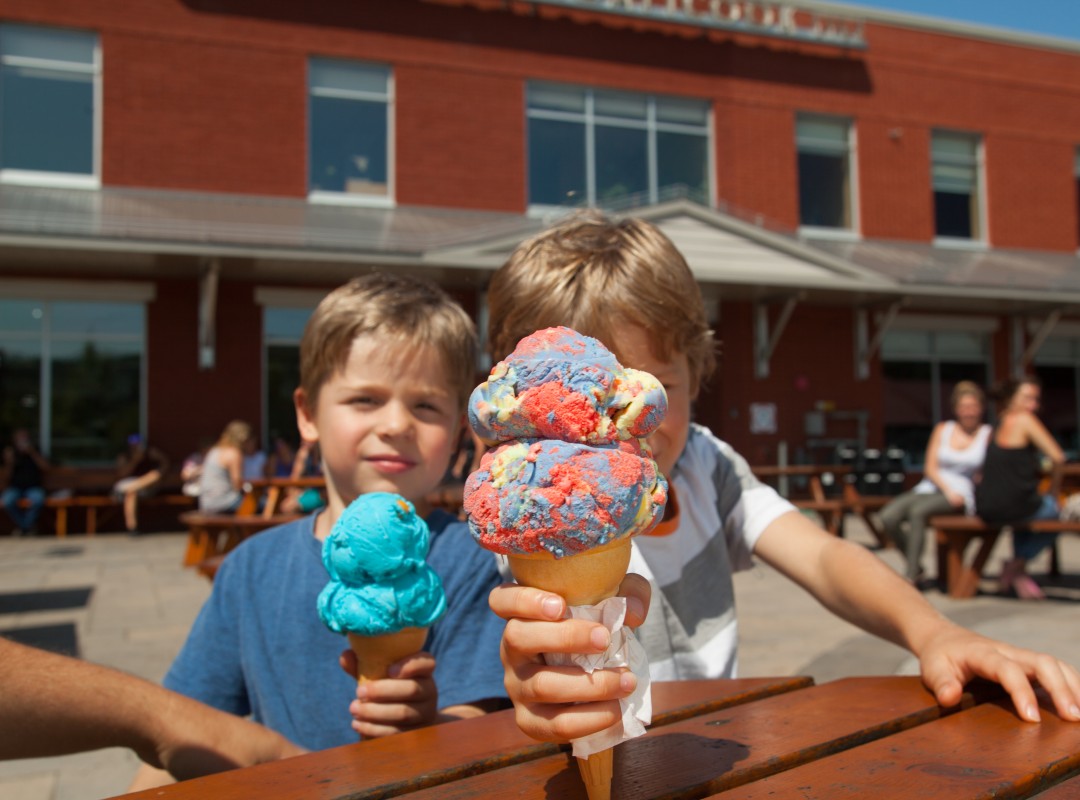 Sherbrooke's Poufettes de luxe
OH! they were so very much THE talked about items when they were created in 2013, these Poufettes de luxe inspired by the cookies-we-can't-name! Today, they are Choco-Là's most popular product. What are they? A shortbread cookie made with pure butter on which they've spread fleur de sel caramel and a light Italian caramel marshmallow all covered in dark or milk chocolate. Our mouth waters as we describe it!
Choco-Là — 2445, King Ouest, Sherbrooke
Richmond's Bull's Head Ginger Ale
The same original recipe since … 1896! True flagship product of the famous Bull's Head company, this ginger ale, made with Appalachian spring water, is exquisite to the taste with its ginger flavour without a strong that prickly effect in the mouth. The perfect hydration for this fall or to add to your favourite cocktails—It's delicious with a spiced rum or with an amaretto liqueur and a twist of lemon!
Bull's Head—175, du Collège N., Richmond
Gould's Hotch Potch
Did you know that 4000 Scots settled in our region at the end of the 19th century? It's in their honour and to highlight their culture that the chef at La Ruée vers Gould created a menu celebrating Scottish culture. Our suggestion? Their famous hotch potch, a stew made with lamb from the Arc-en-ciel farm, in Weedon, delicious vegetables, onions, beans, carrots, turnips, celery, cauliflower, broccoli and peas. To replace the bread, their famous scones are perfect to absorb all the delicious sauce left on your plate!
La Ruée vers Gould — 19, route 108, Gould-Lingwick
Lennoxville's Cucumber Sandwiches
Another specialty honouring a community that helped build our region! On a beautiful sunny day, come for English tea time on the veranda of the Uplands Cultural and Heritage Centre. You'll enjoy their delicious cucumber sandwiches served in traditional English china by an attentive staff all dressed in period attire. A very unique taste and cultural experience.
Uplands Cultural and Heritage Centre—9 Speid St., Lennoxville
Ayer's Cliff's 35% Jersey Cream
Here's a product in the style we love, 100% artisanal and 100% local! We must say that all the products of the enterprise La Pinte are simply amazing, but this rich cream, made with a local herd of Jersey cows' milk is simply decadent on freshly picked strawberries, raspberries or blueberries.
La Pinte—1060, rue Westmount, Ayer's Cliff