A gravel bike will take you away from mainstream paved roadways, to places where car traffic is scarce, and where you'll feel pure joy! A great way to find some peace and quiet while pedalling and discovering different hidden facets of the Eastern Townships.
By Simon Diotte
On Stagecoach Road, in the municipality of Brome Lake, grazing fields offer a grandiose panorama overlooking the Sutton mountain range. While our biking trio (Lucie and Mireille—esteemed cycling experts for Eastern Townships Tourism, and myself) take in the view of the mountains on the horizon, we forget, for a minute, that we're spread out over the roadway, riding side by side, and breaking the Road Safety Code.
On a busier, paved roadway, drivers would be honking their horns for sure! However, on this old stagecoach route, our moment of distraction annoyed no one, because, between the luxurious vacation homes established among more modest cottages and small farms, we were the only ones here. It's as if GPS was never able to locate this bucolic area.
The Very Best Gravel Road
The joyful feeling of pedalling on these little-known roads, where only locals travel, is what gravel bikes offer us. Because yes, these gravel bikes, as they're called by their adepts, can take on dirt roads, and have transformed our backcountry into a true tourist attraction. This is what I experienced in the middle of September, on a 47 km trajectory linking Sutton to Brome Lake; a loop designed by cycling specialists, and considered as the very best gravel route in the area.
Thanks to their bigger tires (more than 30 mm) and simplified, but much sturdier, mechanics, gravel bikes can conquer any dirt or even muddy surface, and yet maneuver perfectly on paved roads as well. In short, this bike stands out through its adaptability.
My introduction excursion started at the boutique CINETIK, in Sutton, where we rented our gravel bikes. My adventure guides then warned me: "Our itinerary begins with a serious climb: Academy St." This very steep start was quite a challenge for my tight muscles. After this steep ascent, we left the paved road to ride on, and I loosely translate, "these gravel roads which go any which way, rays of the sun, shimmering stones," Michel Rivard's words from the song "Chemins de gravelle."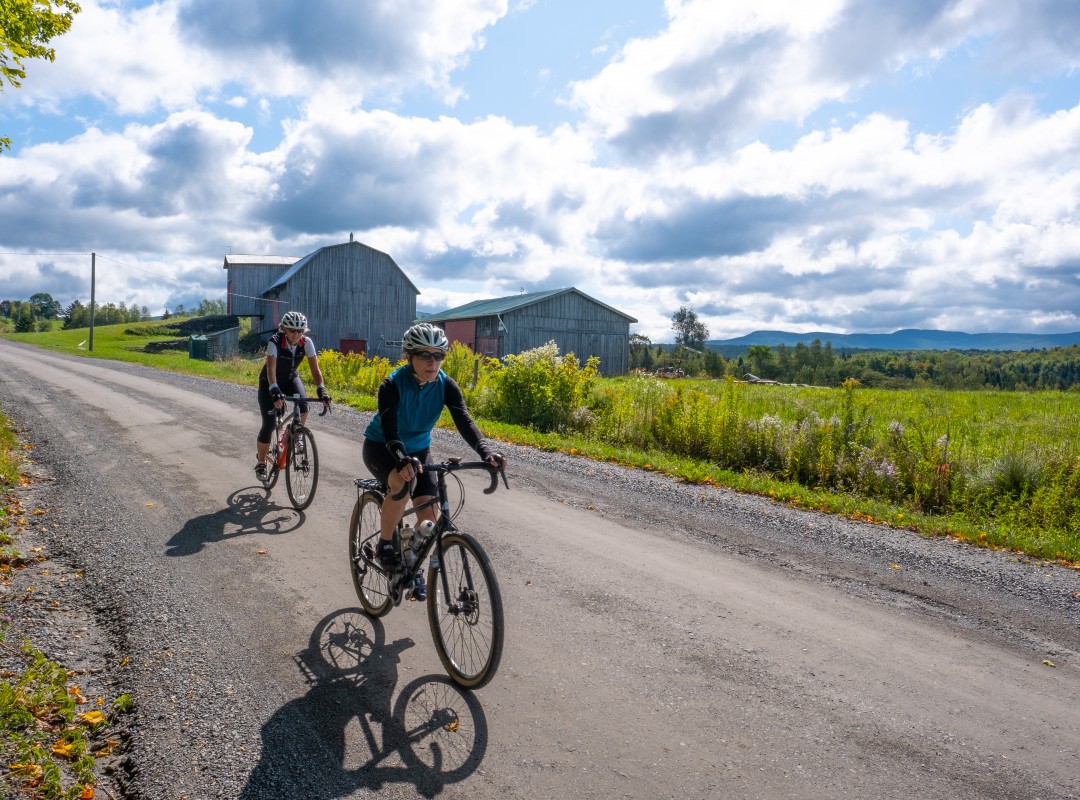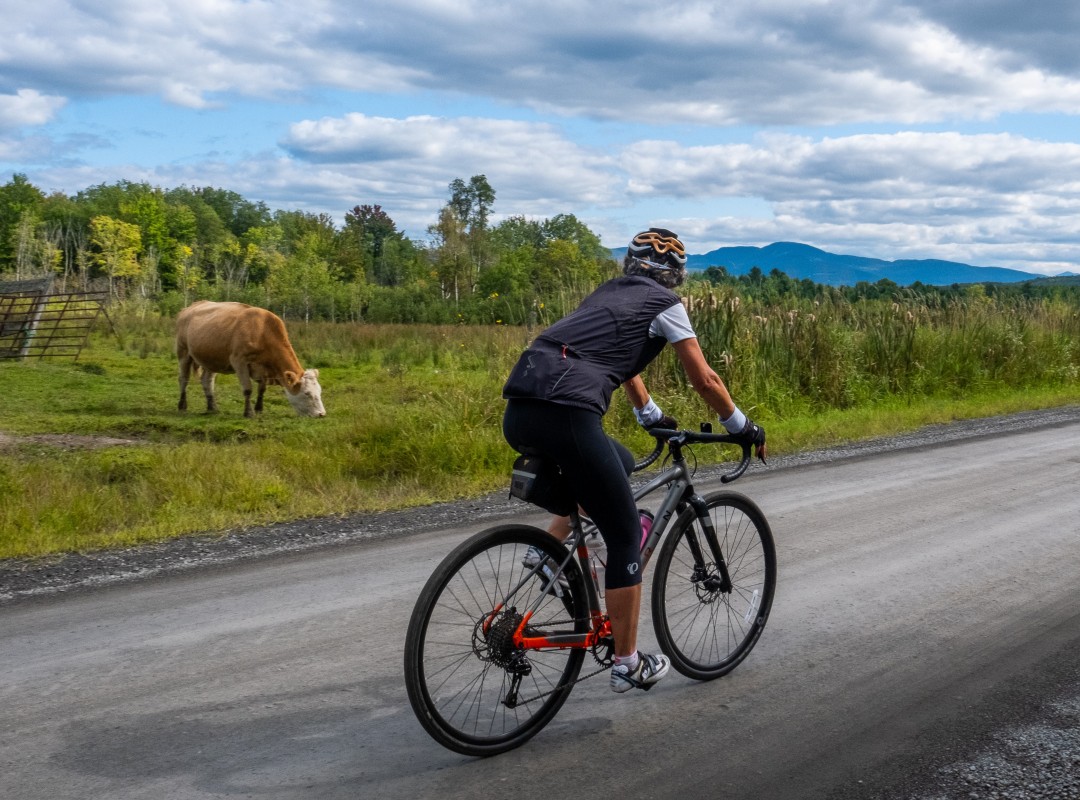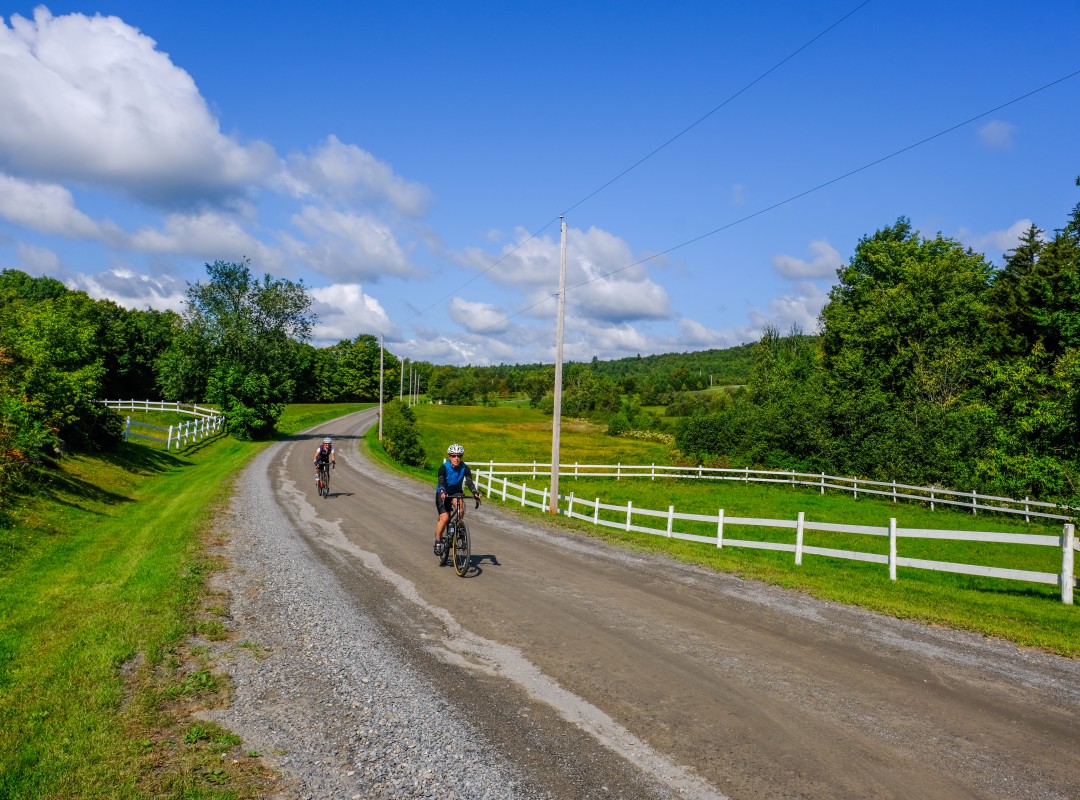 Another Facet of the Eastern Townships
After several kilometres, I realize that gravel biking has opened up a whole new side of the Eastern Townships for me: the old back roads that regular travellers rarely take, if ever. They've been here since settlers' days, serving locals who would use them to head to the market, to church or to school. Cycling on these roads, gave us the impression we were travelling back in time. "Crossing paths with a horse pulled carriage wouldn't surprise me a bit," Lucie jokes as she's pedalling.
Once again, as Michel Rivard says (you've got to listen to this song), "gravel roads take you back to where you started out." Our national bard was right. We finished our ride six hours later, including a lunch pause in the town of Brome Lake, by looping back to Sutton, adding a 700-metre ascending elevation to our legs. A route designed for intermediate cyclists.
It was truly a sad moment for us when we had to return the bikes we already started to love. We cheered ourselves up and comforted our weary muscles by quenching our thirst at the microbrewery Sutton Brouërie. The perfect ending to a perfect day. I really hope they don't pave these routes soon!