Published on Jul 30, 2020
Located at the extreme end of the Eastern Townships, right on the Canadian-American border, Mount Bélanger has plenty of less frequented trails that are well worth the long route you take to reach them.
By Simon Diotte
When we plan to head out for a hike on the trails of Mount Bélanger, we don't expect the mountain to be so far out of the way. The Eastern Townships, after all, are just next door to Montreal. However, I realized on my way there that this tourist region is much vaster than one would think! Hidden in its nooks and crannies, we can find unknown areas well worth visiting.
To conquer the trails of Mount Bélanger, you must exercise some patience! To reach this destination, you'll have to drive through the municipality of Lac-Mégantic, then continue for another thirty minutes to the village of Saint-Robert-Bellarmin. The town counts 500 residents, and is the last village of the Townships before entering the Beauce region.
Once we reached the town centre, we still needed to drive about fifteen minutes on these gravel roads set inside a maple forest before finally arriving where the trails start out. As they say, "It's not the destination, it's the journey." Well then, I was well served here! Needless to say, when I got out of my car, I could barely feel my legs!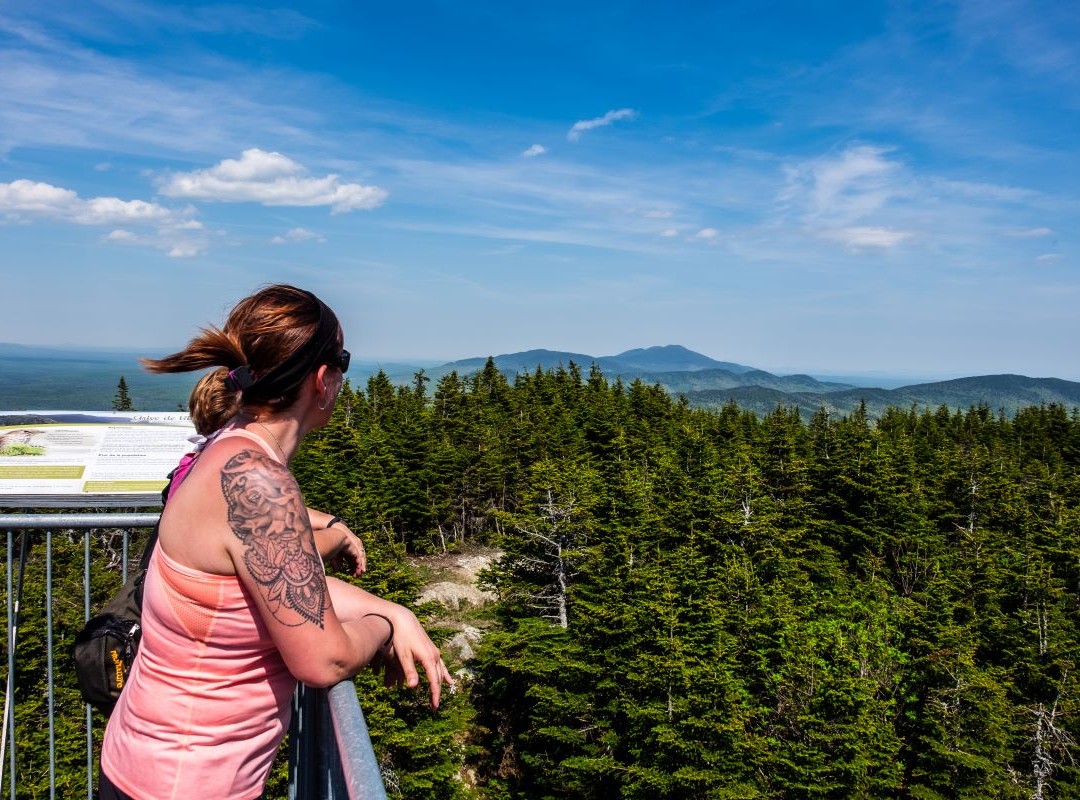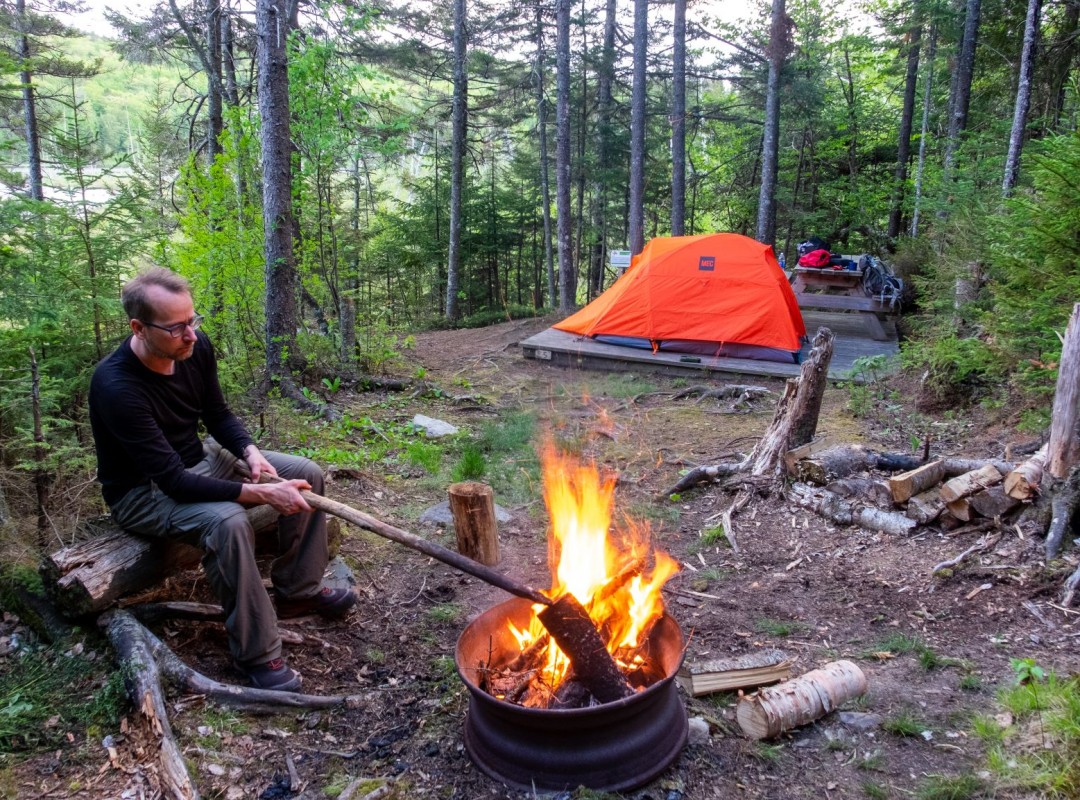 At 2.3 Kilometres, Finding Bliss
I didn't need any coaxing to hike to the top of Mount Bélanger, with an altitude of 960 m. Starting out from the trail head, the route is only 2.3 km long. In less than an hour, on a path set inside a moss-covered forest, we arrive at a tall observation tower that offers a 360-degree view overlooking Maine's spectacular untouched mountains and our Québec maple groves. Magical!
Back at the base, we discover a nice local campground, my personal top find, with its five rustic campsites huddled by Lake Émilie, the largest wetland of the Saint-Robert-Bellarmin municipality. Each site has its own charm and offers a lot of intimacy. To get to our campsite, we need to carry our gear through a sinuous path, leaving the car in the parking area. We can also sleep in a shelter or on platforms set near the summit.
After a good night sleep, I was ready for the territory's other trails which total about fifteen kilometres, but I had to back out because of the pouring rain. The next time I visit the area, I'll certainly climb the Face de Singe trail, an abrupt ascent adjacent to a field of scree. I'll also explore its Ancient Forest which takes us through some more than 200-year-old white spruce.
This trail network, developed about fifteen years ago, doesn't have the ambition to become a tourist attraction. "The goal is to diversify our activity offer and to share our region with our visitors," says Steve Quirion, the trail caretaker.
We thank the citizens of Saint-Robert-Bellarmin, Bellarminois and Bellarminoises, for sharing your treasure with us!