Being a true berry lover, I couldn't wait for the beginning of summer to go fruit picking, knowing that the Eastern Townships offer plenty of opportunities to do so. I opened the Créateurs de saveurs self-picking booklet and my eyes fell upon a special producer in Mansonville's Cœur villageois: Aux champs Mère-Terre.
Yes! We Can Go Honeyberry Picking!
This small family business specializes in the organic production of honeyberries and chokeberries. As I arrive at the site of their enterprise, the two owners (and the one employee of the domain) offer me a warm welcome and take their time to talk to me about these berries and all their benefits. Personally, my husband and I love when farm producers take the time to discuss their passion with their visitors.
What are Honeyberries? What do they taste like?
One question has been on my mind since the moment we arrived: Can we actually eat freshly picked honeyberries or do we have to absolutely transform them? Because, to be honest, I was sure that this small berry could only be eaten once it's processed.
"Honeyberries are as delicious freshly picked as when they're processed," explains Diane, the owner. "Honeyberries and chokeberries are very versatile, but sadly, over time, we've forgotten all about these little fruits. However, they have many properties to benefit our health and have a high level of antioxidants." She continues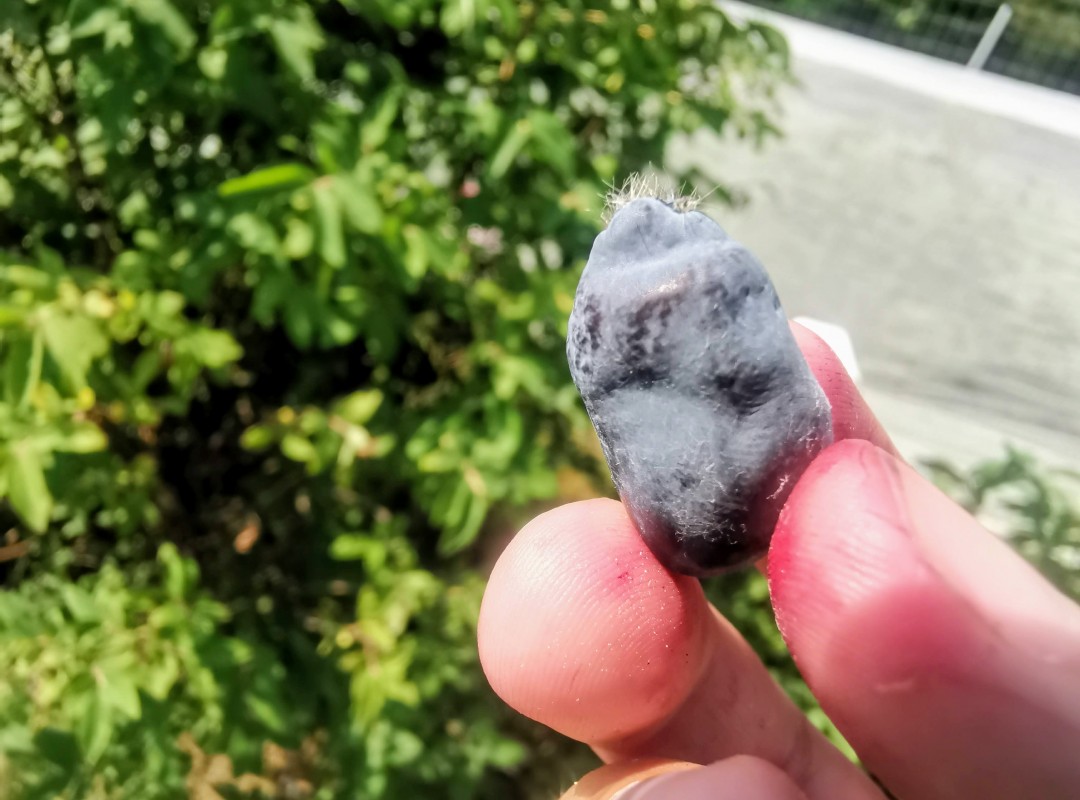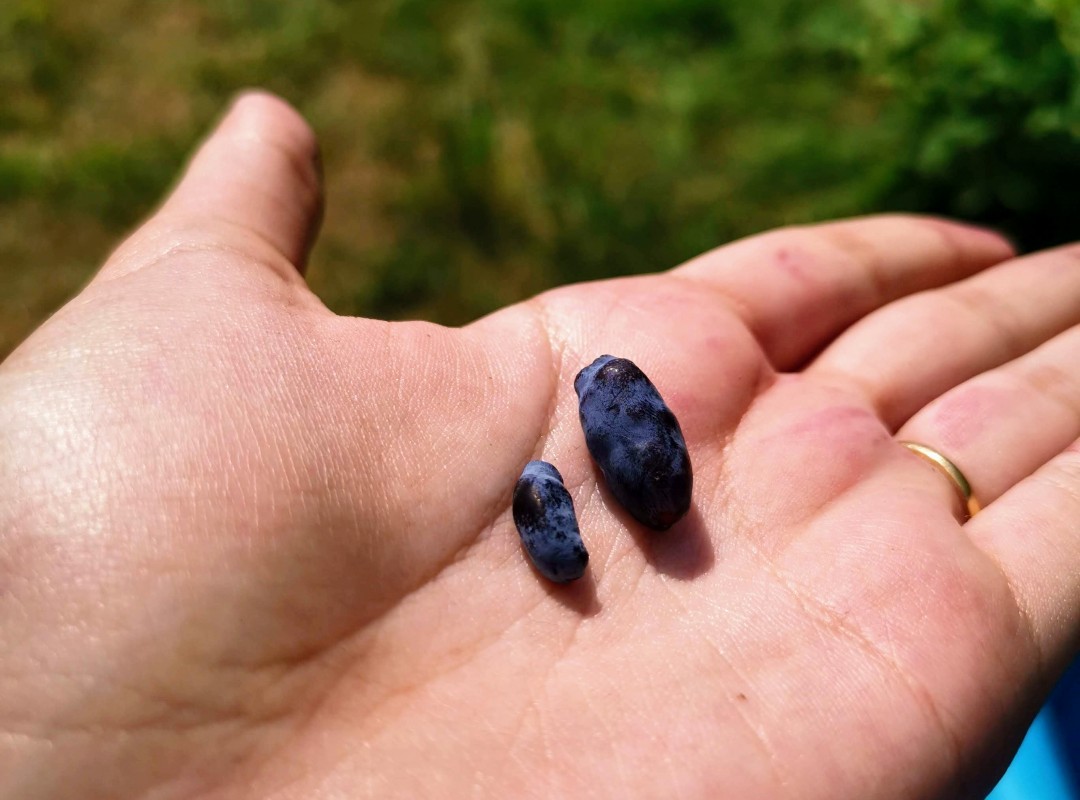 Honeyberries look a lot like blueberries, but have an oblong shape. These small, blueish oval berries with a plum-coloured flesh have a very unique and complex taste. Some varieties will have a rather sour flavour while others are sweet. What do they taste like? For my part, I picked two different varieties and I found they taste like a cross between a blueberry and a blackberry; others might notice hints of raspberry and black currant, or even plum and rhubarb flavours.
With our picking baskets in hand, we then headed out into the fields! Psst! Don't be surprised if they give you a small plastic child's pool! Some varieties fall easily off the bush! To avoid any waste, all you need to do is place this container underneath the plants. Pretty ingenuous, don't you think?
A True Delight
The owners also offer a fine selection of homemade products showing the versatility of these two foods. Vinaigrettes, syrups, jams, onion confits, teas…. When I ask them about the best way to eat honeyberries, they suggest integrating them to my smoothies and my yogurts or perhaps add them as a sauce to a Quebec produced pork dish. Yummy!
Finally, my husband and I picked about two litres of honeyberries. I must say that we enjoyed eating them in all kinds of desserts throughout the following week. Would you like to find a great recipe showcasing this product to savour during our summer heat waves? I found a popsicle recipe which uses only 4 ingredients and is very easy to prepare. Just click here to find it: camerisequebec.com.
Don't wait too long to pick your honeyberries! The self-picking season usually lasts from the end of June to the end of July. There are only two honeyberry producers in the region that will let you pick your own. It's also preferable to call before you head out just to be sure about fruit availability. I wish you great pickings!